Rapid digital acceleration sets the tone for modern businesses in the advent of edge. IT teams tasked with overseeing infrastructures at the edge are under tremendous pressure to keep up with the non-stop innovation. The path of least resistance in the status quo is to find an equilibrium between rolling out smart applications, rapid time-to-market and always-on availability.
At the recent Edge Field Day event in California, Carl Moberg, CTO and Co-Founder of Avassa showcased the Avassa Platform, an application management solution that makes operating at the edge as simple as public cloud. The Avassa Platform empowers teams to create a positive customer experience through rapid deployment, consistent monitoring and seamless management of distributed on-site edge applications.
Performing Under Pressure
IT teams tasked with building edge infrastructures face many a challenge. They need to move fast, constantly evaluating the infrastructure against the long list of expectations foisted on them by cross-functioning teams.
For starters, it needs to have the gold standard 5 nines uptime. It must align with the organizational security posture, and not make it vulnerable. At the same time, it should offer a no-fuss, self-service style of operation like public cloud that everybody by now has grown so used to.
Mr. Moberg in his presentation, introduced two user personas that the Avassa Platform effectively targets – platform engineers and application developers. Despite complementing each other, the two teams have dissimilar goals and interests, which begs a unifying solution.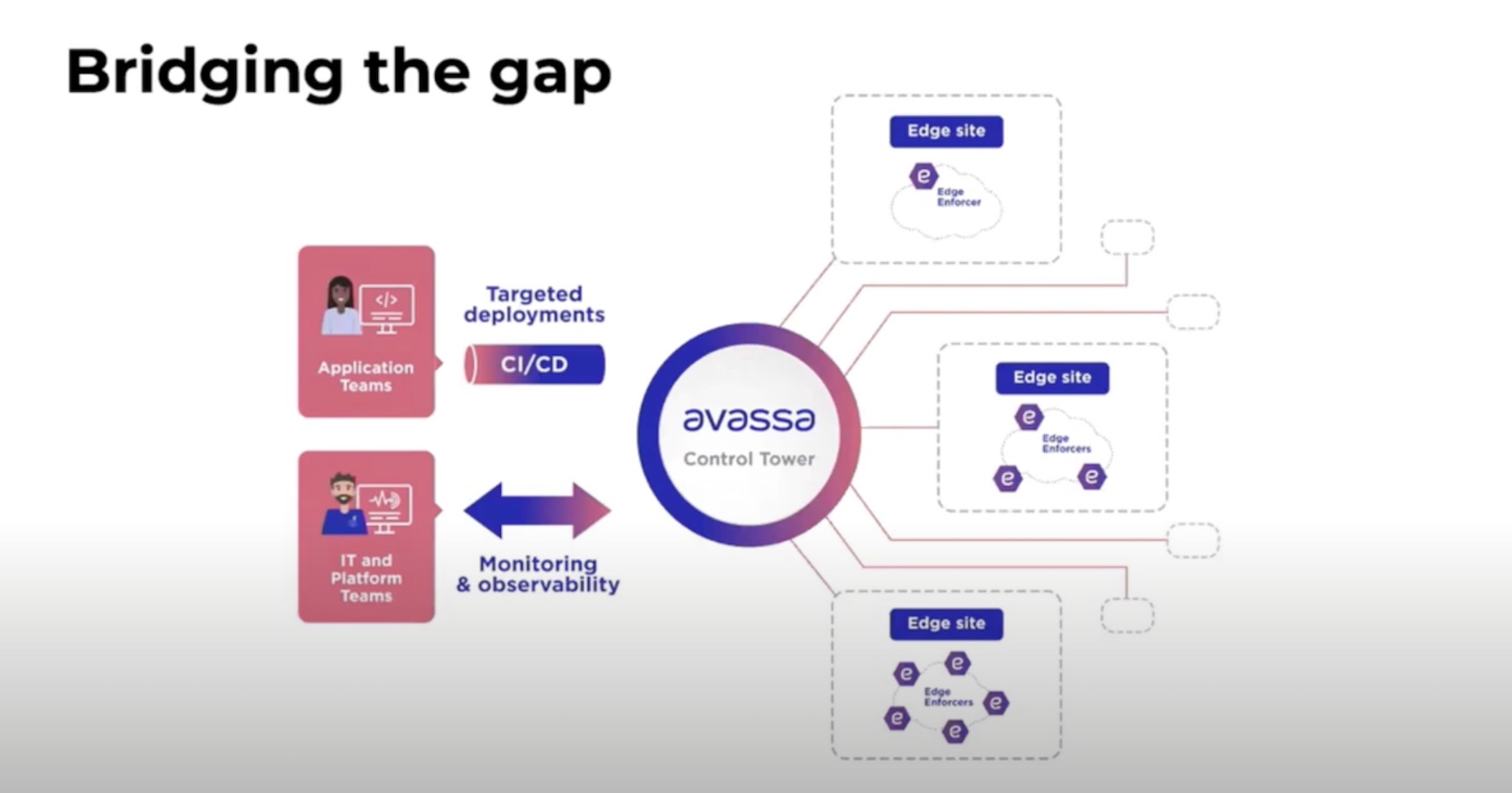 Misadventure
Born in Sweden, Avassa is a software-only company with a background in distributed systems automation and orchestration. Avassa has been following the breadcrumbs for some time, doing its own research, talking to IT teams about their experiences with operating at the edge.
Mr. Moberg shares his understanding – "The assumption is that the edge is owned by whomever is using it." "So, think of retailers, industrial shop floors, quick-serve restaurants that you love. Think about things you own, on-site, or on-prem edge environments," he urged.
The companies in Avassa's survey were organizations that were using a mix of public and private cloud at the time. When asked to extend their capabilities to on-site edges, mayhem ensued as they found out that their current stash of tools was redundant in the new infrastructure.
"Particularly, the application teams had gone through a very long and arduous journey to the cloud. They had reorganized, recultured, and retooled themselves, and they were pretty proud of the agility they had for the public cloud," Mr. Moberg noted.
Re-shifting workloads to the edge was a whole new ordeal. After hearing from the horse's mouth, Avassa realized that there's "a horrible tooling void for applications running on their on-site edge. There's almost no reuse of their CI/CD-centric environment, and the platform teams' tool set."
The Avassa Platform
Avassa's is an application management and orchestration platform for on-site edge. Moberg explained that the architecture consists of two core pieces of software – the Avassa Control Tower, and the Edge Enforcer.
The Avassa Control Tower is a software-as-a-Service (SaaS) solution that serves as the central management platform for distributed edge applications and resources. The Control Tower presents both edge cloud management and application lifecycle capabilities.
"It provides the features you need in terms of managing a fleet of infrastructure. So it has to do with sites, applications that you deploy, monitor and observe, and of course event streaming and all kinds of support stuff," he said.
It can be used to observe the health and behavior of applications, sites and hosts, and deploy and upgrade distributed applications. The Control Tower also has a central repository of secrets that it manages and allows for selective distribution to applications. The Control Tower can also be installed on-premises.
The second piece, which is the Avassa Edge Enforcer is a software agent that is installed across hosts running in on-site edge infrastructures.
"This Edge Enforcer calls home to the Control Tower and tells it the environment that it sees and now you can start deploying applications while monitoring the IT infrastructure from the Control Tower," said Mr. Moberg.
The key capabilities of the Edge Enforcer are local cluster management and application scheduling. It performs scheduling and placement of applications, in addition to providing zero-touch host registration and edge-native services for secrets management and event streaming.
"It manages local clusters. At the heart of it is, of course, a pretty sophisticated application scheduling mechanism, but it also has things like event streaming, secrets management and other things that must be produced at the edge because we want to be resilient for upstream outages," said Mr. Moberg.
Wrapping Up
Moving to the cloud was an exacting routine of modernization of architectures, tools and processes. Now as organizations take the next step towards the edge frontier, they need more vendors like Avassa that are committed to making the journey a breeze. The Avassa Platform offers the much-needed break from the back-breaking regime of deployment, configuration and lifecycle management. It essentially lends to businesses at the edge the same cloud operating model that will make living on the edge so much easier.
To watch the Avassa Platform in action, be sure to check out Avassa's presentations from the recent Edge Field Day event.