Network management is a ton of work a lot of which is plain grunt work that network engineers can do without, given that they already have so much on their plate. Itential presented a product at the Networking Field Day in January that addresses this issue head-on with the added advantage of being both network and cloud-enabled. It's the Itential Automation Platform.
Today's Network Is a Mix of Many Things
The enterprise network of today is nothing like the simplistic switches-and-routers affair that it used to be back in the days. A lot of new elements have been added into the mix through the years making the job of network engineers a tad harder and more cumbersome each time. With a lot of CLI-based devices, SAS devices, Wi-Fi devices, SD-WAN devices being introduced and with the recent arrival of cloud infrastructure, it has become a heterogenous pool which demands high maintenance.
All that said, end-to-end configuration, automation and compliance of a network should no longer fall on just one team or one group of people. The load of manual operations needs to be curtailed to a minimum so that network engineers do not have to work through backlogs from network change requests for days on end when there are other important tasks at hand.
Itential Modernizes Network Management
At the moment, Itential's portfolio is full of network and cloud-supported solutions that are purpose-built to solve enterprise needs of end-to-end automation. Taking advantage of the convergence of network automation and cloud ops in many organizations, Itential has built its automation platform to enables security, compliance and automation in both network and cloud.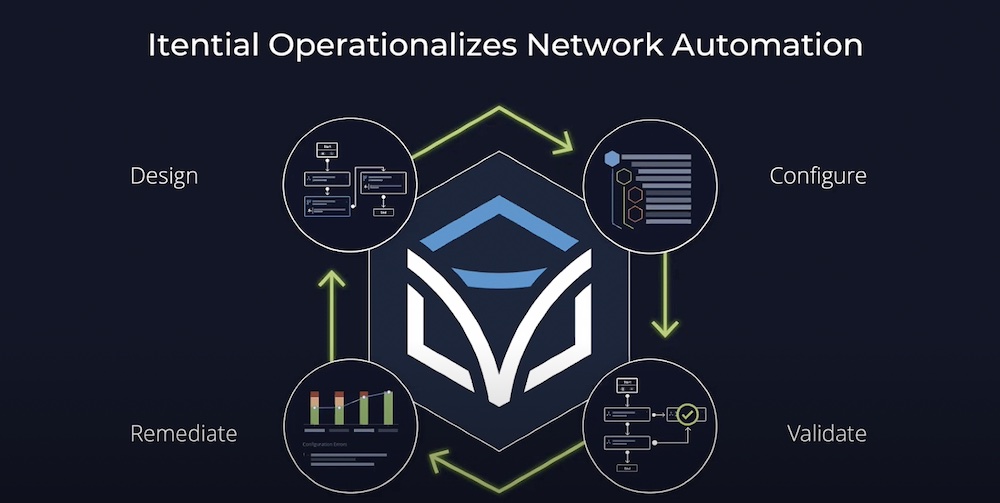 Itential's core goal with its network automation software as it is with every other product on its catalogue is to make automation accessible to everybody from people at the bottom to those higher up the rank so that automation projects become more collaborative and a team effort.
Managing Network with Itential Automation Platform
At January's Networking Field Day event, Peter Sprygada, VP of Product Management along with others from Itential showcased Itential's portfolio of network and cloud automation products. In the video below he offers a comprehensive overview of how the Itential Automation Platform functions and what makes it a one-size-fits-all solution for network and cloud infrastructures.
Itential seeks to bring network automation closer to the starting point with the Itential Automation Platform. What starts with a phone call or a slew of emails gets shortened into few clicks with this automation software. By compressing a series of commands and tasks that goes into initiating a network change request, even the smallest ones, it offers a clear path to deployment, one which does not involve meaningless grunt work that only costs the NetOps team extra time and lends no real benefits.
It does not end there. Itential Automation Platform also automates the post-deployment routine of network normalization, back-office system updates, etc. Itential's end goal here is to introduce API capabilities in frameworks and tooling solutions that are originally designed to put automation in action.
Removing the boring and repetitive bits out of network engineering, Itential's gamut of pre-built workflows enables teams to bypass simple tasks or at least have ready templates for them which they can modify to save time and effort. The Itential Automation Platform can be deployed both on-prem and in the cloud.
Final Verdict
The Itential Automation Platform seems like a smart tool to have to eliminate confusions that often creeps up in network automation change requests as messages travel down the line. I for one like the way it attempts to minimize the labor in network management with smart end-to-end automation. But instead of taking my word for it, give the Itential Automation Platform a try for free to find out for yourself.
Be sure to check out Itential's other presentations from January's Networking Field Day event.