It is dawning on providers that out-of-band management has more uses than we give it credit for. Out-of-band (OOB) networks are lifesavers during network outages. They provide an alternative pathway of communication with the infrastructure, one that is physically separate from the production network, and unaffected by its performance, or lack thereof.
At our first-ever Edge Field Day event in California, Opengear outlined the growing importance of smart out-of-band solutions in the era of edge computing. Technical Marketing Engineer, Ramtin Rampour showcased Opengear's Smart Out-of-Band solution that not only provides remote access through infrastructure faults and service disruptions, but also provides value through the network lifecycle, from deployment through remediation.
A Broader Scope
Out-of-band management has been a staple in enterprises for bringing up devices remotely when a network failure cuts them off, and ensuring business continuity. But as edge computing grows bigger and enterprises have IT infrastructures at the edge, out-of-band management finds a much larger role.
"Traditionally out-of-bands have been affiliated with remediation. It's there to solve a problem when something happens. But as technology progresses and we see all these use cases at the edge, we realize that we can actually help with the deployment, and long-term managing of all of your equipment over time," said Mr. Rampour
Out-of-band networks are resilient, always available, secure access to the infrastructure. That is great to have when specialized on-site technicians otherwise called smart-hands are not close by. But the use of such a solution goes far beyond just access and repair.
The Opengear Smart Out-of-Band Platform
Opengear's Smart Out-of-Band solution is a combination of hardware and software. It comprises Lighthouse which is Opengear's management software. It's a centralized, secure access portal that provides access to physical devices using console servers in edge locations. Everyday tasks of deployment, management and access happen from this console. The Lighthouse control center is independent from the primary network.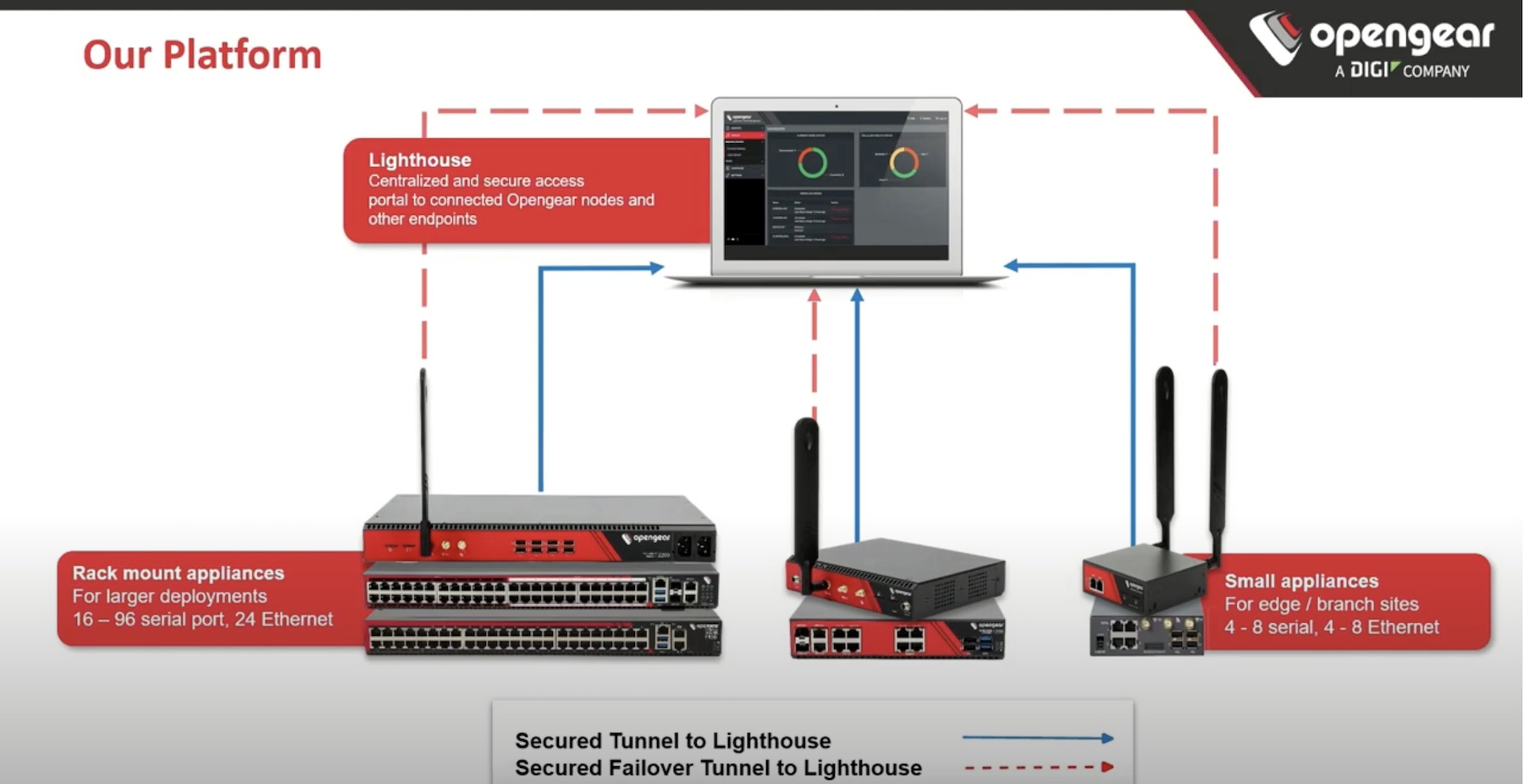 The hardware comprises a selection of small, medium and large appliances of port density ranging from 4 to 8 ports designed specifically for edge and branch sites, to larger rack mount servers with 16 to 96 serial ports.
Deploy, Monitor, Resolve
The Opengear Smart Out-of-Band solution serves through all the stages of deployment, management and remediation of the edge environment. Mr. Rampour explained that it enables Day 1 when the network is brought up, by making device configuration a breeze with Zero Touch provisioning.
"We can Zero Touch provision our own devices as well as provide Zero Touch functionality for your downstream devices, whether they're switches, routers or whatever you need."
Configurations can be done even before the broadband's been installed. With failover to cellular enabled in the Smart OOB devices, users don't need to waste time getting things up and running when there's no network.
"We're essentially the network when there is no network. What we mean by that is, because we have the cellular functionality, if your broadband connection is not in yet, you're able to actually utilize our cellular connectivity to bring up the rest of your network, whether it's a manual effort of connecting in and configuring your devices, or whether it's an automated effort to essentially have our centralized access portal push down configurations over cellular and bring the rest of your network up," said Mr. Rampour.
Opengear Smart Out-of-Band also helps with management of edge environments. With an independent connectivity established with the devices, users can manage and monitor their infrastructure continuously which over time results in a much stable environment.
The last part, remediation is what OOB solutions are known for. Opengear Smart Out-of-Band expedites access to all physical and virtual devices during network disruptions and outages. A quick access and prompt repair minimizes the impacts of failure, and keeps the network up round the clock.
Wrapping Up
The Opengear Smart OOB solution shows that customers can do a lot more with OOB than just connecting with the infrastructure during emergencies. For those times, it provides the resiliency required to promptly restore field equipment remotely, and ensure continuity of services. But by leveraging it for day-to-day operations, users can potentially reduce operational overheads, while optimizing resiliency in edge infrastructures.
If you are interested to know more about Opengear's Smart OOB technology, be sure to watch the above presentation till the end, or check out their other presentations from the recent Edge Field Day event.