As businesses consider more fascinating use cases fueled by innovation, it is helpful to have an always-on supporting network. Out-of-band management is an attractive option for when the in-band network is out of reach.
Out-of-band is an alternative method of accessing the network in absence of the primary network. For a long time, it has been the back door that gave operators access to remote field equipment bypassing the main network, enabling them to repair and restore devices during network disruptions.
But out-of-band is capable of supporting more use cases than that. Opengear, at the recent Tech Field Day Extra at Cisco Live US 2023, laid out some of the uses while showcasing their Smart OOB solution. Senior Product Manager, Daniel Cecalacean, walked the audience through the ways in which Smart OOB can serve customers in their day-to-day activities.
"What we've seen over the past few years happening in the market, and some of the drivers and customer interactions that have shaped what we do as a company, have put us in a position to step outside of our core competency," he said.
Opengear's focus has been console server access, with an extensive sideline in out-of-band management. Now, it is expanding its Smart OOB solution, bringing it into everyday scenarios.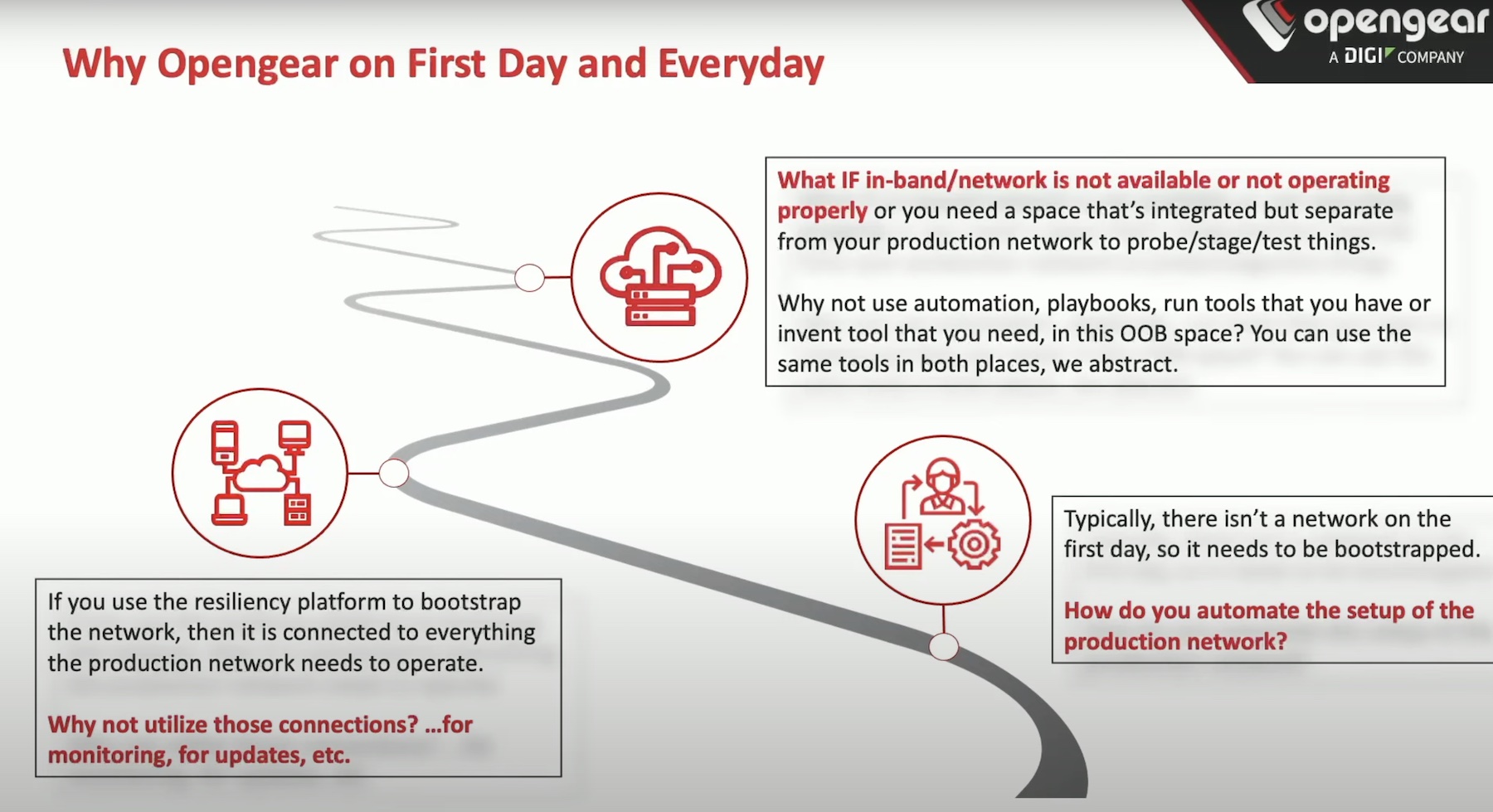 There are three key ways that Opengear Smart OOB can serve outside of the emergency situations. But before going into that, here is what the solution looks like: The Opengear Platform features the Lighthouse software solution. The Lighthouse is a centralized and secure access portal that offers management capabilities for all Opengear appliances, and connected resources downstream.
The Opengear appliances include console servers of varying form factor and port density. Configured with the Smart OOB, "the appliances themselves provide the presence and proximity to the connected resources," Cecalacean informed.
The Real Reason You Want to Use Out-of-Band for More than Just Emergencies
Out-of-band management is a smart option for device maintenance in absence of the production network, but it can also be a very useful function for everyday tasks like deployment, management and troubleshooting.
When there is no network on Day 0, the out-of-band network offers reliable connectivity and a light-out management plane, allowing IT personnel to remotely deploy and configure critical hardware. Opengear's Smart OOB additionally enables automation of configuration and bootstrapping for a faster deployment.
But why use it after Day 0, instead of reserving it for worst day scenarios? Cecalacean argues that when a customer uses the Opengear Smart OOB to bootstrap the network, a connection forms between the solution and network estates. Leveraging this connection, users can run diagnostics, and monitor updates and configurations. And when the in-band network is out of function or unavailable, what operators need is a standby network that is integrated, but at the same time physically separate from the production network, to run probes, stage and test things.
Cecalacean highlights that operators can use and invent the same automation, playbooks, and tools that they do in the primary network, in the OOB space.
Bigger Goals
The Opengear OOB Software "can be the enabler of how we can deliver additional value to our customers," Cecalacean said.
Only two decades old, Opengear has been a pioneer in the out-of-band space with innovations like Opengear Failover and Smart Out-of-Band. But as new challenges emerged, the company is building on the technology to address the next-level use cases.
"We have evolved to become more than just an insurance policy in the out-of-band space and, try and find new ways to help in the everyday or first day type of scenario. We'd like to see ourselves as the core centerpiece of a network resilience strategy for our customers," said Cecalacean.
Currently, the company has two clearly defined goals with its Smart OOB – to provide a network before there's a network, aka Day 0, and for when the network is down. Secondly, it seeks to provide a dedicated management plane so that customers don't have to manage the network with the network.
A New Overlay
Opengear newly introduced an enhancement to the Smart OOB called RMF, (Routed Management Fabric). It's a network overlay that Opengear hopes to be the foundational piece of what they offer, said Cecalacean.
A standard based management fabric, RMF allows IP-based connectivity for users and machines by enabling routed IP access. "It's nothing proprietary. It's based on industry standards," explained Cecalacean.
RMF addresses the growing information gap between teams – "We're in an ecosystem that outside of the serial space where we know what we do, we're helping glue and bridge the gaps between what a network engineer and a software engineer can do, and we provide that mesh, that overlay that helps people do things outside."
For more information, check out Opengear's demo of Smart OOB from the recent Tech Field Day Extra at Cisco Live US 2023 event.