In business-speak, investment translates to competitive advantage. If wielded right, it has the power to deliver value beyond material costs. And yet colossal IT spendings do not always yield positive outcomes. Because more than life-changing investments, organizations need the right stack of technologies, that besides making the investments pay off, become profit streams themselves.
At the recent Storage Field Day event in California, StorPool presented their core offering, StorPool Storage, a high-performance, scalable primary storage platform that sounds like a solution that provides high ROI.
During the presentation, Alexander Ivanov, Product Lead, highlighted the problems that enterprises typically encounter with storage systems, and explained how StorPool helps IT teams do storage right.
Defects of a Modern Model
A 2022 article published by Horizon Technology on datacenter hardware says, "The hyperscalers have long proven that commodity hardware is good enough to run industrial-grade workloads. The trick is in applying the right software layer to get the most out of the available hardware."
When you zoom into the hardware bit, you get to see exactly where the problem begins. One of the key issues reported in the recent years by companies using traditional arrays is performance inconsistency. To avoid that, they have to keep buying more and more infrastructure leading to what is called an infrastructure sprawl.
This storage model has several flaws. It has a fixed overhead. Although the pay-per-use consumption model supposedly busts the flat-pay problem, it typically amounts to a fixed monthly pay. Vendors lure customers in with promises of deep discounts which is often offset with raised MSRPs, with cost of things like support services included in the pricing. This translates to very little profits for customers.
This is followed by a complex and expensive system lifecycle management that includes expensive licensing and time-consuming modernization of hardware.
If you are wondering why companies voluntarily go through this loop every few years, it's because it's the only way they know how to ensure measurable ROI. StorPool calls this the "storage game".
For companies to guarantee fast application response times, they need a supporting high-performing block storage. If the block storage is not performing as it should, it starts a chain reaction impacting app response times and user productivity, increasing time-to-market which is directly linked to the revenue.
Reports have shown that slow app response times cause productivity to decline and costs to shoot up. The opposite happens when application response time soars. Users' productivity goes up, applications are deployed faster, and revenue starts to grow.
During the Storage Field Day presentation, Mr. Ivanov listed down the key problems that contribute to performance degradation. They include inefficient capacity utilization, drive failures and rebuilds, sloppy software stacks, mismatching system interconnects, synchronous replication over long distances, and disruptive cleanup processes.
Workarounds, for example – application splitting and database sharding, using faster direct-attached storage (DAS) like SSDs and PMEM, faster interconnects and newer storage systems, typically have a snowball effect on the cost, which brings companies back to the original problem of the infrastructure sprawl.
StorPool Storage
About 11 years ago, StorPool started on the mission to upend the storage game and make it right. The goal was to give customers a hyperscaler-like block storage on premises, the cost of which aligns with the value it provides. StorPool offers this with the pay-as-you-grow model but with their plan, the price varies as the usage varies.
StorPool does not attempt to entice customers with hollow deals that only blow up the cost. But, they make sure that users are served no unpleasant surprises during billing, and with them, the 24/7 support is truly included in the license, out-of-the-box.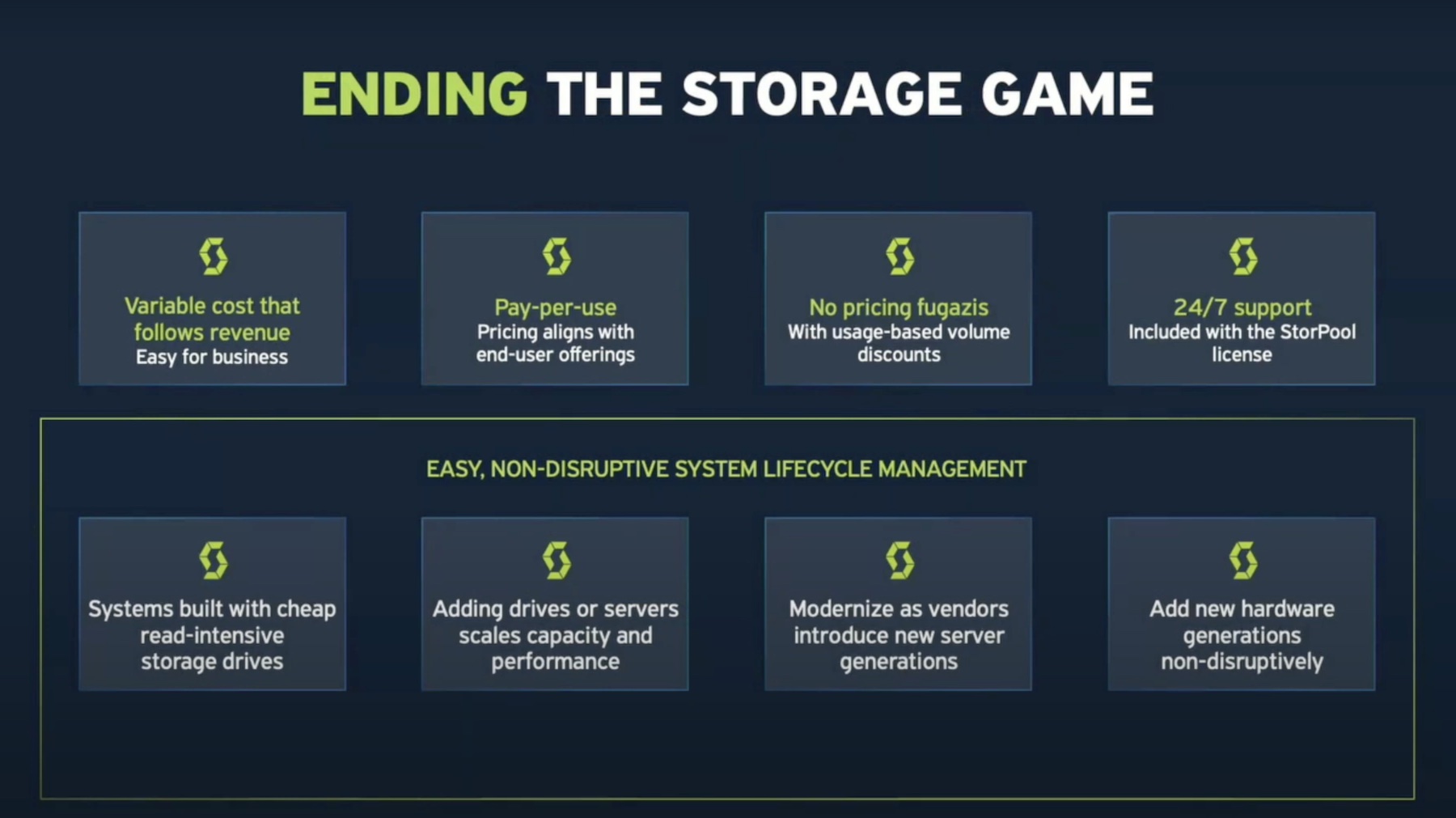 StorPool tops this with an easy and non-disruptive lifecycle management which takes the pain out of the equation. Users can build their systems with datacenter-grade commodity hardware that are cheap and read-intensive. Performance and capacity can be scaled up and down by simply adding or removing drives and servers. As vendors roll out new generations, users can modernize and upgrade their arrays accordingly.
Mr. Ivanov highlighted two core strengths of StorPool Storage that have made the fuss-free lifecycle management possible – consistent performance under massive parallel I/O, and easy workload consolidation with minimum infrastructure.
Consistent performance is ensured with no single point-of-failure, uniformly low latency, linear scalability, and parallel services for thousands of workloads.
Referring to a client story, Mr. Ivanov showed that StorPool helps organizations maintain their service quality with five-nines availability, maintenance included. Low-friction lifecycle management ensures zero downtime or disruptions for when hardware and software changes are made. Commercial off-the-shelf (COTS) hardware supports all environments and enables cost optimization.
Wrapping Up
The cost and complexity of managing new technologies cyclically drain capital and ground operations. StorPool's strategic maneuver from the usual approach contributes to lower total cost of ownership (TCO) for clients. For those struggling to get storage right on a limited budget, it offers a way to avoid big storage expenses with a balanced and easy system that enables new applications and services and does not ask too much in return.
For a technical deep-dive on StorPool Storage, be sure to check out StorPool's presentations from the recent Storage Field Day event.