Adding 5G and mobile devices into the enterprise is a double-edged sword. Although they both introduce newer, better, and faster ways to do business, they also introduce complexities if the network behind them isn't able to keep pace. In their third appearance at a Mobility Field Day event, Celona showed off their private mobile network solution that paves the way for 5G and mobile usage at scale in the enterprise.
Integrating 5G and Mobile into the Enterprise
Mobile devices, especially in this day and age of work from home (WFH), are quickly becoming a standard in the enterprise. And, following the introduction of 5G connectivity, many wonder about the feasibility of mobile device usage across the entirety of the enterprise IT landscape.
As new technologies in this space continue to be introduced, another key consideration is ensuring that each device can adequately connect to the network so that the data it creates and consumes can flow freely and at pace. This desire is much easier said than done, especially in this WFH era.
Introducing Celona
Celona believes they have the answer to the issue of rolling out 5G at scale for mobile devices. Their private mobile network solution relies on a heavily coordinated, clean spectrum to ensure fast connections for devices — regardless of where they're located.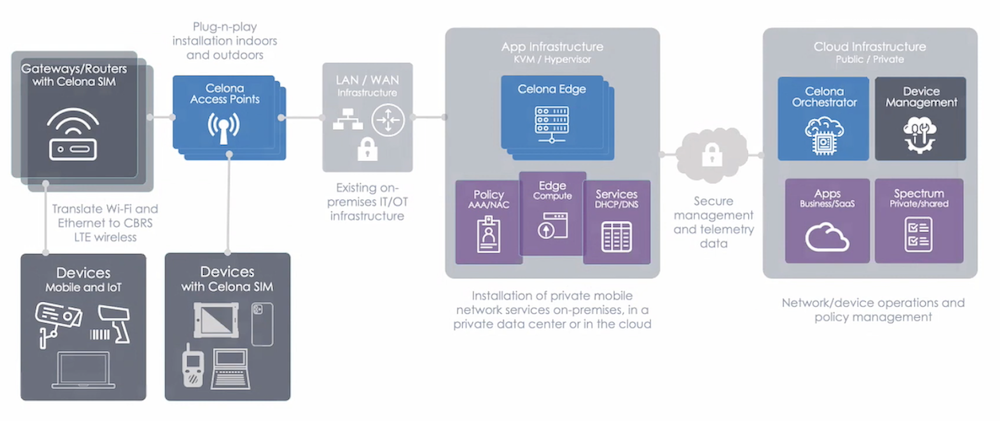 As a whole, the platform is helmed by the Celona Orchestrator, which enables network configuration, SIM provisioning, policy automation, and more from a single pane of glass. Combined with Celona access points and the Celona Edge product, which acts as the LTE/5G mobile core for wireless clients, organizations can stand up entire mobile networks with 5G and/or LTE — all in a matter of minutes.
Celona at Mobility Field Day
Celona appeared at July's Mobility Field Day event, marking their third time at the event. In fact, Celona launched their company at the Mobility Field Day event in August 2019, and announced their product line at the Mobility Field Day event in July 2020. At this current event, having already announced the entirety of their line, Celona dove into deep technical discussions of their portfolio and how each facet works in practice.
The video above marks the introduction of their private mobile network solution, presented by Ozer Dondurmacioglu, VP Marketing at Celona. During his presentation, Dondurmacioglu covered the key principles of Celona's offering that set the tone for the remainder of their Mobility Field Day appearance:
AI-Powered Operations
Cloud-Native Software Stack
Network Infrastructure
All of these facets are crucial to Celona's operating model as well as the state of the enterprise networking scene as a whole. By offering all of them through a single platform, Celona promises a smoother networking experience for companies looking to rely more heavily on 5G-powered mobile devices moving into the future.
Zach's Reaction
It's exciting to see how Celona has grown over the past three Mobility Field Day events, and the demos showcased at this most recent one in July are especially intriguing. I implore you to watch them all to better acquaint yourself with all of the exciting products coming out of Celona. You can watch the entirety of their Mobility Field Day appearance here.