The Internet of Things (IoT) allows IT organizations to gain a wider purview over their operations, but at the end of the day, needs a top-notch network to support it. Cisco is innovating the field of IoT with the product portfolio they displayed at September's Tech Field Day event.
Can't Spell IoT Without Internet
In this data-driven age, IoT devices help drive organizations forward through constant insights into processes via data. Although incredibly useful for peeling back the layers of operations like manufacturing and others, IoT relies on one crucial aspect to function properly: internet!
Without the proper networking setup, IoT devices can't transfer the data they collect back to a central location to be processed. As such, networking equipment can be accurately included in the list of IoT devices, and needs to be at top of mind when considering the bill of materials for a new IoT deployment.
Take it From the Best
Cisco knows a thing or two about the Internet of Things… and the internet in general. Their best-in-class IoT portfolio has everything you need to implement a top-tier IoT deployment.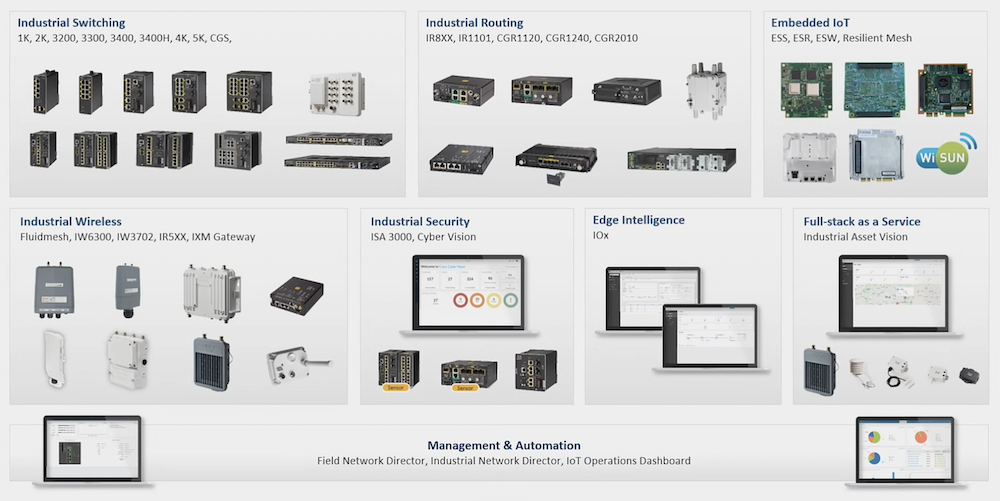 As you can see in the graphic above, Cisco offers a wide range of products and tools to help you implement a full-stack IoT environment. What's more, with their rugged, industrial switches, routers, security, and wireless solutions, your rollout can be applied in virtually any scenario — no matter how intense the environmental conditions.
Expanding on IoT with Cisco
At the recent Tech Field Day event, Cisco's Technical Marketing Leader, Matt Bolick showcased Cisco's full IoT portfolio. Amidst his presentation, Bolick pointed out several new innovations worth noting.
My favorite of these is Cisco's IoT Full Stack as a Service product, a centralized dashboard called MONITOR. With MONITOR, which can be deployed on-premises or in the cloud via Docker, IT organizations gain a full view of their IoT deployment and the connections therein. Included in this view are real-time metrics on network performance, including throughput and packet speed. That way, IT admins can drill into issues as they arise, making informed decisions to keep their IoT network operating at top capacity.
Zach's Reaction
Cisco is taking their best-in-class approach to networking into IoT, and the results are sure to improve any IoT environment. Learn more about Cisco's products by watching the rest of their Tech Field Day appearance.