In hybrid cloud scenarios, oftentimes applications are deployed across clouds, creating hiccups when the IT administrators that manage them have to switch back and forth between infrastructure on-premises and in the cloud. At Cisco's exclusive Tech Field Day event, Cisco presented their Intersight platform, which centralizes and unifies hybrid cloud orchestration and management.
Hybrid Cloud Friction
In spite of the growing ubiquity of the cloud, many organizations still rely on their on-premises infrastructure implementations as a core part of their operations. With many of these implementations, on-prem infrastructure often comes from traditional backgrounds and means, and therefore, look and feel like they come from a time long past.
This traditional appearance can often clash with the modern, sleeker feels of cloud-delivered applications and infrastructure, creating a jarring experience when switching between the two, as IT practitioners are accustomed to doing. As such, when moving back and forth between clouds, IT departments may experience friction that leads to losses in productivity and potentially even snafus in configurations.
Homogenizing Feel Across On-Prem and Cloud
To simplify IT experience across the entirety of their environment, Cisco has created and innovated upon their Intersight platform. Intersight centralizes the management and orchestration of applications, infrastructure, virtual machines, containers, etc. into a single pane of administrative glass.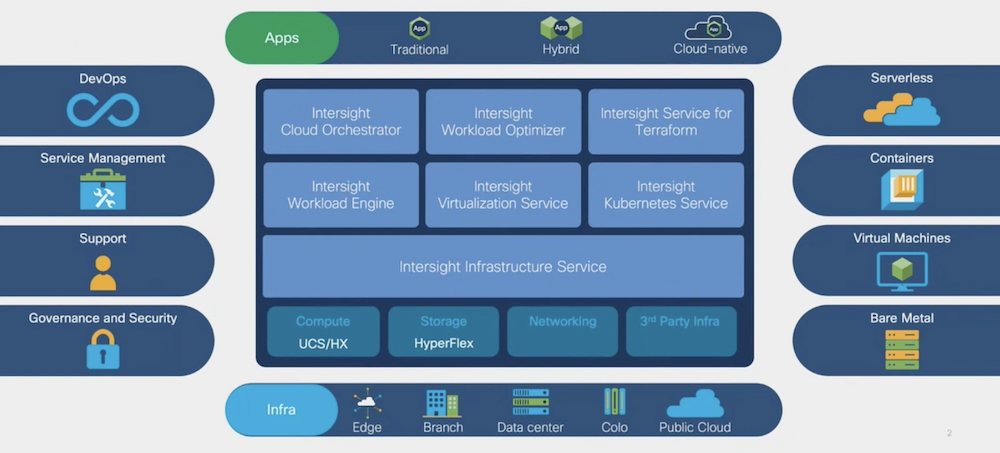 In practice, Intersight can be used in a number of ways due to the amalgamation of services that make up the entirety of the platform. For example, Intersight Infrastructure Service provides UCS and other infrastructure provisioning. Intersight Workload Optimizer normalizes applications across hybrid environments.
Digging into Three More Facets of Intersight
While presenting Intersight at Cisco's Exclusive Tech Field Day event, The Future of Cloud, Justin Barksdale, Technical Marketing Engineer at Cisco, detailed the capabilities of the platform laid out above. Then, Barksdale honed in on three services recently introduced to the platform: Intersight Workload Engine (IWE), Service Mesh Manager (SMM), and Intersight Cloud Orchestrator (ICO).
Let's hit some of the high points of the three services Barksdale discussed.
Intersight Workload Engine (IWE)
IWE tackles the management, security, and operations services required for the underlying infrastructure in your environment (storage, memory, compute, networking, OS, etc.). The initial deployment, which releases around the same time as this post, targets specifically cloud-native applications and Kubernetes containers. The product will eventually evolve to support traditional applications as well.
Service Mesh Manager (SMM)
SMM is built for applications that span environments, such as front and backend servers built across on-prem and cloud infrastructure. In use, the product analyzes the health of the app's services and workloads, leveraging data to track requests, latency, and ultimately track down errors and their sources. It presents this information in a near-real-time, context-aware fashion to provide requisite insights as needed, when needed.
Intersight Cloud Orchestrator (ICO)
With hybrid environments, infrastructure and its architecture is constantly evolving in state across files, spreadsheets, and email chains. ICO provides and runs a series of pre-built tasks and workflows, as well as custom tasks, in a drag-and-drop, low-code fashion. That way, driving infrastructure is centralized and made easy for nearly any member of an IT team to contribute to as necessary.
Zach's Reaction
Intersight from Cisco creates a slick, cross-cloud experience to simplify and optimize hybrid cloud app deployments. With a single platform, Cisco Intersight makes management and orchestration, whether on-prem or in the cloud, a process that anyone can effectively contribute to.
Learn more about Intersight by visiting Cisco's website. You can also watch the rest of Cisco's exclusive Tech Field Day event for all of their innovative products.