Because wireless networks are expanding to massive scales, IT departments and networking teams need a way to manage and monitor their deployments effectively. At July's Mobility Field Day event, Juniper Networks displayed their Mist AI assistant, Marvis, which provides conversational support to wireless networking.
Managing Massive Scale Wireless Deployments
Today's enterprises rely on wireless network deployments now more than ever before. As such deployments grow in their scale, it becomes more and more difficult to keep tabs on all of the comings and goings of the network.
Furthermore, as networks span across multiple locations and even expand to include work from anywhere models, being able to manage and monitor it all likens to a Herculean task. Without the right toolset, the networking engineers facing these challenges are bound to spend hours, if not days trying to sort everything out.
Using AI to Manage Wireless at Scale
In light of this issue, Juniper Networks have crafted their product portfolio (shown below) to tackle the challenges of managing wireless networks at scale. Building off of their line of networking hardware, wired and wireless, Juniper and their daughter company, Mist AI, shoot to provide wireless networking clarity through their Mist Cloud and products like the Marvis AI assistant.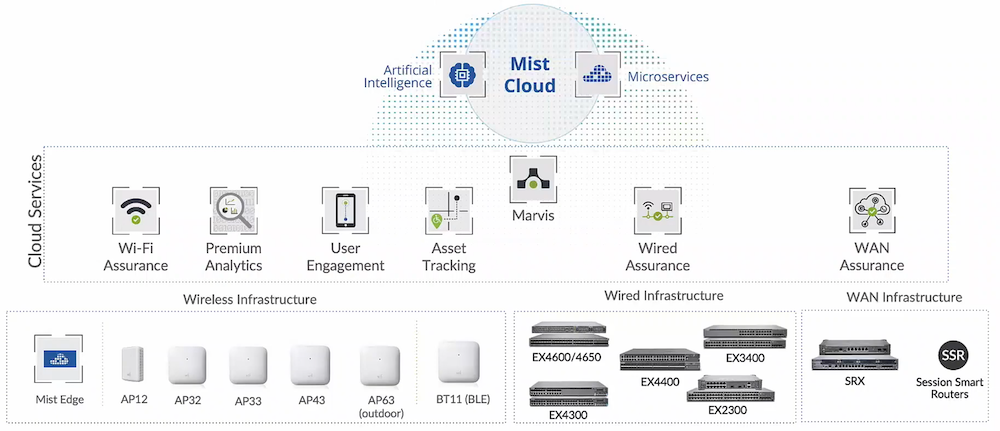 Marvis is the first-ever AI-powered virtual assistant that brings conversational assistance to the field of networking. The tool incorporates data gathered from all aspects of the network to provide client-to-cloud insights into both baselining and anomaly detection across an entire environment. From an IT practitioner's perspective, they can query Marvis about the status of their network just like they would ask a colleague, and Marvis provides an overview of the parts of the network in question.
Expanding on Juniper's Success
At July's Mobility Field Day event, Juniper's VP of Enterprise Marketing, Jeff Aaron, gave an overview of Juniper as they stand today. Among describing their product portfolio and market positioning, Aaron shared some stats about Juniper's recent growth.
Juniper itself experienced $1.6B of annual enterprise business, building upon four years of continuous growth. In fact, in Q1 of 2021, the Mist arm of Juniper reported triple-digit growth, marking an incredible quarter in spite of recent economic uncertainty.
Some of this success can be attributed to Juniper's auspicious customer base:
All of the Forbes 10
8 of the top 10 retailers
7 of the top 10 tech companies
18 of the top 20 universities
18 of 20 of the world's largest banks
To expand on Juniper's ability to deliver enterprise networking at a massive scale, Aaron also covered some of the largest Juniper deployments. The largest single campus Mist deployment clocks in at over 10,000 access points. The largest Mist customer as a whole uses over 150,00 access points.
Zach's Reaction
In light of these statistics, it's no wonder that Juniper leads the AI-driven networking market. Add to that the conversational capabilities of the Mist Marvis assistant and Juniper are changing the way IT teams tackle their massive wireless deployments.
Learn about what Juniper has to offer by watching the rest of their Mobility Field Day appearance. You can also visit their website for more technical info.