Kubernetes is tough, but that doesn't mean there aren't tools that can help. Take the products of Pure Storage for example. At September's Tech Field Day event, the team at Pure Storage displayed how their Portworx platform optimizes Kubernetes deployments across entire environments.
Tackling the Challenges of Kubernetes
In today's decentralized IT era, Kubernetes proves one of the most challenging technologies on the plates of organizations. Specifically, a recent survey by the Cloud Native Computing Foundation details the direct challenges Kubernetes introduces into IT organizations, the results of which are shown below.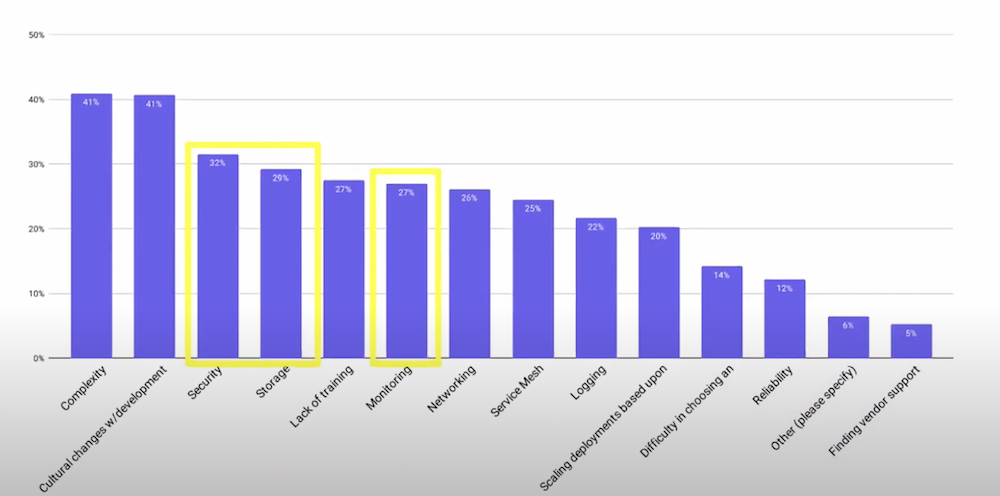 As you can see, complexity and associated culture changes top the charts of Kubernetes challenges, but close behind are the security, storage, and monitoring involved with containers. Unlike complexity, which can only be overcome through expertise, these other challenges can be assuaged via a software solution.
Solving Kubernetes Challenges with Portworx
Pure Storage aims to solve these challenges of Kubernetes through their Portworx product, which is purpose-built to help organizations mature into their container-driven environments. Portworx is Pure's Kubernetes data services platform, providing a consistent management experience across containers deployed both in the cloud and on-premises.
The cloud-native Portworx provides application-centric pluggable container architecture that is optimized for the massive-scale, multi-cloud world. Sitting atop an environment, Portworx enables IT admins to backup, migrate, and secure their Kubernetes storage needs.
Expanding on Portworx for Kubernetes Management
At the recent Tech Field Day event in September, Pure Storage presented the Portworx product. During the presentations, Pure's Joe Gardiner, their Manager of Cloud Architecture in EMEA, detailed the capabilities of Portworx.
There, Gardiner showcased several features of Portworx, including the platform's ability to provide data mobility across containers. Because it integrates with any and all K8s deployments, one of the key use cases of Portworx is its ability to replicate data — either synchronous or asynchronously — between on-prem and cloud containers. Doing so allows information stored in containers to be accessible wherever users are operating, whether remotely or in the office.
He then went on to demo the technical aspects of the platform live. I implore you to please watch the video above to see all of the technical goodness in action.
Zach's Reaction
When it comes to maintaining a consistent and efficient experience with Kubernetes containers, Portworx enables top-down security, monitoring, and storage management for K8s. Such a capability is sure to be a boon for today's decentralized IT organizations.
Learn more about Pure Storage and Portworx by watching all of their Tech Field Day presentations, or by visiting their website.