With employees working from everywhere, enterprise IT practitioners now face the challenge of expanding their network security approach to include all of the users, devices, and data that exist outside of their brick-and-mortar office. The Fortinet Security Fabric, showcased at July's Mobility Field Day event, solves the problem of decentralized network security through broad integration and automation.
Securing a Decentralized Network
Today's enterprises have found that, like it or not, the modern IT environment is growing increasingly decentralized following the spike in WFH after COVID-19 broke out. In response, enterprise IT practitioners have sought and continue to seek out new methods of controlling and securing their employees, as well as the devices, data, and applications they use on a daily basis.
However, this effort is not nearly as straightforward as it once was. With the majority of end-users operating outside the four walls of the brick-and-mortar office, traditional perimeter-based security methods fall short, unable to adequately protect what is not within their domains. Clearly, a novel approach to security is required to keep pace with the ever-changing landscape of decentralized IT.
Fortinet Security Fabric
Fortinet, leaning on years of network security expertise, believe their Security Fabric provides the solution to securing decentralized IT environments. The cybersecurity platform builds off of their FortiOS operating system, integrating several other facets of their product portfolio to create a fabric of security solutions that covers nearly all of a modern enterprise IT environment.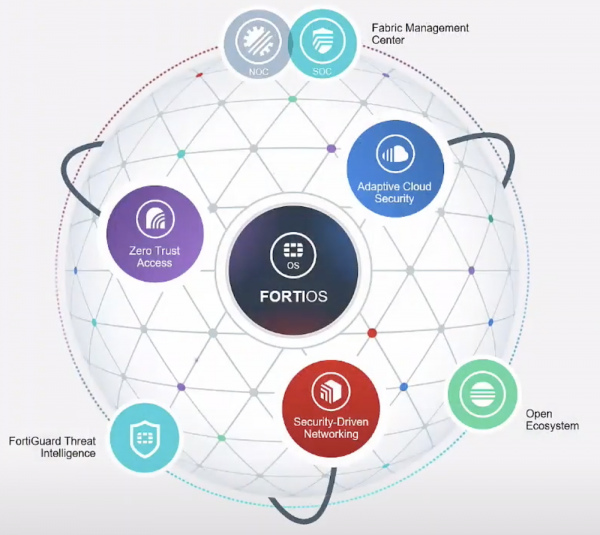 The Fortinet Security Fabric solution delivers on three core benefits when put in place:
Broad visibility and protection of the entire digital attack surface to better manage risk
Integrated solutions that reduce management complexity and share threat intelligence
Automated self-healing networks with Al-driven security for fast and efficient operations
Each of these, in turn, is critical for creating an adaptive, zero-trust approach to securing decentralized networks.
Digger Deeper into Fortinet
At their Mobility Field Day appearance, Fortinet's Director of Products and Solutions for Wireless, Chris Hinsz, showcased how the Fortinet Security Fabric is benefitting today's enterprise IT organizations.
One of the biggest benefits, according to Hinsz, is the integration aspect detailed above. He states:
The best security happens when everyone is on the same page and you don't have to marry a bunch of different solutions from a bunch of different vendors.
With Fortinet Security Fabric, many aspects of the Fortinet security portfolio work together in tandem to provide a holistic view over the network, from LAN to cloud. Creating such a fabric enables IT operators to keep a constant vigil over their networks — regardless of where users work or what resources are at play — so that security is maintained wholesale across the environment.
Zach's Reaction
Any solution that can provide a broad, integrated, and automated view of a network environment is sure to be of use to IT practitioners who need to secure their decentralized organization. Fortinet provides such an approach with their Fortinet Security Fabric, backed by FortiOS and the rest of the Fortinet product line.
Learn more about what Fortinet has to offer by checking out their website and watching their technical demos from July's Mobility Field Day.