In today's topsy-turvy times, when data breaches and natural disasters rock the news on more than a weekly basis, having an easy-to-use backup and recovery solution makes a world of difference for IT teams. Infrascale accomplishes this with their DRaaS solution, which they displayed at the recent Storage Field Day event.
The Importance of BDR
One of the most critical facets in an IT environment today is infrastructure backup & disaster recovery (BDR). After all, we hear too many stories in the news on a daily basis of some kind of disaster, be it malware/ransomware, floods, fires, hurricanes, etc. Keeping frequent snapshots of critical parts of the infrastructure ensures that, in the case that the worst happens, IT organizations are prepared to reimage and repair any damages that occur.
In practice, BDR all comes down to integrating storage — both on-premises and in the cloud — with a solution that takes routine snapshots and replicates them to a secondary location. The BDR solution also needs to be able to recover these snapshots at a moment's notice, and also have multiple failover routes established in case of the absolute worst.
Establishing BDR with Infrascale
In light of this particular need, Infrascale offers their Disaster Recovery-as-a-Service (DRaaS) solution to provide a straightforward, efficient method for implementing BDR. Combining intelligent software with the power of the cloud, Infrascale removes the barriers and complexity of secure, offsite data storage for backup and disaster recovery.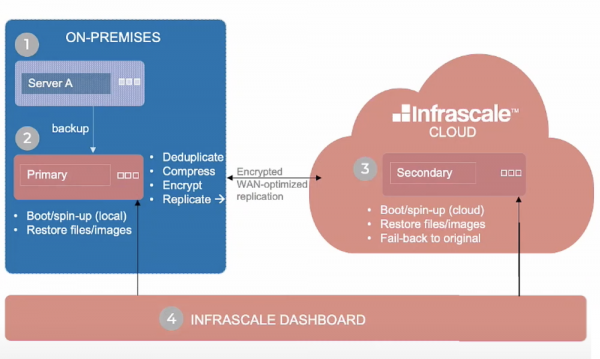 The Infrascale solution portfolio is built to be entirely customer-first; their products equip customers with the confidence to handle the unexpected by providing greater availability, better security, and less downtime when it comes to their data. As a result, IT teams using Infrascale can rest assured that their data is at the ready at all times while still remaining protected from the worst.
Detailing Infrascale DRaaS
At August's Storage Field Day event, Infrascale's Brian Kuhn, COO, and Chris Bayne, Chief Solutions Architect, presented on the BDR capabilities of their solution platform. Specifically, they honed in on the three core deliveries of their the Infrascale Backup and Disaster Recovery (IBDR) offering: Backup, Recovery, and Failback.
Backup
Infrascale provides agentless, native support of VMware and HyperV deployments as well as most on-prem and cloud-based resources. As such, Infrascale backs up the majority of the modern IT environment, including images, files, and folders, making it effective for nearly any organization.
Recovery
Backing off the information above, Infrascale restores files, folders, and images, as well as Windows and Linux VM images. The platform also provides unlimited restore points, allowing IT organizations to pick and choose when to restore backups, a critical feature for companies concerned about malware/ransomware.
Failback
When a DR plan is invoked and on-premises infrastructure is available for restoration, Infrascale begins the failback process, taking three key steps. The first occurs in the cloud, shutting down VMs on secondary servers and backing them up to ensure the latest state. The second and third step happens when the VM is then replicated and rebooted on the primary and reimaged to the captured state. Ultimately, consistency is preserved across this process, making it seem as if nothing happened on the other side.
Zach's Reaction
By providing DRaaS, Infrascale makes it as easy as 1, 2, 3 for IT organizations to keep their environments safe and secure in the case of a disaster, whatever that may be. In today's turbulent times, having such a semblance of security means the difference between long hours of stress and a good night's sleep.
Learn more about Infrascale by watching all of their Storage Field Day presentations, or by visiting their website.