The network of today is vastly different than that of five years ago, and even two or three years ago, depending on the organization. As such, today's organizations need a better way to gain the requisite visibility over their distributed network to ensure things run smoothly and securely. At May's Networking Field Day event, VMware showcased their approach to multi-cloud network visibility: the vRNI, or vRealize Network Insight product.
Assessing the State of the Modern Network
If we learned anything of the course of the last year, it's that the network simply no longer is the same as it was. For some, physical offices have gone the way of the dodo, and as such, so have on-premises data centers, paving the way for widespread adoption of cloud infrastructure — public, private, and hybrid — as well as Kubernetes and virtual machines. Add on top of that the paradigm shift towards distributed workforces, and it's apparent that networks need to be distributed as well.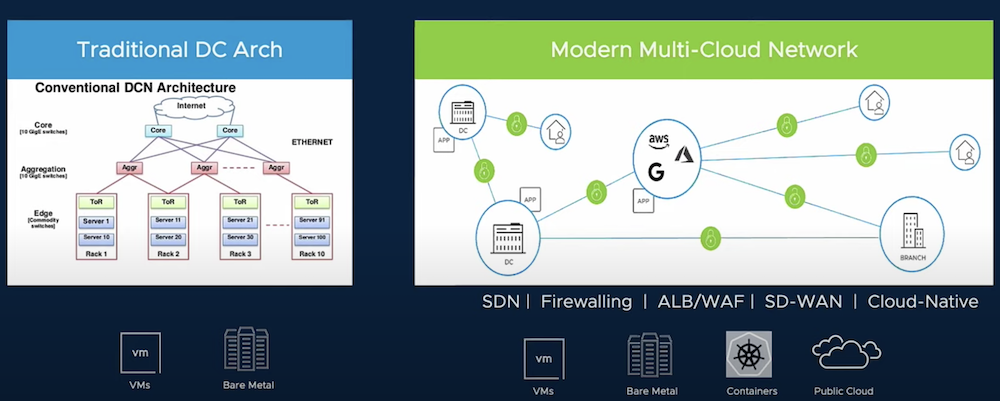 Unfortunately, despite the need for a wide-reaching, globalized network, many network monitoring and management tools have the traditionally narrow focus of the on-prem network. In order to ensure that end-users are using the network effectively and securely, IT admins need a new approach, or at least, a new tool to help them keep tabs on the network.
vRealize Network Insight
VMware is acutely aware of the disparity between managing traditional networks compared to those of today. That's why they created their new vRealize Network Insight (vRNI) product, which provides end-to-end visibility across multi-cloud environments.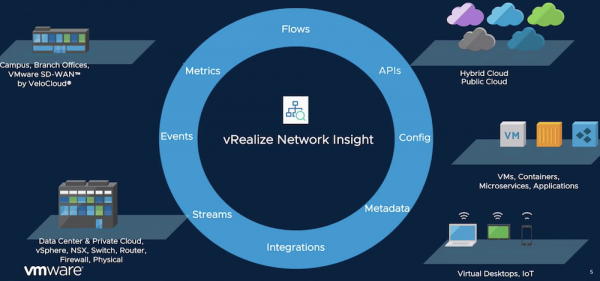 vRNI sits above your entire network, giving a top-down view into traffic and other network activities spanning on-premises, virtual, and cloud environments. That way, instead of having to acquire a handful of point solutions to bolster the capabilities of existing network monitoring tools, IT admins can opt for a single solution that they can manage from a single pane of glass.
Digging Deeper into vRNI
VMware's Director of Product Management, Sesh Sayani, talked about the vRNI product's capabilities at May's Networking Field Day event. During his presentation, Sayani dove into the three core pillars vRNI is built to address.
Networking
Core to the vRNI product is its networking visibility. In practice, vRNI enables IT admins to troubleshoot their networks from end to end, including deep analytics of all network traffic and paths. Doing so also allows admins to track performance metrics across their environment, such as latency and throughput. The vRNI product even has intent verification and assurance, which was detailed further in a later presentation.
Security
With visibility over all of a network — regardless of cloud — vRNI lets IT admins monitor who is coming and going in their network and when. This visibility provides key insights into traffic, allowing for the discovery of potential threat vectors that would go unnoticed without it. Armed with this information, network engineers can ensure their environment remains compliant with the various industry compliance standards they are subject to, which they can then build off of to ensure their end users' connections are secured.
Applications
With end-to-end, top-down visibility across a network, vRNI even allows Ops teams to track the performance and uptime of the applications they're running. vRNI routes traffic in the case of an outage, ensuring uptime regardless of whether the app runs on bare metal or in the cloud. vRNI even opens up the possibility for organizations to migrate their apps from on-prem data centers to cloud infrastructure, the process of which was laid out in detail in the following presentation:
Zach's Reaction
Simply put, today's networking engineers need to be able to see what's going on in their environments in real-time and at a moment's notice. With VMware's vRNI, organizations can collocate all of their clouds into a single pane of glass, making it easy to keep track of what's going on and address issues — be they uptime or security concerns.
Learn more about vRNI and all of its functionality by watching all of VMware's Networking Field Day presentations, or by visiting their website.