NetApp and Google Cloud Platform (GCP) have launched two new cloud storage offerings. The first, Cloud Volume Service (CVS), will cost less than a seasonally appropriate Gingerbread Frappuccino at Starbucks. The new CVS, available on the Google Cloud Platform, is backed with a 99.9% SLA and is available in the Google console from the command line for application program interface calls.
This CVS is the GCP version of NetApp's already successful Azure product. See our writeup to learn more about that.
The Nitty Gritty
The Service gives companies the ability to create volumes as small as one terabyte and has different performance tiers available at different price-points. However, companies pay only for the volume that they're provisioning but are getting all of the available enterprise capabilities.
CVS is the easy button for storage designed to reduce the bells and whistles, knobs, and buttons and increase what the user can do with it. CVS is entirely managed by NetApp and GCP and supported by NetApp and GCP.
CVS is simple to activate and consume without having to be an ONTAP administrator. CVS features data protection and data resilience that is transparent to the customer. The customer is effectively provisioning the volume, selecting the performance tier for that volume, selecting the size for that volume, and making it available.
CVS is also a fully managed NFS and SMB file services offering in Google Cloud, and it is open to all. This means that the customer doesn't have to be whitelisted or on-boarded. The way it's designed is that a Google customer can log into their Google account and consume it from the same navigation menu where all of the other Google services are listed.
Differentiators
One of the critical differentiators between CVS and other products is that Cloud Volume Service connects to a Google region, and the Service is highly available in the region. The customer can deploy applications in all of the zones in that region and connect to CVS without worrying about the Service going down when the zone goes out. The framework used is private service access, a very highly robust and secure technology from Google, also used by other Google native technologies like Cloud SQL. On the control plane, you can access the service using the console, API, CLI, and it's also embedded with cloud monitoring, previously Stackdriver, from a monitoring standpoint.
The idea behind CVS is to give customers automated, highly secure, robust storage options and allow them to focus on higher-level tasks, not the mundane tasks of implementing things.
Cloud Volumes ONTAP
The second product launched by NetApp and Google is the Cloud Volumes ONTAP. Cloud Volumes ONTAP is ONTAP delivered as a virtual appliance inside the cloud of choice and is a self-managed service. A company point it in any region and spin it up. It's dedicated to your business, not multi-tenant, and will automatically tier data between a persistent disk or SSDs and into object storage. Cloud Volumes ONTAP is designed to do all of the data compaction, data deduplication. It does SnapMirror – essentially, it does what all of the knobs and dials available with on-prem storage such as NetApp's storage on-prem do. Now NetApp and Google are bringing that into Cloud Volumes ONTAP, and it's available as a self-managed option.
Cloud Volume ONTAP has a fully supported ONTAP environment from data management and data services.
Cloud Manager is a multi-cloud cloud management control panel designed to allow drag-and-drop cloud volume movement, i.e., the user can take an icon representing the cloud volume in whichever region it is and drag and drop it, and it'll replicate it no matter which cloud it is in.
For Cloud Volumes ONTAP, most customers are existing NetApp customers. You go to the marketplace, you click, and you can deploy it within five minutes for your Cloud Volumes ONTAP.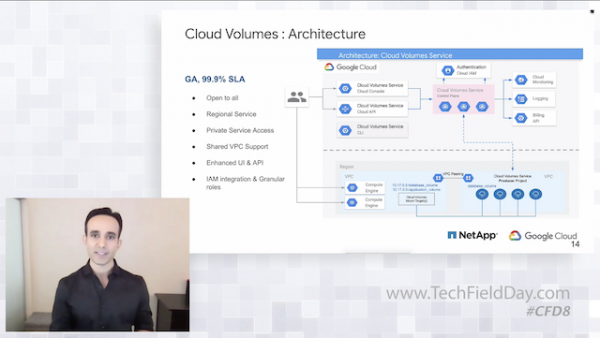 Data Protection & Backup
Everything within the Google Cloud is encrypted, and a client would use its own standard Windows NTFS permissions, the way they would do it for regular SMB shares. The client can have multiple volumes for different users, or however, they want to carve it up. There's nothing extra that's needed or knobs that turn on outside. It's controlled on the OS level.
NetApp will be announcing backup by the end of this calendar year, with the catalog to take the data in Cloud Volumes and GCS.
However, for the moment, NetApp suggests using third-party tools or Cloud Sync technology and have the data synched on more than one region or synchronized directly into Google Cloud Storage.
Our Opinion
It's easy to get started with Cloud Volume Service and Cloud Volume ONTAP. Whether you're CLI, you're API; you're in the console itself. If a company has a bursty, spiky workload, and that's one of your strategic reasons to move workloads to Cloud, these options are designed to be simple and easy ways to do that. In theory, companies can save on storage costs on an hourly, daily, weekly, monthly basis.