In 2019 accelerator card manufacturer Pensando signed NetApp up as a customer, and the rest is hardware offload history. But, how exactly do the Pensando accelerator cards work with NetApp? The duo presented the details of this collaboration at Storage Field Day last month, so let's get technical.
The Pensando Card
Pensado's smart I/O cards fit into NetApp's AFF A400, a mid-range all-flash ONTAP array, to offload data reduction processing from the central controller CPU. This is the first time in the history of NetApp's AFF models that this type of hardware offloading has been included.
The Pensando chip's inclusion is designed to offer higher performance, faster host connectivity, expandability, and flexibility for highly compressible workloads. The AFF A400 also offers full end-to-end NVMe support in the midrange. There are two Pensando cards in each box because they have a HA pair, so two nodes.
What type of processing is being offered by the chip?
As NetApp became more data-centric, it looked deeper into what obstructions and stresses data-centric workflows create – and there are quite a few. Think low-latency east-west connectivity and the need for reliable connections that allow for workflows to operate promptly.
When NetApp went to all-flash and had many new features to add, such as storage efficiency features and compression – it first had them on x86. Those features are not very friendly on x86 CPUs, and hardware (such as the Pensando card) is better placed to do this. There is a whole spectrum of much better functions in terms of energy used, the speed at which we can generate, and end cost.
With the Pensando card, there is network capability, very flexible compute, and ASIC-like speeds from the programmability. A rigid ASIC doesn't give much flexibility to full programming capability, so an x86 or ARM CPU provides better functionality.
Retrofitting and Evolution
What NetApp wanted to do as new systems come along was to retrofit the Pensando card into the solution. They are putting it into new systems as they are developed. With the mid-range evolution to encompass 100 Gb Ethernet, it made sense to put the card in the mid-range products.
Even further value could be provided in the higher-end solutions, such as the A700, and NetApp is looking at the next generation of how that would work. The company wanted to test how the card worked using its mid-range appliances as a test case to start with, rather than full-blown usage across the entire portfolio. Now it has a year of using the smart card under its belt, and the card has proven itself to be rock-solid; it might just be time to expand that further throughout the NetApp portfolio.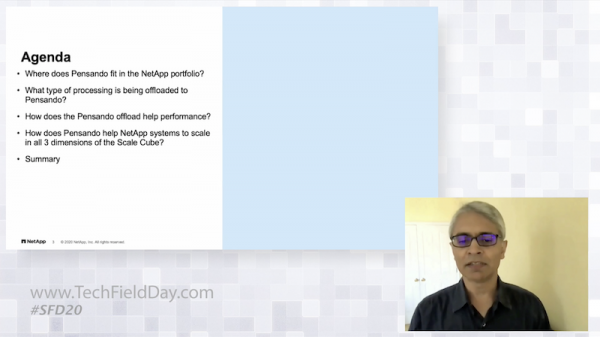 Our View
We like the flexibility the Pensando card gives. This card is essentially a whole computer by itself; it has compute capability; it has shared memory and networking. The shared memory and processing are very flexible. It also has management and sequencing operations. It also has the P4 engines, which are high-speed processing engines, and it has the hardware engines to do compression. Those engines can do this compression very fast and very efficiently compared to x86 engines.
The protocols can be implemented using these compute engines, so essentially, a whole computer system is sitting inside a card form factor inside the A400 boxes.