AI is one of the most iconic technologies of our time that have found home in the cloud, on-premises and on the edge. Although it's possible to get virtually limitless storage and compute today for AI workloads, it does not solve all the problems surrounding AI pipelines. WEKA presented the WEKA Data Platform for AI at the AI Field Day event in Silicon Valley in May that focuses on these obstacles and enables building an efficient AI data pipeline at reduced cost.
AI Projects Are Constantly Stymied by Slow Data Pipelines
For what it's worth, the AI data pipeline is neither simplistic, nor easy and data engineers working day to day on this have to deal with it. Typically, an AI data pipeline – each serving a selection of use cases – involves a series of steps that starts at ingestion of data and ends with inferencing and archiving it. What is less known about AI pipelines however is that the processes happen in iterations and therefore, don't necessarily have a seamless cycle or even a set sequence. There is constant back and forth happening along the way where engineers jump between current and past years collating data to train the models. In plain-speak, the processes are shuffled as required.
Each of the steps, catering to a different use case has dissimilar requirements which further complicate matters. As data is moved around across these steps, it creates a bottleneck and that leads to more complexity, waste of resource and introduces errors in a job that has no room for errors.
WEKA Unifies Data and Reduces Complexity by Eliminating Data Movement
WEKA finds a way to eliminate these challenges in the AI data pipeline. The WEKA Data Platform for AI is a solution that makes it possible to perform these steps way efficiently and cost-effectively. WEKA says that the WEKA Data Platform is unlike any modern data platforms that are really legacy-solutions-turned-data-platforms with the exception of cloud enablement. The WEKA Data Platform was designed from scratch to power AI workloads and other compute-intensive applications, and thus checks all the vital criteria of an AI data platform.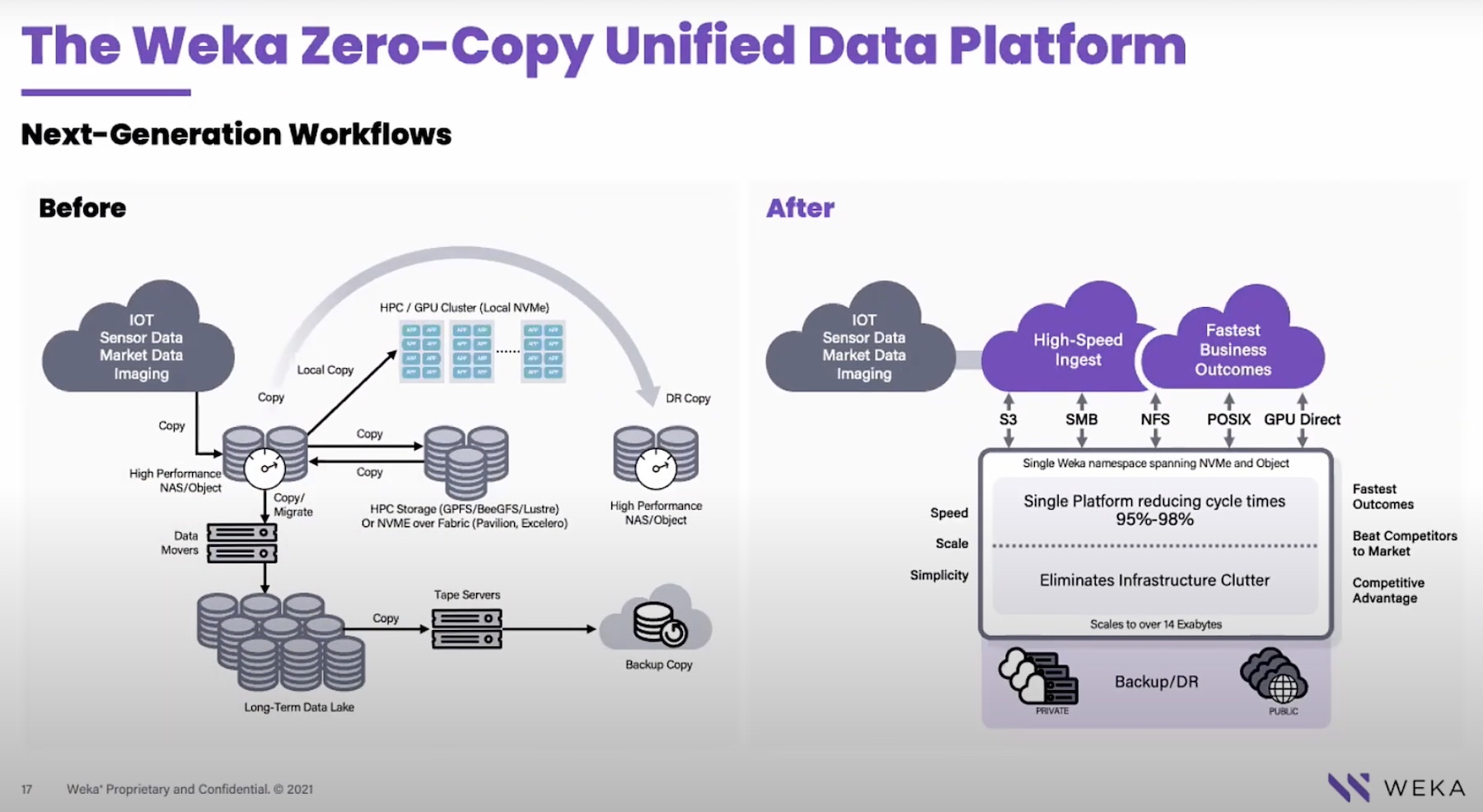 WEKA offers ubiquitous access to data, no matter where it lives and over whatever protocol it is written to or with. Irrespective of on premises, in the cloud or on the edge, users get access to the same data, anytime, anywhere. Where traditional arrays support only one kind of workload or the other, the WEKA Data Platform supports one and all. It can be deployed anywhere the data is and can be scaled limitlessly.
Building an Undemanding Yet High-Performing Architecture with WEKA
Colin Gallagher, Vice President of Product Marketing at WEKA presented the WEKA Data Platform for AI at this month's AI Field Day event in Silicon Valley. At the presentation, he laid out the current challenges in AI implementation in production and walked the audience through how the WEKA Data Platform addresses and reconciles them.
The WEKA is a single data platform that has a fully containerized microservices architecture. It services all the different steps across AI data pipeline and eliminates the problem of making multiple copies of data, in this case potentially petabytes of it, by making data global. It consolidates data siloes all on a single platform wherefrom it is ubiquitously accessible through the various stages of the pipeline.
With zero-copy and auto-tuning, data can stay in one place meaning users do not have to invest in different storage solutions or waste time configuring those solutions to be able to serve the concerned use cases.
WEKA Data Platform is adaptable to any general or high-compute workloads which significantly shortens the time to insight. Without the need to tune any new workloads, it can be run instantly and moved across the data pipeline without delay.
Final Verdict
Built to accelerate the AI data pipeline and in the process make data management simpler, the WEKA Data Platform brings organizations a workaround for the infamously costly cluster infrastructure. It allows users to pool data in one place instead of storing them in silos in multiple storage mediums. The platform enables easy administration of that data through quick access and simple management. For organizations that don't mind using a single-vendor solution for its data, this can be an ideal pick in more than just one way.
To know more about the WEKA Data Platform for AI, check out WEKA's other presentations from the AI Field Day event in May.