Network operations management has numerous moving parts, and with larger and complex networks, network teams are barely able to keep everything together. Recently, at Mobility Field Day event hosted in Silicon Valley, Fortinet presented FortiAIOps, an intelligent AI solution that makes lives easier for network administrators by accelerating IT operations and providing deep and proactive visibility into the network.
Top Challenges Affecting Network Administrators
Let's begin by saying that network operations management today has several holes and significant room for improvement. It wouldn't be practical to go through the entire laundry list of problems that makes life difficult for administrators, but while we are on it, let's briefly touch on the top few challenges. First of all, there is way too much data in the network nowadays with the edge being included in it. That data is a goldmine of valuable information if harvested correctly. But monitoring so much data is no small thing.
On the background, there is a staffing insufficiency plaguing the industry, and that has opened wide skill gaps within organizations. This is at a time when the network is the most complex and demands the highest level of expertise. Triaging and allocating professionals based on skillset was the answer when companies did not change their solutions frequently. But that's not the reality anymore. Nowadays, new solutions are added every now and again. Some people in the team may be great at one of these things but not so much in others. Also troubleshooting is time-intensive and often involves unreasonably protracted MTTR.
Faster RCA and Troubleshooting with AIOps
Enters AIOps. AIOps levels all of the said challenges with AI and automation. It really is that simple. Together with the Ops team, AIOps can monitor more data than is humanly possible. Replacing human toil with automation, it shrinks the technical requirements and manual effort to less than half. Automated root cause analysis translates into faster detection and shorter time to respond. When you have a solution that checks all these boxes, 24/7 application and network availability becomes perfectly attainable, and that translates to improved digital experience.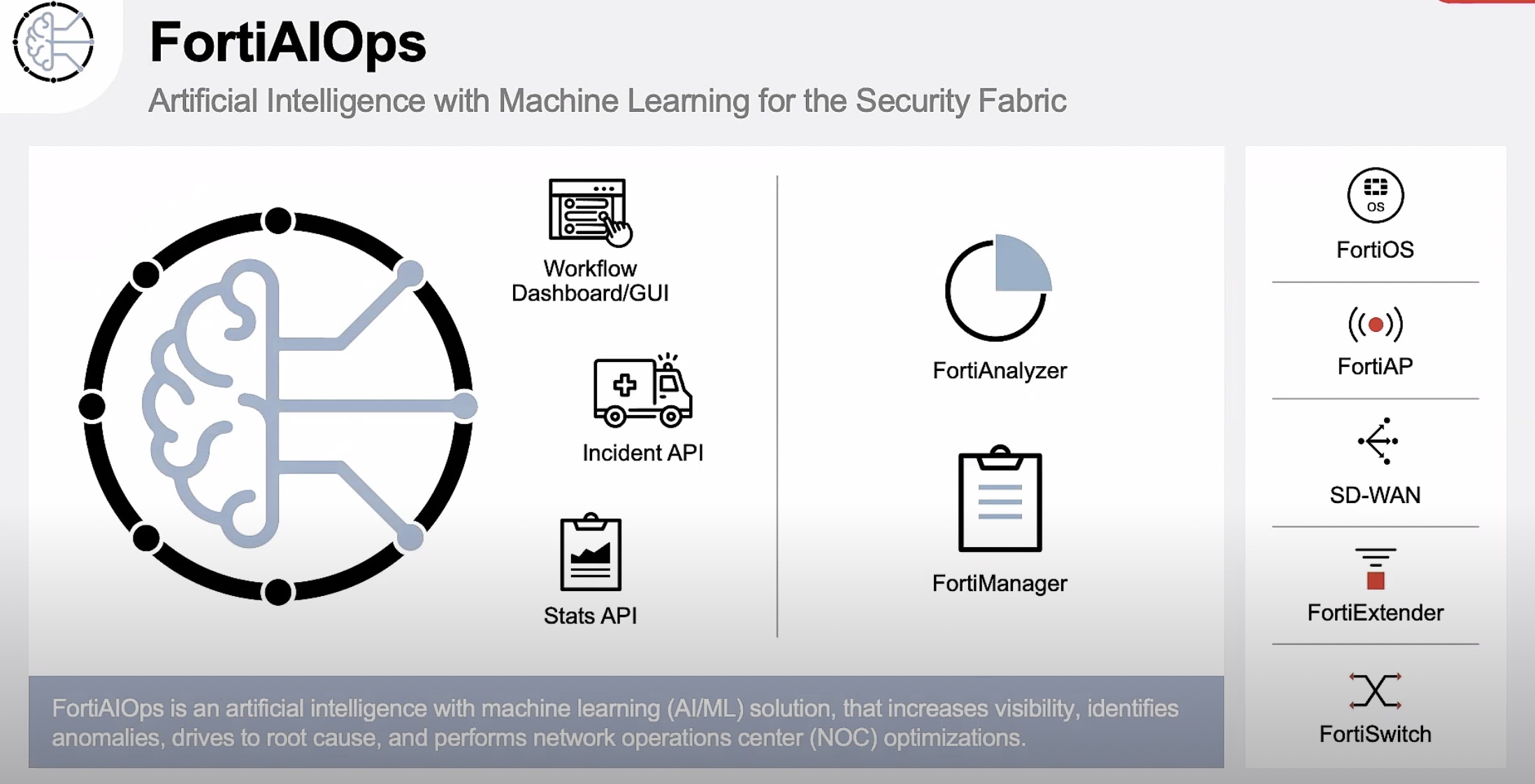 FortiAIOps is an AI-powered solution that primarily does two things – quickly assimilate data from across deployments and dissect it to discover and examine anomalies. It takes a comprehensive look at the entire system, analyzes the on-going issues, and establishes a baseline. It uses event logs from FortiGate firewalls and other devices in the network for this. A rest API queries into FortiGate to investigate the root cause of issues while unsupervised ML models chalk out optimal paths and remediations. The assessment reports produced comprise both failure predictions and optimal troubleshooting recommendations.
FortiAIOps – An AI Solution for Fortinet Networks
At the Mobility Field Day event, Alexandre Vizzari, Sr Director of Product Management at Fortinet presented FortiAIOps. In the video below, he outlined the key challenges that network teams face at work and explained how FortiAIOps resolves them and enhances user experience and network performance with machine learning.
Available as an extension module in the FortiManager – FortiGate's central fabric management platform – FortiAIOps is an on-prem solution that is designed for FortiGate. Logs can be forwarded from FortiAnalyzer or imported directly from FortiGate firewalls to FortiAIOps through a secure tunnel. In the future, a cloud version that works with both FortiGate Cloud and FortiLAN Cloud will be available for users in the cloud.
FortiAIOps' key functions are to monitor the network and establish a baseline behavior so that when anomalies crop up, the network can be returned to its normal operational behavior by just resolving the issues. Having an operational baseline also diminishes the incident volume allowing the network and the teams to work at optimum efficiency.
FortiAIOps also offers diagnostics based on the data derived from its rest API and the event logs. As data is collected from across WLAN, LAN and SD-WAN, it finds correlations between the networks, providing precise data points for swift root cause analysis.
FortiAIOps also has some predictive capabilities whereby it can identify deviations and make proactive recommendations and NOC (network operations center) optimizations. But that's not all. In the future, Fortinet plans to make FortiAIOps self-healing by layering in capabilities like automated recovery and real-time optimization. That way, it will be able to make prescriptions and auto-corrections saving significant manual work and time.
Wrapping Up
There are innumerable challenges facing the network teams just over the course of a normal workday. Not all of them can be or need to be resolved by the network professionals themselves. AI can take off a significant bulk of the work, keeping things from becoming uncomplicated beyond reason. Fortinet has intelligently tapped into these technologies to design FortiAIOps, a solution that uses smart data-mining techniques to discover entities related to a problem and inform the team, in a timely manner. In doing that, it assists humans in not only solving complex network issues, but also in faster and intelligent decision making through process automation.
For more information on FortiAIOps or other solutions from Fortinet, check out their other presentations from the recent Mobility Field Day event.