Much of the modern day data and workloads today live on the cloud or in on-prem data centers or in both. That makes data protection a standard ask of all organizations. Veeam Software presented at the Cloud Field Day of November where they showcased the Veeam Software's cloud solutions that make the complex job of managing and preserving data in cloud and hybrid environments easy, reliable and cost-effective.
Managing Data in Hybrid Multi-Cloud
When your data is in a hybrid multi-cloud environment, you not only need mobility to be able to migrate and move workloads across platforms, but also robust security and backup and recovery. To that end, companies face enormous challenges today, despite paying top dollars.
Although all cloud service providers have their own backup and recovery functions, those do not cover a lot of ground. For example, they do not intuitively sort data anticipating the needs of the users to keep their cloud costs at an all-time minimum. That falls on the users themselves who do not always know the how or what of cloud cost efficiency. Also, native data security is sometimes grossly inadequate on the face of sophisticated and evolving threats.
What can help overcome those challenges is a system that besides protecting the contents in the cloud lays an extra blanket of protection across the cloud infrastructure and supports the deployment of an infrastructure-wide disaster recovery solution when required.
Managing and Protecting Data with Veeam Software's Solutions
At November's Cloud Field Day presentation, Veeam Software's Global Technologist David Hill together with Andrew Zhelezko, Technologist showcased three solutions that can be deployed individually or collectively by users of AWS, Azure or Google Cloud to centrally manage data and workloads across platforms.
Veeam Software's is a three-part solution that comprises disaster recovery, data security and cost optimization. Together, they enable users on public, private and hybrid cloud platforms protect and manage their data efficiently at low costs.
Veeam Software's Backup and Recovery is an agentless solution that protects workloads natively on cloud platforms by leveraging native technologies of individual providers. The backup for AWS uses cloud API and native snapshots to build backups which it then offloads to object storage platforms for low RPOs. An all policy-based solution, it lets users set the policies as they see fit and forget while it continues to generate snapshots, backups, replicas or what have you in the background for the set duration. Instant recovery of entire instances, file-level restoration, data restoration to multiple locations, much can be done with the Backup and Recovery solution.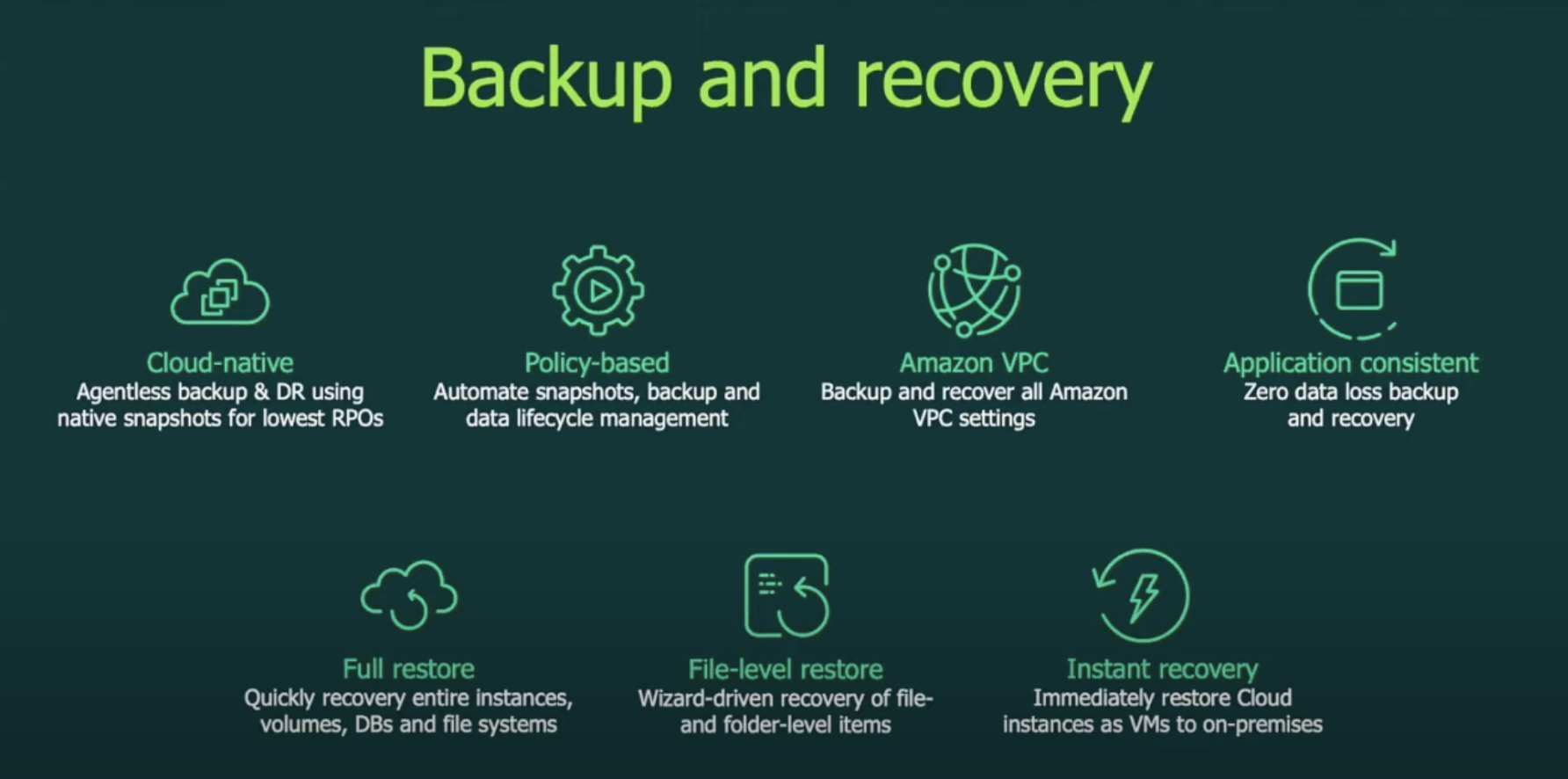 Veeam Software's Security is all about 360-degree data protection which shields against ransomware and other threats through platform-aware security, encryption of backups, secure access and multi-factor authentication. Designed to secure on all fronts, it offers protection from threats that originate on the inside and those that come from the outside.
Cost-efficiency is at the heart of most of Veeam Software's solutions. That becomes apparent in its Cost Optimization solution with which it attempts to bring down the overall public cloud costs of users. Calculating the cost of services based on users' selections and preferences and the list price of public cloud services, it tells users beforehand how much they will be charged for a chosen service.
Final Verdict
Whether you use the public cloud or the private cloud or a hybrid multi-cloud, you want to have a centralized and intelligent data protection system at your disposal that meets the three priorities of backup and recovery, security and cost. On those counts, Veeam Software's latest cloud offerings are spot on. Their capabilities collectively make using multi and hybrid cloud infrastructures inexpensive, uncomplicated and risk-free.
To check out all of Veeam Software's presentations at the Cloud Field Day, visit us on techfieldday.com