Networking for the most part is a manual process, driven by CLI-based operations and EMSs or automation scripts. As a result, most network outages can be traced back to some form of human error or oversight. Intent-based network automation and service orchestration changes that by supplanting manual processes with software-enabled automation. Earlier in August, at the Networking Field Day: Service Provider event, Chris Cummings, Network Automation Software Engineer at ESnet and often a Field Day delegate made a presentation on intent-based networking and service orchestration where he explained how IBN mitigates risks and errors and heightens operational efficiency for ESnet.
Problems with Manually Managing a Network
Complexities around networking and service orchestration in most cases spring from manually executed routine tasks like management of network policies, updating those policies regularly, deployment of various network services, not to mention configuration of routers and switches.
Manual inputs introduce risks of error in these everyday tasks. For scaled and mission-critical deployments, this can pose significant challenges. In recent times, organizations have successfully overcome a majority of these problems with intent-based systems that ensure successful outcomes even through errors and outages.
Modern Intent-Based Systems Filter Out the Complexity and the Noise
An emerging concept and currently an industry buzzword, intent-based networking (IBN) is a templated process where cognitive computing and ML are applied to reduce the amount of manual work in network administration through automation of processes. With it, administrators can simply input the outcome, or so-called intent in the Source of Truth system with a GUI or conversational UI without going into the nitty-gritty of implementation and the software layer works it out and accomplishes the objective in a fraction of the time.
Chris Cummings says, "Service provider networks are really complicated." So, by abstracting a service offering from the actual implementation nuances, IBN frees the administrators from the obligation of knowing the network end to end and focus only on select components which is infinitely easier by comparison.
The second piece is intent-based service orchestration. Orchestration tools convert the network intent that's inside the Source of Truth into network configuration in devices which ensure fast and consistent configurations all across the network. By templating out configurations and deployments, intent-based services save engineers time, effort and possible error.
ESnet – A Quick Intro
ESnet is a service provider style network, except it falls under the specific category of research and education network– a subset that is dedicated to the U.S. Department of Energy, more specifically the Lawrence Berkeley National Laboratory in California. Funded and managed by the two organizations respectively, ESnet is transatlantic and spans across US, and parts of Europe connecting with many national and international networks. The network connects the Department of Energy laboratories to the mainstream Internet supporting their various scientific research works from experiment to discovery.
As a research and education network, ESnet is fundamentally different from the normal ISPs which cater to a wide range of use cases, Cummings says. In Cummings' words, compared to a commercial ISP, ESnet is a "wide pipe network with a 400 Gbps backbone" that chiefly delivers large elephant flows for scientific workloads such as the Large Hadron Collider (LHC) at CERN – their particle accelerators are a part of the DoE lab complex.
Using Intent-Based Networking for ESnet
At the recent Networking Field Day: Service Provider event, Cummings demoed the tools they use at ESnet and showed examples of service provisioning in a sandbox environment created in-house.
Cummings took the audience through the individual components of the ESnet6 which is their latest generation of network. At the center of the stack is SURFnet Orchestrator which is an open-source, configurable software.
Other components in the stack include ESDB, their customizable Source of Truth where network intent is stored, Prefix Manager for processing IR data and managing prefixes, Stardust which is their in-house flow analog analysis tool that tells the historic network state and Discovery Service that gives out information on the current state of the network, and Topology Service for routing traffic.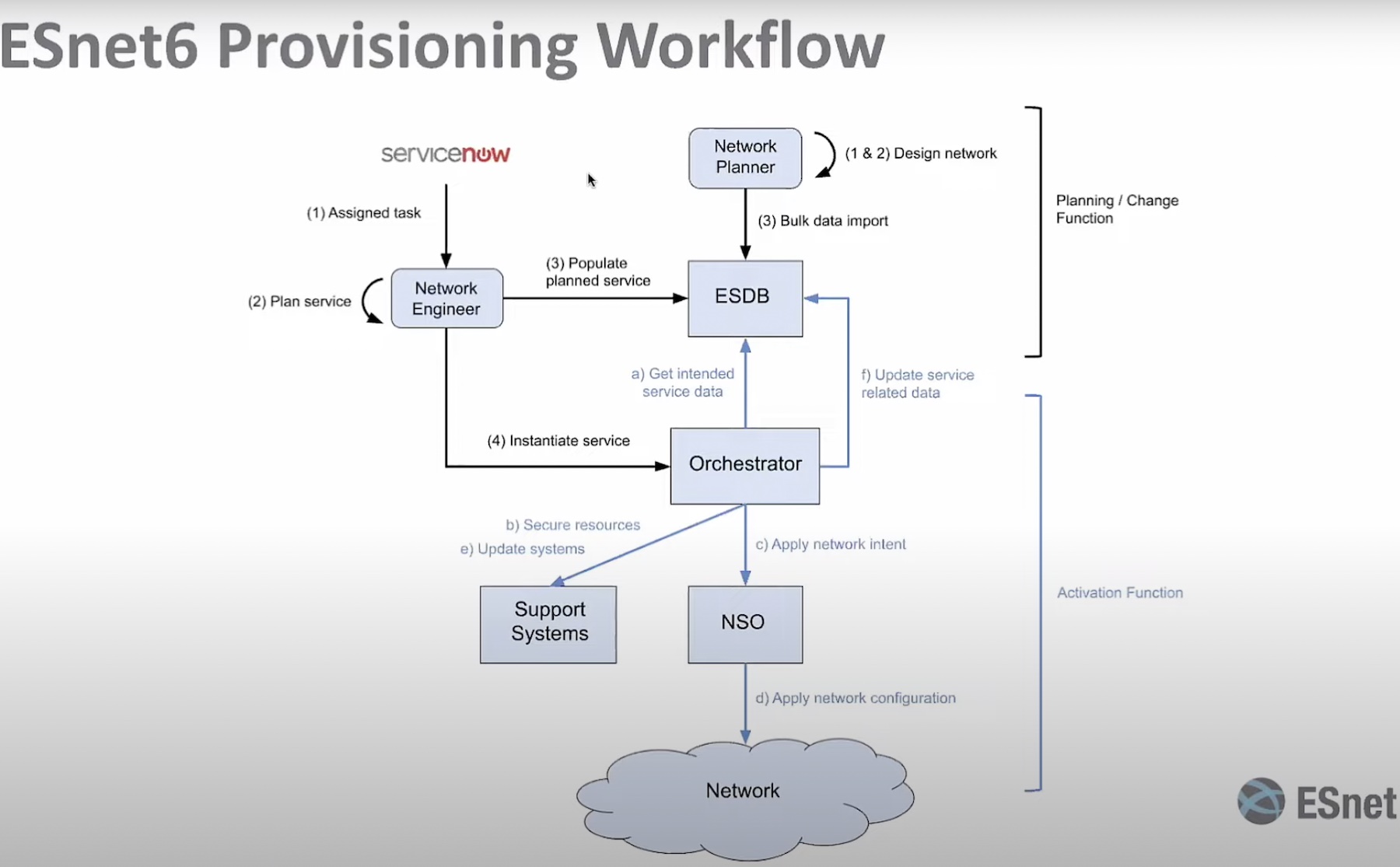 The orchestrator tool which is at the heart of all these ancillary components gathers information from all the systems, makes sense of it with its service logic and renders out provisioning data which streams into the network mediation layer right below it.
As a service request comes in and gets assigned, network engineers plan the service and populate it in the source of intended truth. Network planners set up the ESDB beforehand with built and templated services ready to process any service that comes through. Network engineers then go over to the orchestrator to instantiate the service. Now the orchestrator begins its work. It pulls the intended service data from the ESDB which stores all the information and update the state of things and communicates with the mediation layer. At the final stage, the network configuration is rendered and sent out to the routers.
Wrapping Up
Intent-based networking and orchestration has some clear advantages that ESnet has been able to exploit. The demo showed that using IBN dramatically shortens TTD from days, even weeks to only minutes. But IBN is more than just fulfillment of intent. It also helps address and resolve a lot of the operational challenges that otherwise falls on network engineers to solve. By keeping the network compliant and everything in it highly visible, it also delivers network assurance. Done correctly, it can significantly improve network uptime.
Watch the full presentation by Chris Cummings from the recent Networking Field Day: Service Provider event above or at the Tech Field Day website.