Although cybersecurity solutions are ubiquitous today, not everybody is offering a helpful solution for businesses to absorb and leverage them. Seeing that a simple integration hiccup can translate into serious vulnerabilities, ZPE Systems designed a security platform that delivers holistic security by enabling components to work synchronously within the context of a larger security system. At the recent Security Field Day event, ZPE Systems introduced the ZPE Private Cloud Platform that helps reduce the complexities of a multi-vendor security approach and enables seamless integration of diverse solutions.
The Multi-Vendor Security Approach Maybe a Requirement, But It Has Some Inherent Challenges
It's an interesting concept to diversify security components in a network because logically the more security products there are in an environment, the more secure it is. But oftentimes, that approach ends up a whole other way. Multi-vendor architectures begin with assembling a few chosen products and end with way too many. So, the likelihood of ending up with an architecture that's too complex to handle is not exactly slim.
When there is a growing list of security solutions in the architecture, it's be wise to examine the ease of operation of the network because that's the first thing that's likely to get compromised. A mixed infrastructure is usually a lot harder to operate and evidently requires more people to leverage. Moreover, with the scalability concerns of hybrid infrastructures, there are only so many solutions that can be made to fit inside one system.
Integration Of Security Products Is Key to Comprehensive Protection
When complexity costs operational efficiency and a big overhead, the only recourse is exiting the multi-vendor model. But unfortunately, a resolution cannot be achieved by simply doing that. Instead, cherry picking vendors while keeping a steady eye on the integration of those products is what can lead to a holistic security landscape.
ZPE Systems saw that a solution that'd be ideal to address these disparate and sometimes unrelated pain points that would allow customers to continue adding new security solutions to their infrastructure while also being able to make them work synchronously and at limited cost would be a platform that brings everything together into an open and smoothly functioning ecosystem. That's their new cyber security platform.
ZPE Systems' Private Cloud Platform- Ironing Out the Kinks in a Multi-Vendor Security Architecture
In an exclusive presentation at the Security Field Day event hosted by Tech Field Day, Koroush Saraf, VP of Product Management and Rene Neumann, Direct of Solution Engineering at ZPE Systems presented the ZPE Private Cloud Platform that addresses all of the aforementioned pain points. It's a platform designed to make sure that everything in a security ecosystem is working in perfect sync.
Designed to do what AWS does for its customers in the public cloud, for on-prem, ZPE Systems' Private Cloud Platform provides businesses an infrastructure to implement security products of their choosing. In the process, AI, Security and other teams can sidestep the work and complexities that are associated with deployment and integration in a multi-vendor security infrastructure.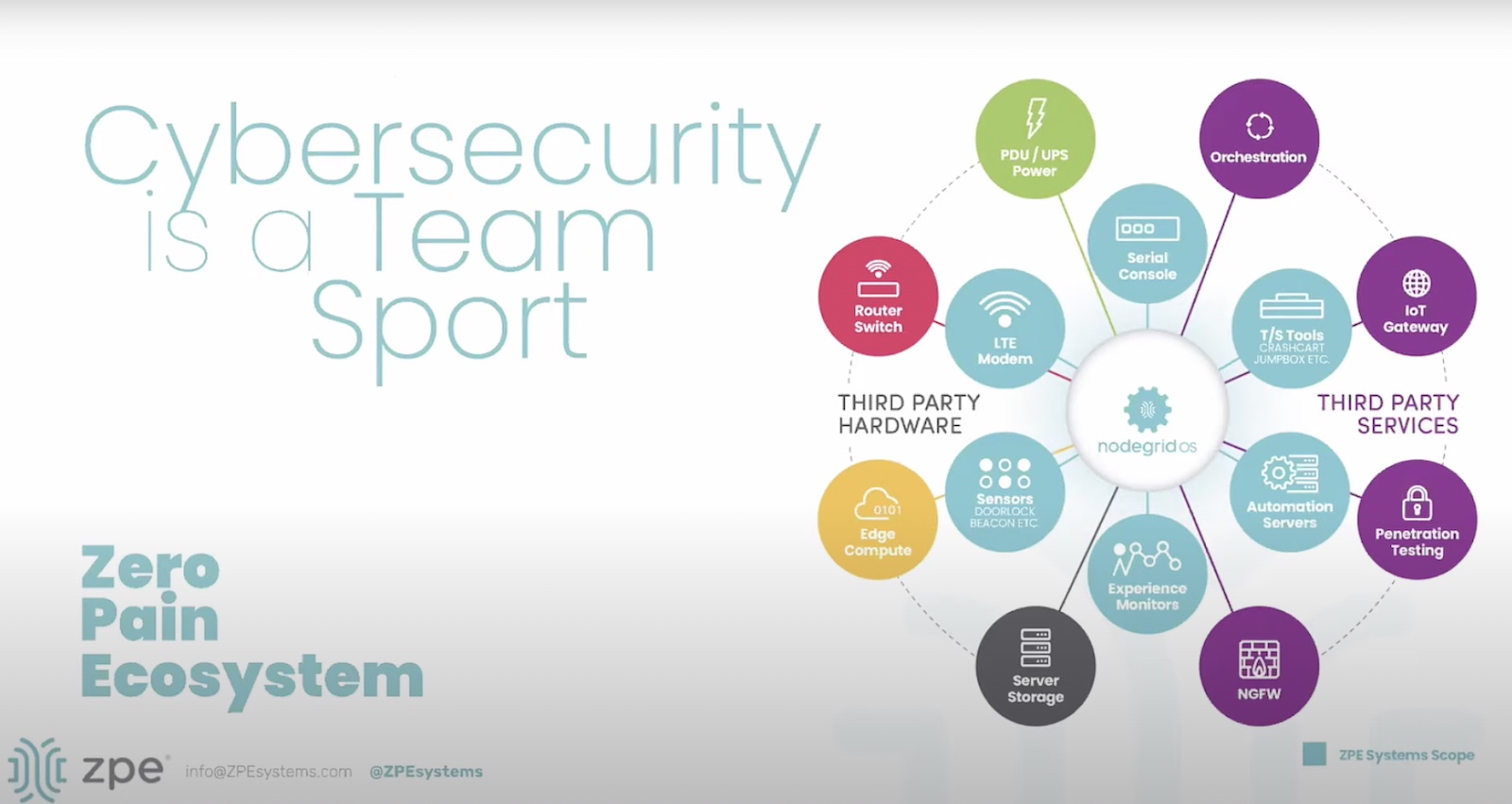 In its Private Cloud Platform, ZPE Systems provides the users the hardware stack which is made of Nodegrid appliances picked on the basis of where its deployed. Providing out-of-band access through Nodegrid OS, the software layer at the center is where third-party security applications as well as ZPE's own can be deployed.
On top of all that sits the management and automation layer through which cloud-based and on-prem infrastructures can be controlled. To help with integration, ZPE Systems is also working closely with its partners to provide blueprints for orchestration.
Final Verdict
When it comes to security, there are so many choices, it's hard to pick just one. The best way to safeguard an organization is to build a robust security system that has all the elements required for the job. With a platform like the ZPE Private Cloud, the problem of bringing together a multitude of complex and not-always-interconnected security solutions is a thing of the past. Perfected over many years, it adds convenience to the picture and delivers holistic security enabling continuous protection across attack surfaces. It meets a lot of the requirements of holistic security, making it a great technology to trust for seamless integration of disparate solutions into a single environment.
Check out other product demos and deep dive presentations from ZPE Systems from the recent Security Field Day event on the Tech Field Day website.