Multi-cloud is a reality for most organizations using cloud today. What was once an expensive trend chasing is now a strategic decision that unlocks breakthrough cost efficiency, delivers high availability of resources and a means to avoid the infamous vendor lock-in. However, managing the multi-cloud ecosystem remains a steep challenge for a plethora of reasons. At last month's Cloud Field Day event in Santa Clara, we had NetApp as a presenter. NetApp showcased a line of solutions from its hybrid cloud portfolio of which one was the Cloud Manager, a solution that makes multi-cloud management a piece of cake.
The Hybrid Multi-Cloud Landscape Has Several Management Challenges
In the age of cloud, data is scattered. It lives in more than one location, in more than one cloud, through endpoints and at the edge. In the meantime, it is also sprawling at a steady speed. This has led enterprises to dump their data in different repositories for better data orchestration, cheaper storage and to avoid complexity. But this hasn't really made data governance any simpler. In fact, the multi-cloud model has given rise to several storage management challenges that are begging for a resolution.
It has opened up wide skill gaps for one, which companies now have to now fill up by retraining the staff which costs money and time. Secondly, if not done right, poor environment management can result in poor visibility into data storage systems which is an open invitation to cyber criminals. Seamless migration of resources between environments is a big ask that also stems from the widespread adoption of hybrid multi-cloud. With the service portfolio constantly changing, managing resources across environments remains a pain.
Management through a Central Framework
One thing is sure- cloud is here to stay. So how do businesses get around the obstacles around multi-cloud management? By managing the environments and the systems inside them through a single pane of glass no matter where it's stored. NetApp's Cloud Manager is a universal control plane that supports easier and simpler governance of data and systems across environments.
NetApp's mantra is simple- "Cut the cost, cut the risk". Their hybrid multi-cloud portfolio consists of a breadth of solutions engineered to make management simpler, secure and centralized. Their vision is to make multi-cloud management not only secure, but also ubiquitous so that users can access resources from anywhere.
NetApp Cloud Manager for Simplified Operations and Easy Consumption
At June's Cloud Field Day event, NetApp presented Cloud Manager, NetApp's SAS delivered hybrid multi-cloud management solution. At the presentation, Charles Foley, Sr Director of Cloud Portfolio Marketing at NetApp gave a demo of the Cloud Manager to the audience showing how it makes multi-cloud management incredibly easy.
Secured with standard multi-factor authentication, the Cloud Manager has a clean and easily navigable interface which echoes simplicity all through. Built keeping in mind that teams from different environments and with varying skillsets access the resources, it has an intuitive design which makes elaborate tasks like adding instances a matter of a click.
By a default auto-correct feature that NetApp calls "idiotproof", Cloud Manager detects all errors and typos, thus preventing adding a wrong server by mistake or making a typing error while logging in. Inside the working environment, users can look at the infrastructures and their relationships with each other through a graphical presentation in the dash.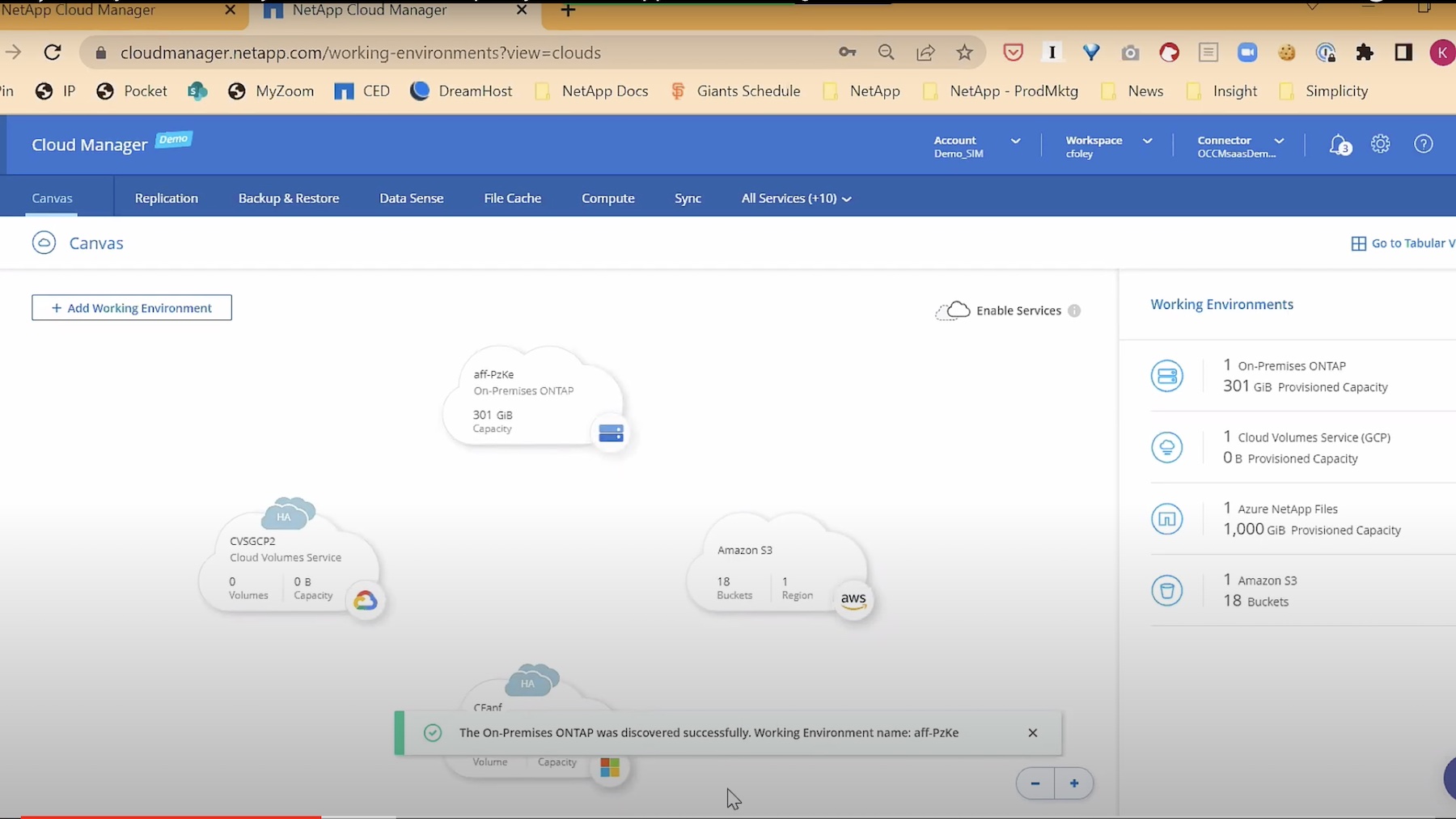 Just as adding environments is easy and instantaneous on Cloud Manager, so is merging them. Users can create hybrid multi-cloud use cases by a simple drag-and-drop action. Backing up data from systems to storage accounts is just as easy. Selecting the Backup & Restore option takes users directly to the policy page where they can define policies from a role-based access control or customize them down to the hour. By enabling role-based access control, enterprises can lock down any custom policy setting.
More advanced operations such as spinning up new cloud environments too can be accomplished on Cloud Manager at minimum complexity. A standard-level user with no background in the cloud technicalities can easily do them, thanks to the embedded AI and ML. The interface will automatically apply the options based on the user level so that team members who are not particularly savvy with the technicalities are not overwhelmed by them and those who know a bit more have the option to play around and define them as required.
Final Verdict
From the demo, it's clear that the Cloud Manager does very well what it's designed to do. Compared to other demanding tools, the Cloud Manager is a very forgiving solution that does not require its users to be technically adept. Cut out for users of all levels, it simplifies day-to-day hybrid multi-cloud operations effectively and optimally, saving both time and cost. From a user standpoint, it allows skipping the tedious conventional steps of multi-cloud management and gets things done in half the time. That is a huge leap towards easy and flexible consumption.
If you are interested to know more about NetApp Cloud Manager or similar other solutions, check out the other presentations from the recent Cloud Field Day event.