Network management is such a small name for so enormous a body of tasks that it encompasses. Everything from security to performance management, provisioning to maintenance come under it. What if there was a way to manage everything in the network from campus to cloud using a common console? Aruba showcased their one-dashboard networking solution at the Networking Field Day Experience at Aruba Atmosphere 22 event in Las Vegas which sounds a lot like this, but only better.
Network Security Is Ineffective without Constant Vigilance
One of the worst things about having a large-size network is the amount of maintenance work that NetOps people have to put up with. New business models, like the work-from-anywhere policy for example are hard to implement as it. to make matters worse, they come with fresh loads of routine work which fall on the network or security teams to finish between themselves.
A thing that most organizations have been noticing lately is that, in their attempt to implement the remote work model into their infrastructure, they are met with issues around network visibility. In effect of the digital transformation, visibility over IT and IoT assets is diminishing, and it's hardly the same as it used to be in campus fabric. Typically, companies go the route of using dedicated sensors and controllers or installing agents to prevent these things impacting network security. Even if these work to some extent, these are partial solutions to a full-size problem and at the end of the day they run up the costs really high.
Aruba Harnessing the Power of AI to Make Network Infrastructure Management Simpler and Faster
With a vision to give users and teams a consistent and frictionless experience, Aruba embedded AIOps into Aruba Central about three years ago. Aruba believes in the power of AI and is working on wielding it to introduce wholesale automation in network management. To that end, it has a robust data science team working on collecting high-value data to use in training the ML models that power the Aruba Central platform.
With AIOps, Aruba decides to go off the beaten path that sidesteps the typical solutions that companies have been using exhaustively for decades. So, it embeds some select technologies into the Aruba Central to give it serious firepower so that organizations do not have to use separate solutions if they can help it and still get everything they need in one place.
A Closer Look at Aruba Central
Robin Jellum, Product Manager for Aruba Central gave a deep dive presentation of Aruba Central, a cloud-native solution for managing networks of all sizes at the Networking Field Day Experience at Aruba Atmosphere 22 event. Focusing on the AI part of the engineering, Ziad Hadi, Global Product Manager, Cloud, Aruba Central talked about one of its key features, AI Insights later in the presentation and explained how it helps businesses get more value out of their network data.
A cloud-based solution whose real power is in AIOps, Aruba Central has flexible implementation options besides cloud that include on-prem, SaaS and managed services. With security built into it and a microservices architecture, Aruba Central is a unified management platform that addresses the three biggest issues of cost, complexity and flexibility in network management. Working by self-healing the network, it's goal is to keep the network in best health.
Aruba Central chiefly has five AIOps pieces to it, namely AI Search, AI Assist, Network Insights, Client Insights and Incident Detection. The AI search is an AI-powered natural language search engine that enables teams to search and find things in the backend. AI Assist gathers data around issues in the network that require troubleshooting for better analytics.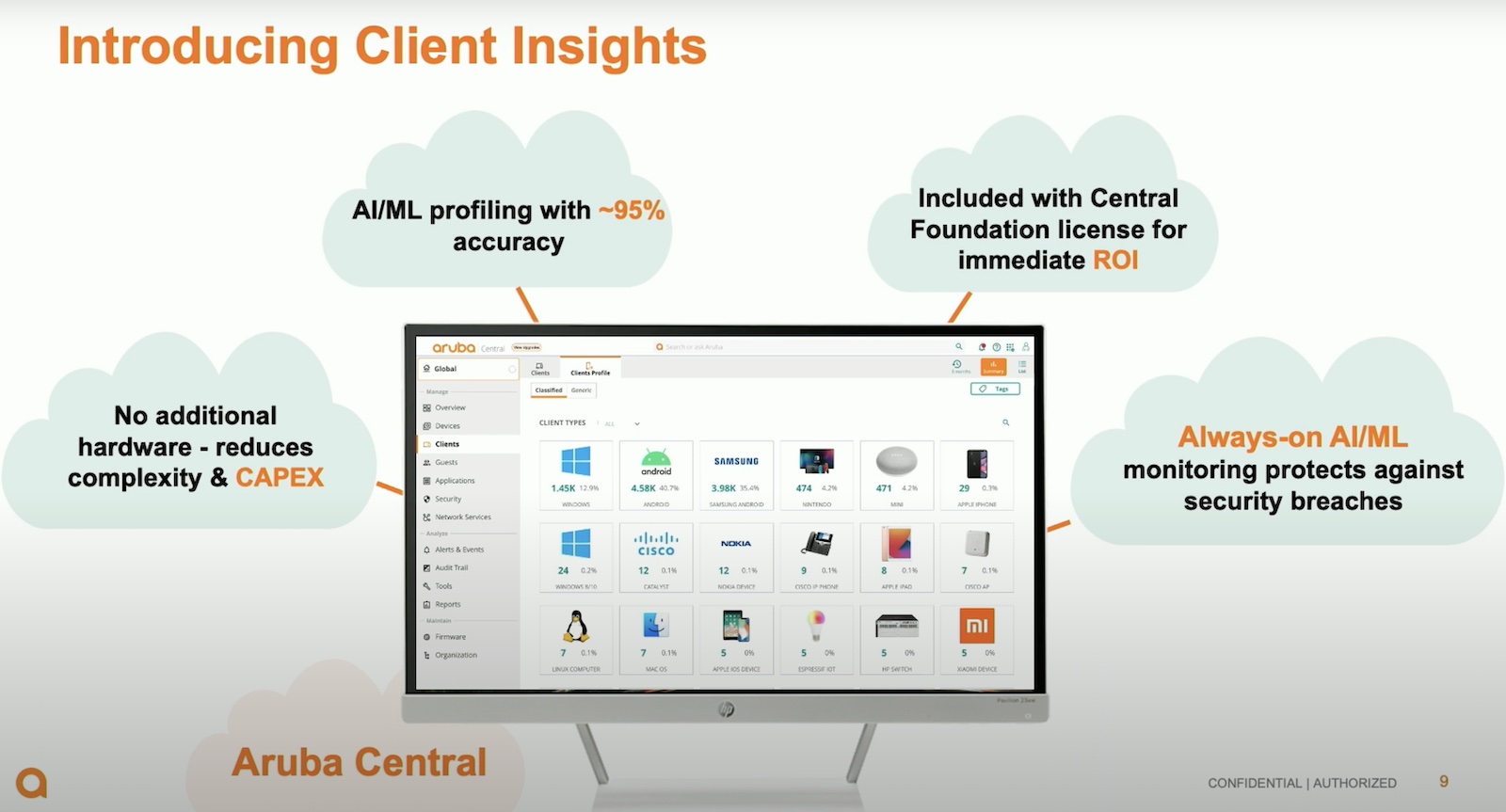 The newest feature on the list, Client Insights provides highly accurate AI/ML profiling and non-stop vigilance against threats with AI/ML monitoring that runs non-stop without user intervention. Integrated into Aruba Central, UXI, the User Experience Insight dashboard from Aruba's product list delivers proactive insights through real-time monitoring.
Final Verdict
Aruba Central looks like a great solution to add to the shortlist when an organization is looking for a smart AI-driven network management dashboard that has proactive insights, always-on monitoring and workflow automation all in one place. The thing that truly sets it apart is that it seeks to simplify IT operations to ultimately empower IT teams. Get a free trial of Aruba Central to find out more.
If you want to learn more about Aruba Central make sure to check out Aruba's other presentations on it from the recent Networking Field Day Experience at Aruba Atmosphere 22 event.