In the always-on digital world of today, businesses have inherently low tolerance for operational downtime. To avert halts and outages, many resort to AIOps to manage, monitor and troubleshoot their networks. AIOps leverages AI/ML algorithms to automate triaging, root cause analysis, and closed-loop remediation of events. Its value comes from using artificial intelligence to automatically resolve growing management pains that emerge as the network expands.
At the Aruba Atmosphere 2023, HPE Aruba launched the next generation of Aruba Networking Central. A product already widely used for a spectrum of monitoring and management capabilities, the new generation builds on it with advanced AI-powered visualization and closed-loop remediation.
At the recent Networking Field Day Experience at Aruba Atmosphere 2023, VP of Aruba AIOps, Jose Tellado, and Director of Product Management, Frank Jas, showcased the new features, and gave a demo of the solution.
The Anatomy of AIOps
Typically, AIOps maturation happens in a series of stages. At the data level, it starts with basic data collection, cleaning and enrichment of data at source, and building siloed data lakes which accumulate into a global data lake, before reaching the ultimate data federation.
The models that learn from this data too evolve alongside – going from basic statistics and alerting to anomaly detection and finding correlations. In later stages, the models can go across multiple dimensions finding patterns and making recommendations. At maturity, they can be deployed in a set and forget fashion. The models' lifecycle needs to be continually managed with routine refreshes, making sure that the metrics are not getting anonymized as that can degrade the outcome.
The most interesting part is how the progression at the lower levels ties together at the customer end. For customers, they start with the basic alerting functions which require the IT teams to handle the deeper details of the anomalies. As the models evolve, they are able to perform root cause analysis (RCA) on their own, aggregating and correlating data, and making appropriate recommendations. At the final stage of AIOps maturity, customers can leverage self-driving AI algorithms for automated troubleshooting.
Global AI
Aruba has a mature AIOps model that constitutes a global data lake streaming data through data federation as a single source of data, AI models that can tell users what or where the problem is, and lifecycle management support for all models.
In the presentation, Mr. Tellado offered a look under the layers showing what the workflows currently look like. At a high level, the production clusters are where all the AI models are run and trained. Although running in a shared production environment, the models don't learn from each other, but from individual customer data. They are trained and inferred locally, so that they can detect anomalies based on the particular customer trends to enable predictive maintenance.
Data from the production clusters is PII anonymized and streamed into the Global AI Data Lake that carries stats, states, flow and model metrics. "This global data lake trains models that apply to all customers based on anonymized data," says Mr. Tellado.
Aruba takes this a step further by allowing customers to enrich the data coming in from production clusters by injecting it with complimentary data such as device capabilities and security vulnerabilities. Customers can additionally ingest support cases and Aruba documentation.
This creates a model "that mixes up telemetry from the devices" with Aruba's internal data, and in addition "pushing models to the production clusters that are based on this multidimensional data to actually create internal use cases."
The models then go into the clusters for individual customers.
With the models running globally across Aruba's 200,000 customers and 2.5 million devices, it makes it possible to find fine-grained anomalies like interoperability issues between clients and software versions, or silicon partners.
"We could also find new use cases to actually push to customers," informs Mr. Tellado.
The Next Generation Aruba Networking Central
In the new generation of Central, Aruba made a breath of enhancements. The changes take effect across multiple dimensions including AI and analytics, visualization and configuration.
The new design presents AI and analytics in a different view. This is backed by a new data processing pipeline in the cloud which offers improved latency, allowing the analytics to run faster and fetch quicker responses for users.
"Mostly on the redesign of the user experience, you're going to see a completely different look and feel with the new Central," said Mr. Jas.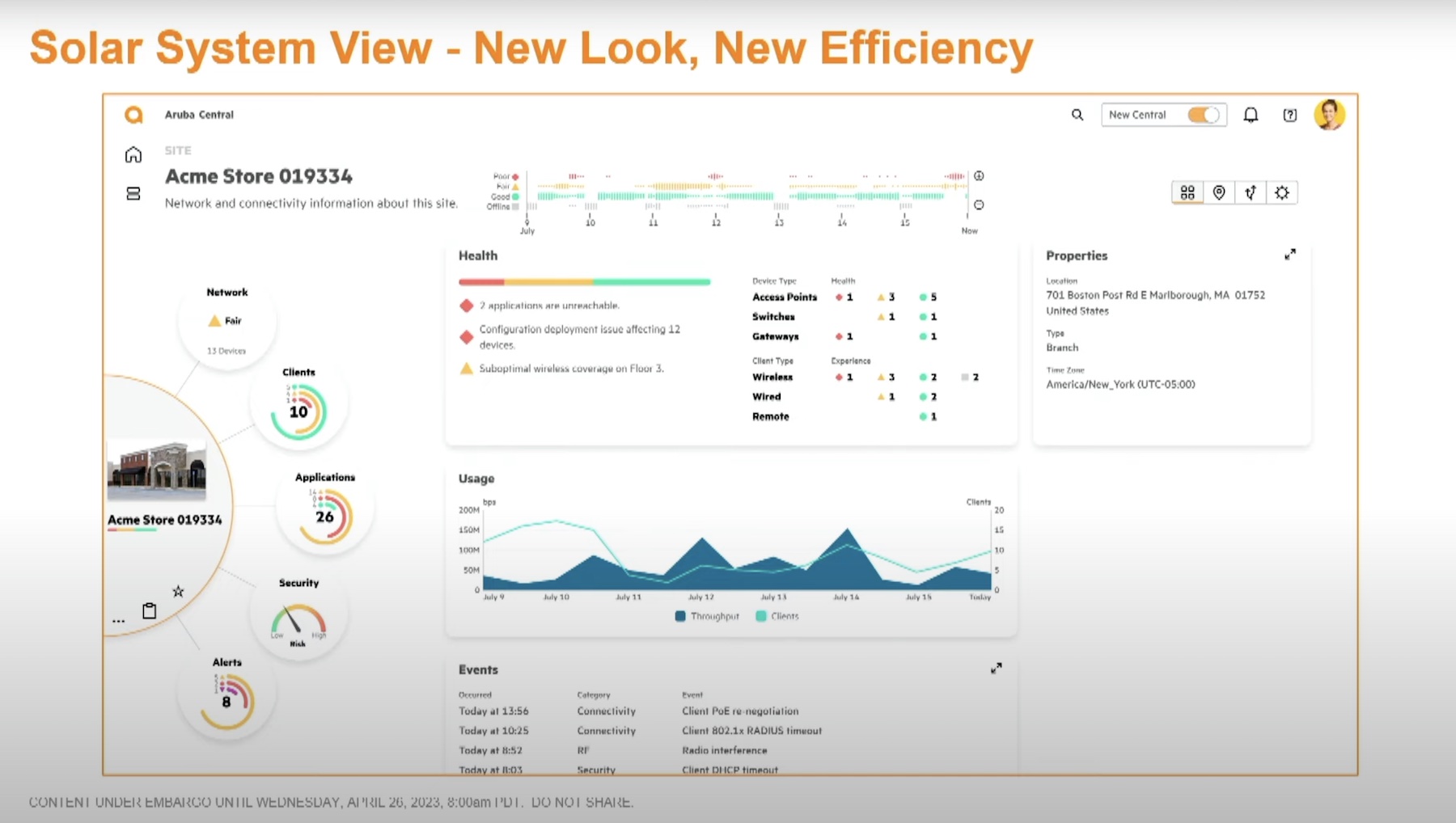 The new Central can be activated with a single click from the Central dashboard. Just visually, the interface looks markedly different from the older display. One of goals of changing the design is to make sure that all the data that Aruba Central has access to across numerous customers and devices are easily navigable to the customers, and that operators can pan into relevant information granularly.
Aruba calls the new navigation tool Solar System in keeping with its planetary mapping style. Data is visualized in contexts and sub contexts with the thumbnails displaying summarized information that operators can click on to get more details.
One of the features highlighted in the presentation was the new Firmware Recommender introduced a month back. With it, customers can get data-driven recommendations for the best firmware for every device in the environment.
"The reason we did this is because we were already clustering algorithms in our support database, and we found out that 10% of the support cases were related to programs, whether it was the upgrade of the firmware – given the topology of mix and match devices types, customers put the wrong firmware – or they're wondering what's the next firmware for them, given their desire," explains Mr. Tellado.
With a model running on top of it, the Firmware Recommender can run through a wide range of metrics such as popularity, client topology, config, security vulnerabilities and bugs, and come up with the best recommendation. This eliminates guesswork and errors, and ensures fewer support calls while enabling better performance and faster fixes.
The new Central will also have more feature releases on a monthly basis with hitless upgrades.
"We are changing our development process to follow a more continuous integration, continuous development process, doing releases on a monthly cadence. That's much more frequent than we support with Central. That will mean that features roll out continuously, as we improve the infrastructure," said Mr. Has.
Other enhancements focused on the platform's operator experience include improved AI efficacy with fewer false positives and false negatives, unified telemetry pipeline, richer actionable insights, and easily executable intent-driven automation.
To know more about the new HPE Aruba Central, be sure to check out Aruba's presentation from the Networking Field Day Experience at Aruba Atmosphere 2023.