With uncertainty rife in the world today, businesses need resiliency in order to survive and move forward. Polls say that while almost all businesses believe that resilience is critical, less than half say that their organization is resilient.
A business faces many costly interruptions in the form of cyber-attacks, natural disasters, and failures all of which accumulate to downtimes accruing huge loses. But production stoppages and revenue losses aren't always caused by unplanned downtime. Scheduled downtimes too mount to millions over time. Although anticipated in advance, planned downtime for routine upgrades breaks continuity, and set businesses up for losses.
Thankfully, technologies have come a long way to enable business continuity. HPE Aruba is one of the companies in that front pioneering ways to ensure continuity. One of the ways Aruba promotes business resiliency is through software redundancy.
At the recent Networking Field Day Experience at Aruba Atmosphere 2023, HPE Aruba demoed its zero-downtime software upgrades with the Aruba CX 6400 switch series. Ed Chang, VP of Campus Switching and TME, Yash Nagaraju, Sr. Manager, TME Global Wired Enterprise Switching, and Anup Mehta, Product Line Manager gave a joint presentation that explained how the CX 6400 series minimizes, even eliminates downtime during software upgrades, and provides always-on networking.
Ways to Build a Resilient Network
There are many ways to build a business resilient network. Resiliency can be ensured through operation of assets, such as configuration, deployment and monitoring . Having physical redundancy within switches like the power supply too provides resiliency. The physical network itself can be made resilient by deploying a dual system where a secondary network provides connectivity when the primary network goes down.
Redundancy is also achievable through routing protocols like multipath routing where alternative paths are used through the network to route traffic ensuring fault tolerance and better bandwidth.
At the software level, upgrades typically entail a downtime during which firmware are downloaded, codes are refreshed, and switches are rebooted, and that has a cost to the company and its users. Software redundancy ensures continuity of performance through these upgrade windows.
Aruba CX 6400
"Aruba 6400 gets deployed all the way from access, aggregation to core. Each one of this upgrade process has to be zero-downtime, because they deploy in hospital environments," says Mr. Nagaraju.
Aruba CX 6400 switches power mission-critical networks that have zero tolerance to downtimes. So maintaining high availability around the clock is non-negotiable.
Inside the Architecture
The secret to the always-on availability of 6400 switches is the CX software operating system – AOS-CX – that is built within all HPE Aruba switches.
"It is a common operating system across all of our portfolio, from campus to datacenter, and there are some key tenants that help us enable this high resiliency to help customers when they want to do upgrades," says Chang.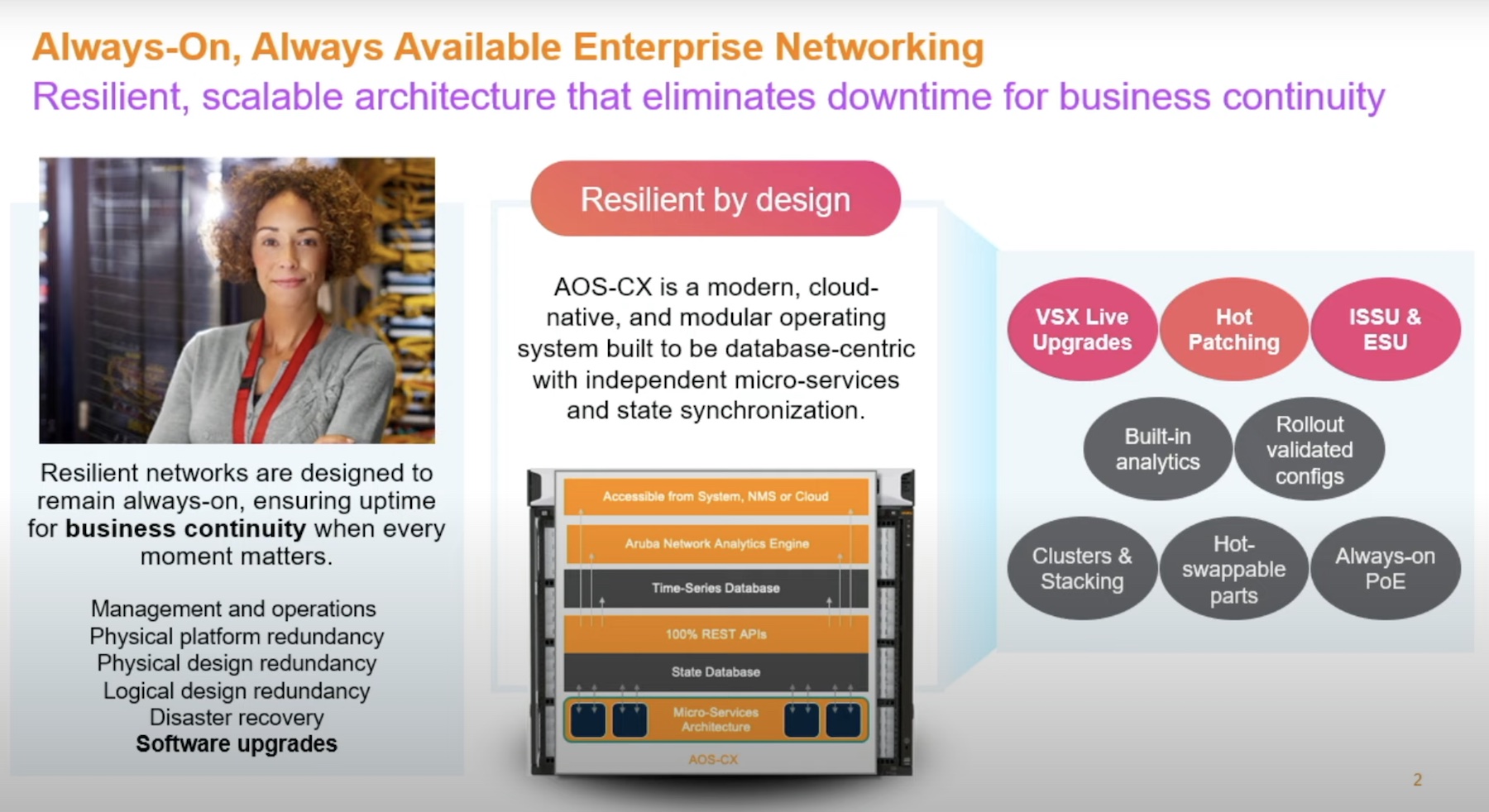 AOS-CX has a modular, database-centric, microservices architecture. With microservices, entire applications are broken down into smaller parts that run independently. State synchronization ensures all states are synced in the database for users to access.
"We have separate databases that keep information on state, as well as performance series database that keeps information about what's going on within the switch," says Mr. Chang.
Although running independently with their own realm of responsibility, the services are accessible to each other, and at the same time available to the users for monitoring, configuring and managing.
"It really leverages the databases as well as the independent microservices," says Mr. Chang.
The switch architecture allows for physical redundancy with cluster and stacking, hot-swappable ports and always-on PoE. Built-in analytics provide additional management and configuration controls for added redundancy.
Upgrade without Downtime
HPE Aruba looks at the full scope of frequency, cost, cause and consequence of planned downtime to minimize the same. Currently, it provides two services for this – hot-patching and in-service software upgrades or ISSU.
Hot-patching offers targeted, customer fixes for specific defects, bugs and vulnerabilities. Customers can report isolated issues, and get patches for them when the goal is to avoid a physical reboot. Aruba TAC updates the code, and delivers it directly to the customers. At the customer end, all they need to do is deploy the fix.
"The process is simple – they call in, we identify it, create a patch, and give them an image. They update this," says Chang.
All hot patches are automatically re-applied to future reboots and rolled into future releases.
Customers prefer hot-patching as it has a quick turnaround, and is non-disruptive – it does not affect the network or the traffic when applied.
The second is in-service software upgrades. This too is an interruption-less upgrade that includes bugs as well as feature updates. ISSU ensures rapid software upgrades within a release, without any traffic interference.
"Typically in an update of a software, there is a maintenance window, and some downtime scheduled. To help customers in the chassis-based systems, we allow updating that software without a reboot of the system itself."
Benefits of ISSU include increased availability, continued connectivity with end-points and applications, and a fully working data plane, through the upgrade process.
"We roll this to future releases so that customers can use the ISSU process to update again," said Mr. Chang.
Wrapping Up
Upgrading a fleet of network switches is never easy. All devices must stop working when an upgrade is underway. Aruba's zero-downtime upgrade provides a way to download a version or hot patch without having to take the system offline. The upgrade process neither interferes with the availability of the switches, nor diminishes their performance. If anything, it makes sure that bugs and vulnerabilities are timely fixed, and new features are installed non-disruptively. By rolling updates into future releases, Aruba ensures that systems perform with maximum efficiency, and at minimum risk.
For more information, check out Aruba's demo of this from the recent Networking Field Day Experience at Aruba Atmosphere 2023.