Businesses everywhere are adopting the hybrid multi-cloud model and with that, the management side of things have become more problematic. Whenever a new storage infrastructure is added to the existing ones, it brings with it its own nuances. With that happening over and over, managing everything becomes a painstaking task, one that demands unreasonable amounts of resource. At the recent Cloud Field Day event in February, NetApp presented a solution that is based on their ONTAP data management software which seems on point.
What Hybrid Cloud Users Need Today
As businesses hop from cloud to cloud moving and migrating and overall expanding their footprints across cloud and on-prem infrastructures, several challenges crop up in the picture. Matters of cost and security are at the top of this list of potential problems. Others like business continuity, performance, compliance, etc. accompany.
Instead of putting a band-aid on the bigger management problem which underscores all these smaller challenges, what's required is a rock-solid solution that simplifies data management and optimizes infrastructures without overlooking security or running up the cost.
NetApp Makes Migrating to Cloud Simpler and Disruption-Free
That is precisely what NetApp is after. Advancing with the motto, "ONTAP Everywhere", a data management software that is wired into many of NetApp's cloud products, NetApp aims to deliver a unified storage experience by stitching together different aspects of data management and laying them out onto a single plane for an unified view of everything through a closer lens. ONTAP is their way to that.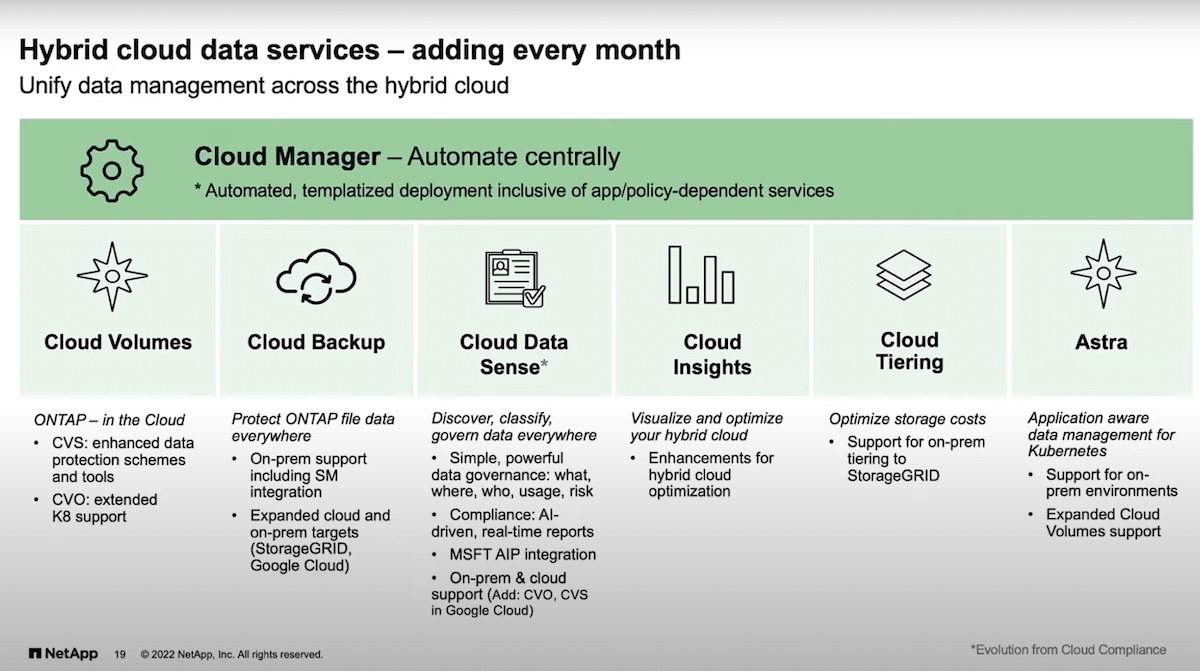 Recently, NetApp collaborated with Amazon to create a first- party, file-based storage called Amazon FSx for NetApp ONTAP. To Amazon's FSx services, NetApp lends its ONTAP software which integrates deeply into AWS to incorporate its capabilities natively. Launched back in September last year, Amazon FSx for NetApp is sold, supported and deployed entirely by AWS.
Amazon FSx for NetApp ONTAP- A High-Performing Cloud Storage Service with Integrated Data Platform
At the February's Cloud Field Day event, NetApp showcased its cloud offerings that are designed to help build a perfect hybrid cloud environment. During the presentation, Nick Howell, Global Field CTO, Public Cloud Svcs at NetApp discussed the products with special focus on ONTAP and the new release, Amazon FSx for NetApp ONTAP.
ONTAP is NetApp's enterprise data management solution that brings hybrid multi-cloud environments closer making management possible from a central location. It brings with it some interesting capabilities like quick deployment of workloads, automatic cold data tiering and enhanced storage efficiency through data compression, compaction and deduplication. It is the overarching technology that enables NetApp's hybrid cloud products designed to deliver different outcomes.
The Amazon FSx for NetApp ONTAP is a secure and high availability storage service that delivers a hands-off user experience. A myriad of services like automatic tiering, elastic capacity, configuration with AWS and NetApp tools and APIs, coupled with all of ONTAP's capabilities makes it a fitting platform to build modern applications on and a solution to move workloads over to AWS without hiccups.
A fully managed service, the FSx for NetApp ONTAP has been built keeping in mind the expectation of enterprises to be able to move their disparate workloads and applications into AWS at minimal friction and cost. This one is a fully scalable file service that offers a secure file system in the cloud with zero or nominal operational cost.
NetApp's Cloud Insights comes free for all NetApp customers. So do give that a try if you want to gain 360 degree visibility of all your cloud environments for seamless monitoring and management.
Final Verdict
With ONTAP serving as the bedrock for Amazon FSx for NetApp ONTAP, this solution is surely going to change the way workloads and applications are migrated to AWS. Most importantly, it will simplify and modernize data management which is the biggest ask of this era of hybrid multi-cloud.
More NetApp presentations from the recent Cloud Field Day are available to watch on the Tech Field Day Website.