Engineering teams typically rely on in-band connections to monitor and manage network appliances. But several times, the production network goes down due to outages locking administrators out of critical devices at the edge. At the recent Networking Field Day event in Silicon Valley, Opengear presented its Out-of-Band management solution which gives engineers the ability to administer network appliances even when they are offline due to a network disruption.
Operating the Network Equipment without a Corporate LAN
Every year enterprises document multiple events of network disruption. This is not irregular considering that any number of conditions starting from minor cable issues to a security breach to an environmental disaster can lead to an outage. And whenever the production network goes down because of a disruption, the field hardware loses connection too.
For those times, network engineers need an alternate way to access the remote devices that does not involve deploying a site engineer, to get them back up and running. This requires a dedicated physically separate network that enables access and management of IT assets remotely. Since critical network equipment are involved, it needs to be a secure protocol connection and should offer network resilience for varied use cases.
Always-On OOB Management
With an out-of-band management interface, uninterrupted access to critical network assets can be established during a network crash.
Opengear, the creator of Smart Out-of-Band that performs pre-scripted automation serves three kinds of use case with its Out-of-Band management solution. First and foremost, Opengear provides resilient and secure access to critical field hardware in the infrastructure when for some reason the network system is down. It is foundational to what Opengear was designed to do and what it is known for. It also offers failover to cellular capabilities supporting critical operations during those times.
But in addition to that, Opengear also offers First Day operational capabilities, given that outages and security incidents are not an everyday event. These capabilities include zero-touch provisioning, hosting DHCP and TFTP services on their devices, secure configuration and equipment staging.
More broadly, it helps simplify everyday operations. Hogg says, "This is where Opengear delivers value every day for the customers. It provides an always-on secure management fabric enabling connectivity, leveraging presence and proximity to where the devices are located, and can serve as a conduit from machine-to-machine workflows and automated tools."
Opengear's Out-of-Band Management Solution
At the Networking Field Day event, Hogg presented Opengear's out-of-band management capabilities. During a 30-minute presentation, he explained how customers can leverage Opengear in network disruptions, but also for their day-to-day operations.
Hogg says, "Opengear delivers value far beyond disaster recovery – its more than just the emergency connectivity use cases."
The Opengear management layer is it's Lighthouse Management Software. The software besides being the control center for all Opengear network devices is also API-driven and provides quick and secure access to remote networks and non-Opengear appliances. Always-on access enables secure remote access to the management plane for administering devices at edge locations. Network engineers can easily search endpoints from its list of connected devices, and monitor, reboot or troubleshoot them as required.
On the hardware side, the Opengear OOB solution has both small appliances for branch offices and edge locations and larger rack-mount appliances for datacenters.
Speaking of hardware, Opengear has an extensive product portfolio. Built to fulfill a wide set of connectivity needs, it comprises both value products with basic connectivity functions as well as high-end products that are focused more on performance. The latter type has ethernet, but also dial-up modems for legacy facilities where cellular is not an option.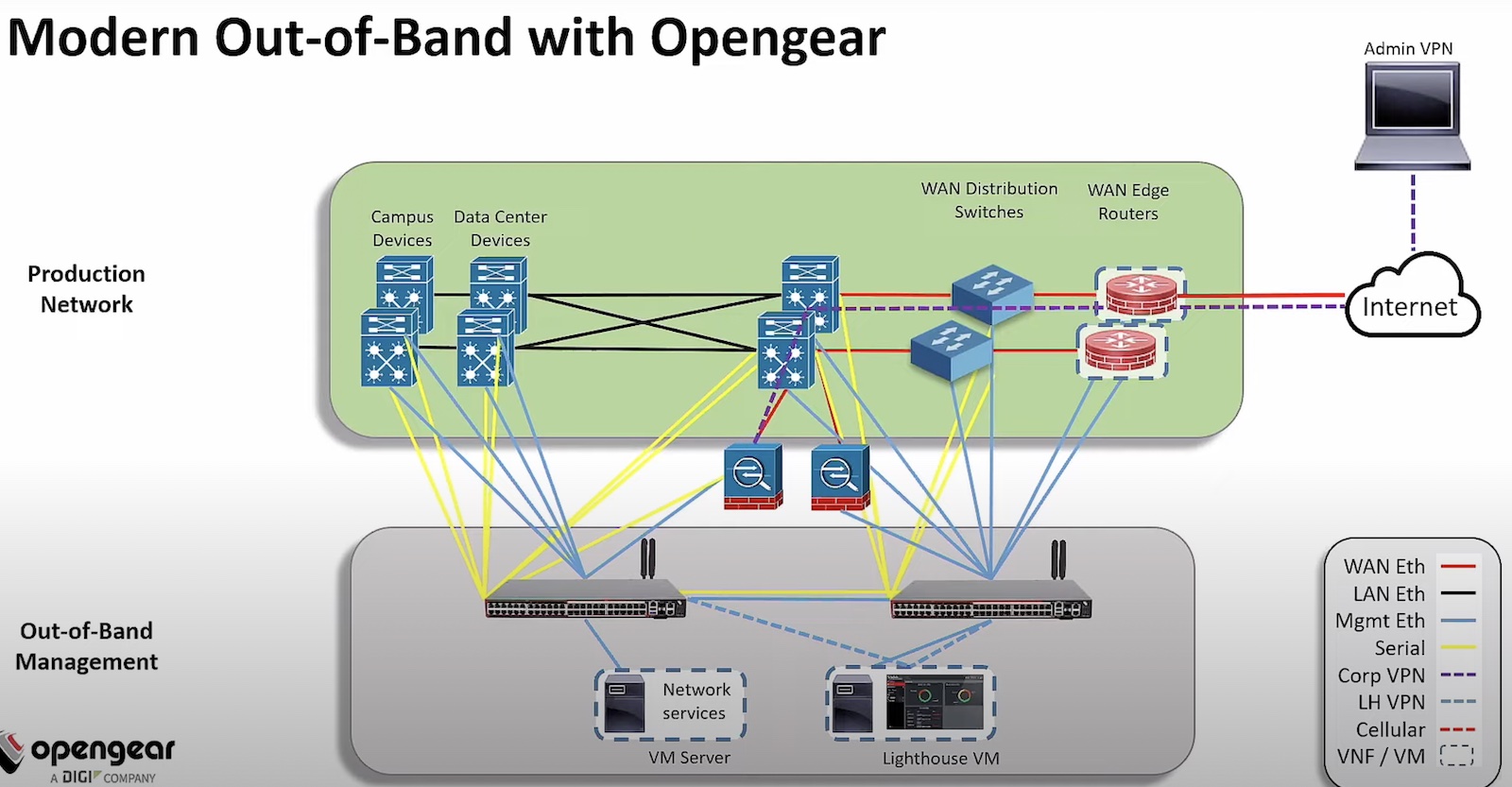 It is with its line of high-end products that Opengear improves the OOB architecture circumventing its usual limitations. Hogg cites the Opengear OM2224-24E-10G-L as an example. Managed through the central Lighthouse Software, the OM2224-24E-10G-L aggregates a lot of critical connectivity capabilities such as resilient connectivity over all protocols, 24 Serial port density and ethernet switch ports, multiple USB ports, VLAN support, dynamic routing and redundant connectivity which allow operators to access the device independent of the production network.
The Opengear Out-of-Band solution consolidates serial console and IP device management into one single device which not only minimizes management tasks but also shrinks IT spend with fewer hardware.
Wrapping up
Opengear's Out-of-Band management is an essential solution to have to ensure business continuity when the primary network is compromised, and all the devices and solutions hooked to it are offline. Its noteworthy that Opengear takes regular Out-of-Band technology a notch higher by delivering connection resilience that a lot of the solutions come short of. To conclude, Opengear's extended capabilities settle their opening argument that not only is it a great tool for emergencies, but also for having a unified control of the network on day one and all the subsequent days.
To know more about Opengear's OOB management solution, be sure to check out the presentation above as well as other deep-dive presentations by Opengear from the recent Networking Field Day event.