The office WiFi is no longer just an additional perk for employees and guests. It is mission-critical. But given the prolific count of smart devices and connections enterprise WiFi networks are required to support, the struggles to secure and maintain large wireless networks are also very real. At the Mobility Field Day event this month, Wyebot presented a solution that utilizes AI and automation to ensure round-the-clock reliable network performance.
Underperforming WiFi Is Not an Option Anymore
Across verticals, businesses rely on WiFi network to support their day-to-day operations. This has made WiFi critical to business outcomes. Conversely, WiFi in the BYOD era is riddled with daunting challenges and complexities. Earlier, what was a few thousand endpoints have now proliferated to hundred thousands, and that has dramatically elevated the level of difficulty of managing large-size corporate Wi-Fi networks.
The explosion of connections and broader arrangement of appliances have on one hand expanded the network, and on the other opened up coverage gaps. To make sure that all networked devices have steady Wi-fi connection, the network needs to be continually monitored, and to successfully do that, organizations need the right set of tools.
A Solution Different from the Others
When engineering its Wi-Fi solution, Wyebot briefly considered following the software-only trend, but they realized that software alone cannot achieve all the monitoring goals required to keep a network available 24/7. So instead, they put together a solution that has both hardware and software pieces and an AI engine that takes monitoring to the next level.
The Wyebot Wireless Intelligence Platform allows WiFi engineers to inspect a problem and troubleshoot it from afar from one single cloud-enabled dashboard. The platform picks up data 24/7 through sensors, and runs it through the built-in AI engine which performs the deeper analysis works like behavioral profiling and pattern recognition. As raw data transforms into instant analytics, the system reports the incidents through real-time alerts. Wyebot Wireless Intelligence Platform is vendor agnostic and can run on-premises and in public cloud.
The Wyebot Wireless Intelligence Platform
At the recent Mobility Field Day event in California, Wyebot showcased the Wyebot System architecture. CTO and Co-Founder Anil Gupta gave a tour of the solution explaining its capabilities and taking questions from the audience. In a later presentation, he gave a product demo showing the platform in action.
The Wyebot solution comprises of two key components- the Wyebot dashboard which is the control center and Wyebot intelligent sensors, the hardware.
The Wyebot sensor is a multi-radio sensor that is akin to an access point in design and built. It carries three built-in sensors, two of which are passive with spectrum analysis capabilities and the third, a multi-purpose one that can do synthetic network testing in addition to other things like background scanning. The radios are factory configured to pick up channels based on the strongest signal closest to them, but can be reconfigured as required. One single Wyebot sensor can cover multiple APs and frequency bands in a location.
What's worth noting and it's something Wyebot frequently stressed on throughout the presentation is the simplicity element. Unlike most makers, simplicity isn't an afterthought with the Wyebot Wi-Fi sensors, but the very goal of it, says Gupta. Wyebot sensors are a 100% plug-and-play product. They have no serial ports and require no configuring. Built with remote locations top of the mind, these sensors can be set up by just plugging in and within five minutes, they start picking up data from the network.
Setting up the sensors on the Wyebot dashboard is really simple too. Once plugged in, the sensors will connect to the Wyebot cloud servers and come online. As soon as they are online, they'll automatically populate in the dashboard marked "Active". In the next step, engineers can deploy them in the location or locations of their choosing. This too can be done through the dashboard.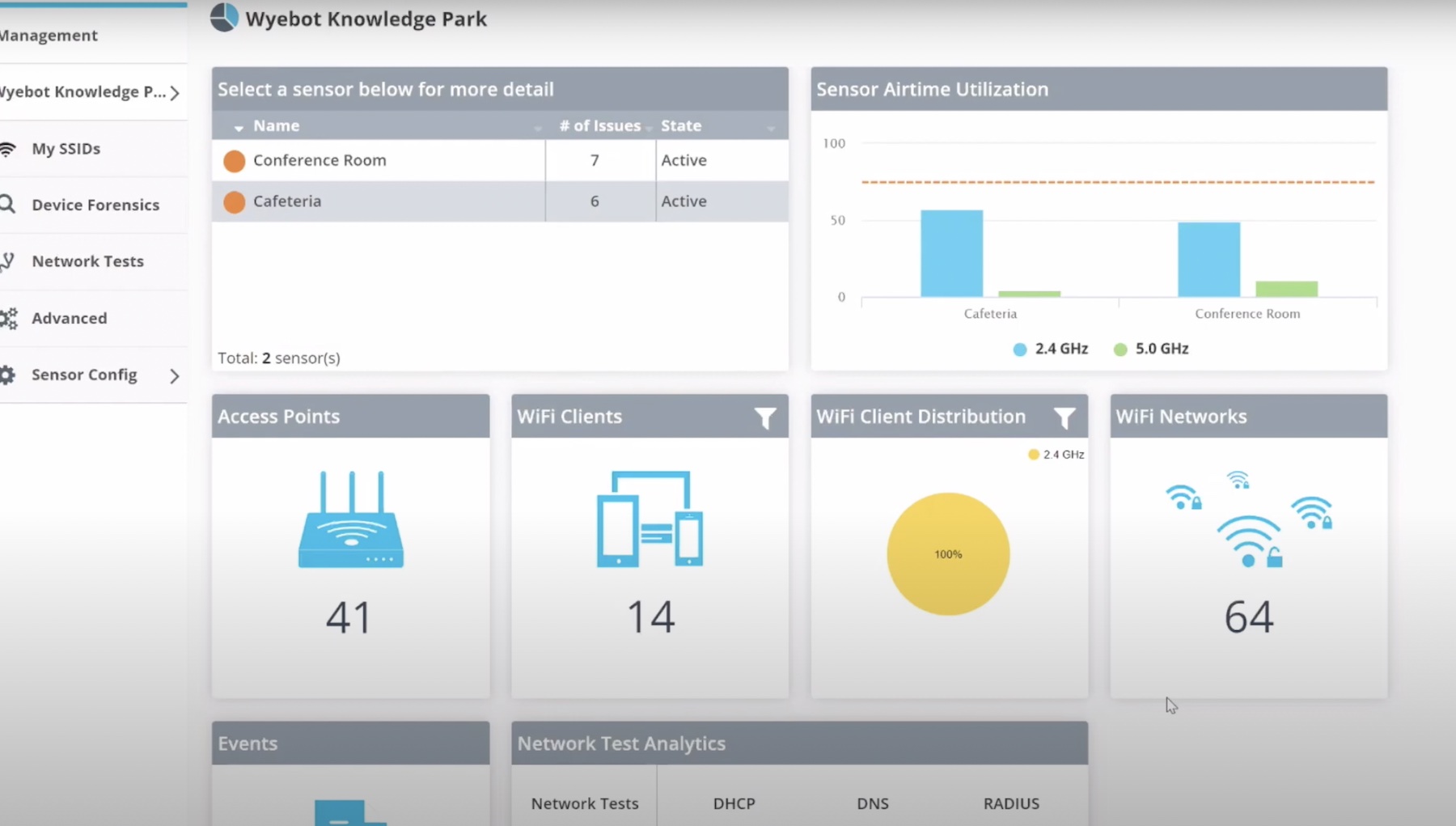 For every location, the sensors can be individually configured to perform similar or different tests. To make configuration quick and easy for the users, Wyebot allow shortcuts like copying tests between locations.
The sensor data provides detailed information on each event of interference including their origin, duration, scope of impact, historic analytics, trends and more which can be viewed and drilled into on the Wyebot dashboard.
Wrapping Up
Wyebot's Wireless Intelligence Platform provides holistic visibility into the complex wireless ecosystem giving engineers the power to magnify into problem areas and troubleshoot them effectively from a distance. In a time when organizations have footprint in multiple locations, and extending the same quality of connectivity everywhere is a struggle, it pays to have a tool like Wyebot in the toolbox that discovers issues on auto-pilot and brings it to wireless engineers to solve without having to ever set foot on the site. That is the power of remote monitoring.
To watch the solution in action, don't forget to check out Wyebot's demo presentation from the recent Mobility Field Day event.