Traditional file infrastructure is far from perfect, the biggest of its problems being capacity. Nasuni at the recent Tech Field Day event in Silicon Valley showcased the architecture of the Nasuni Cloud File Storage platform which besides being packed with a long list of capabilities resolves the scalability concerns of traditional storage.
Traditional Storage Isn't Nearly Enough
Not too long ago, organizations had to set up their own storage the old-fashion way. That entailed procuring hardware, picking a vendor, installing, testing and the whole shebang. While this process potentially took a lot of time, it also cost way too much. Storage as a service came along and saved the day.
Right now as the data is growing and files are doubling in size, the traditional storage offers capacity and scalability that is not nearly enough. Businesses on traditional file infrastructure are thus compelled to turn to backups. OpEx is skyrocketing as a direct result of that, and recovery in that infrastructure is no fun.
Nasuni's Solution for Effective Storage and Management of Unstructured Data
Nasuni is aware that traditional storage in the form of file infrastructure, NAS devices and such historically come with their absurdly large CapEx and OpEx expenditures. Companies don't even get nearly enough scalability with them. So they combined cloud with file system to bring the scalability, availability and reliability of cloud into storage. In the process was born UniFS, Nasuni's proprietary cloud-native global file system.
Nasuni crossed out the two major concerns of traditional storage, namely cost and scalability with UniFS. Packing unlimited backup and 15 minute disaster recovery into a storage solution, it eliminates the need to invest in a backup separately. This alone can save businesses up to 50% of their annual expenses on file storage and data protection.
File Storage in the Cloud with Nasuni Cloud File Storage Platform
At the Tech Field Day event in early April, Russ Kennedy, Chief Product Officer at Nasuni gave a presentation of the architecture of the Nasuni Cloud File Storage platform. The presentation consisted of a detailed overview of the platform architecture coupled with a general outlining of the platform's many advantages.
The Nasuni Cloud File Storage is a primary file data storage platform that offers the scalability of cloud and level of performance expected from NAS and Windows file server systems. Being born in the cloud, the Nasuni Cloud File Storage saves all data in the cloud. That topped with its built-in recovery mechanism makes recovery easy and quick after individual location loss. Capabilities like edge caching, global file sync and share, immutable storage and unlimited backup are other distinguishing features on its list.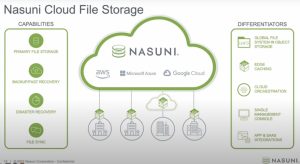 At the heart of the Nasuni Cloud File Storage platform is UniFS, a versioning file system that leverages object storage to deliver high levels of scalability and durability similar to cloud. The UniFS allows admins to set granular recovery points for rapid recovery from ransomware attacks. Users can set their schedules to save a version every minute and those versions can be saved for as long as required without exhausting any limit or going over to a backup system.
The Nasuni Cloud File infrastructure is managed by a central management console that is a VM that resides inside the environment. All information related to edge devices, recovery points and snapshot schedules streams through this management console making it possible to manage the environment from a single dashboard.
Final Verdict
Nasuni Cloud File Storage platform helps tackle a lot of the challenges typically faced by organizations when using traditional storage systems. Tying together the best of cloud and object storage, it is a file storage architecture that delivers an agile and infinitely scalable storage environment with enhanced data protection that organizations of today need in their digital transformation journey. In a sense it makes file storage simple, but a lot more resilient and capacious and better recoverable from security breaches.
For more information on the Nasuni Cloud File Storage platform, be sure to check out their other technical presentations from April's Tech Field Day event.