As IoT devices continue to grow in number, campus networks face increasing security threats. Keeping the data safe in the network becomes an exceedingly challenging task that demands a dual implementation of strategy and automation. Pica8 presented their portfolio at the Networking Field Day event in January that tackles this network security problem with a smart approach.
Complications in Campus Network Operations after IoT and Cloud
The three-tier campus network architecture has one too many downsides. Poor IoT security is one of its top problems that makes way for hackers to enter the network and get away with sensitive data. But uncoordinated and low security are only the tip of the iceberg.
There are a ton of other new challenges that have cropped up in the picture since the arrival of cloud and IoT. Today, campus networks have become a conduit between devices and the cloud. Now IoT having entered the scene, campus network which was pretty static since the arrival of Wi-Fi is now faced with enormous pressure in terms of scalability and security. To top that, the current three-tier network architecture lacks flexibility, which only makes adoption of IoT harder than it should be.
Pica8's Open Networking Solution
Pica8 takes an intuitive approach to this problem. With its AmpCon Network Controller and PicOS Software Switches, it enables network automation, implements Zero Trust security and provides network analytics all in one go.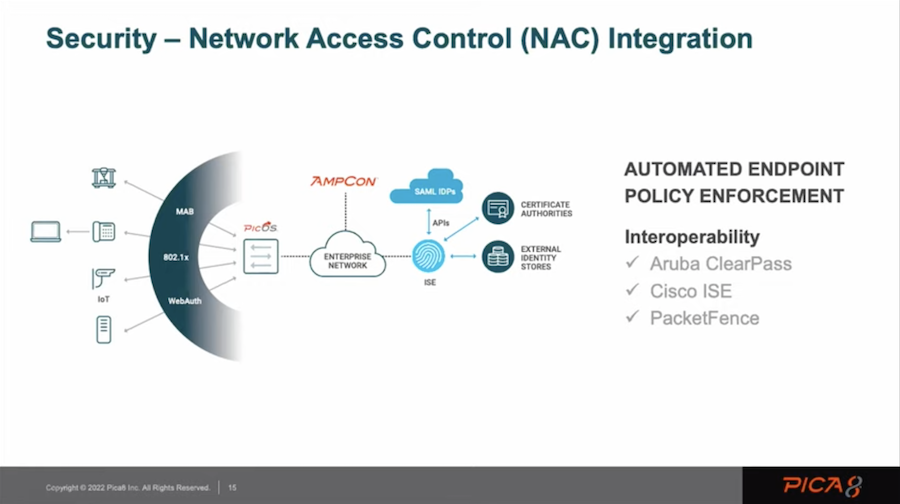 With an interesting approach of decoupling the software from the underlaying layer, it makes the two layers independent of each other so that when users make changes to the software layer of the network, it does not affect elements in the lower level.
Pica8 Keeping Networks Secure and Automated
James Liao, founder and CTO at Pica8 presented Pica8's portfolio of network products at the Networking Field Day event in January. He discussed the use cases while talking about how Pica8's products address the current problems with IoT in campus networks.
Pica8's AmpCon is a controller that sits atop the network enabling easy GUI operations for users. A point-and-click type environment, it is designed to automate routine works, virtualize the network and make analytics available from the network data. With that in place, changes can be made in all three levels of access, aggregation and core can be accessed with PicOS.
In terms of automation, Pica8's AmpCon covers a lot of grounds. It steams telemetry data and integrates security with the software besides enabling network access control in the software. AmpCon build EVPN VXLAN Topology, a virtualization map which can be deployed in the client network environment and data centers. As virtualization is enabled on all the layers from up top down to the access layer, users no longer need to look at the entire network when connecting an IoT device.
With interoperability with Network Access Control (Policy) platforms like Aruba ClearPass, Cisco ISE and Open Source Packet Fence, the AmpCon Network Controller and PicOS Software Switches secure the access layer of network for all IoT devices.
Final Word
Pica8's two products seem like great automation solutions for offloading a lot of the routine tasks in network operation and more importantly for securing the network at the root so that IoT devices do not pose any threat to network data integrity. Sounds like the kind of security tool that should be more in use in today's age of IoT.
Check out Pica8's presentations from the recent Networking Field Day to learn more about their products.