Facts about Storage
Continuing the blog posts on Storage Resource Analysis (SRA), this post focuses on some facts about data that sits in Storage Environments.
Read the entire series of posts on Storage Resource Analysis (SRA):

Part 1: Storage Resource Analysis and Storage Economics

Part 2: The IT — Storage World of 2009

Part 3: The IT — Storage Budgets of 2009

Part 4: Some Fundamental Questions

Part 5: Facts about your Data

Part 6: Inconsistencies in Storage Environments

Part 7: The Technical Case

Part 8: The Business Case

Part 9: The End Result
Going to a very basic question about a Storage Environment, What percent of your storage is allocated and what percent of it is actually being used?
The more utilization you gain, the further you can push your new storage acquisition timeframes increasing your ROI and reducing your CapEx. The better efficiency and optimization you gain in your storage environments, the further you can push to reduce your OpEx.
So based on some latest data we have gathered from various different customer environments, believe it or not, on an average, this is what we saw…..
Allocated Storage
Average Customer Production data: Between 20 to 24%
Average Copy / Replication data: 20% more than Production data: Between 24 to 28%
Raid Overhead associated with production data: Between 15 to 19%
Storage Allocated but no owners: Between 18 to 22%
Unallocated Storage
Storage unallocated meant for future use: 13 to 17%
To shed some light on production and copy / replication data, there are a lot of data inconsistencies being reported in terms of broken links, replication failures, source and bcv lun size mismatches, etc.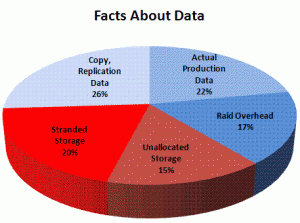 The above scenarios with allocated / unallocated storage will reduce your ROI (Return on Investment) and ROA (Return on Asset), further causing budgeting issues in an organization.  
As you go to various different teams and ask them about the allocated / unallocated storage, you will hear different answers throughout the entire organization. From everyone's view these numbers are debatable.  
Experience:
This time around, a personal experience.
In addition to my Technology Solutions responsibilities for our customers, I also have responsibilities around managing internal IT infrastructure that includes the apps, databases , storage and other IT assets. We have a lot of new projects happening every month, quarter, etc and have to allocate storage for those needs.
Projects that are hot today, might not be hot in the next 3 months, or may be in next 6 months. Projects get scrapped, host systems get scrapped, but storage still sits there, churning and spinning. Believe it or not, as the economic times change, lots of things are enforced and as the IT managers internally started looking at all the storage, we were able to reclaim quite a bit that was in real terms stranded storage, which is now all allocated to new ongoing projects or ready to be allocated at a short notice.
Do you know how much of your storage today is allocated, unallocated, stranded and importantly how much of it is Production data in your environment?