StorCentric has developed its own branded Data Management Suite (DMS), allowing native data to be moved across any storage system, whether it is private cloud, public cloud, or LTFS. That's right, this data management system natively writes to both cloud and tape (heads up media companies!). In addition, it is designed to support Amazon's S3 in just about any protocol natively.
We all know that data is typically stored in silos. Many companies have a large on-premises enterprise storage presence (Dell EMC, HPE, Hitachi, NetApp, and so on) or use cloud storage solutions from Amazon, Microsoft, or Google, and each of these is a silo. Mobility between these various silos is troublesome, and data migration and maintaining consistency is an ongoing challenge.
StorCentric's DMS is designed to connect heterogeneous platforms and share data between them and between protocols. For example, companies can take information on a Dell EMC NFS storage device and move it to an S3 object store in AWS, take LTFS and move it to AWS or Google cloud as an object-store. The company can have data living on NetApp and Hitachi and share it wherever they want.
StorCentric works with media and entertainment companies, many of which rely on tape libraries to store massive data sets. DMS can take data on LTFS and move it to NFS; it can take LTFS data and create an object in the cloud. DMS can move that data back and forth between tape, disk, and cloud. Using StorCentric's DMS, these folders and their files are shared. So, if someone creates content on one, it will show on the other. How quickly that shows is down to how fast the network is.
Migration
One of the use-cases for DMS is migration across multiple sites. This is particularly relevant to the remote workforce of the COVID-19 era. The system allows companies to migrate any data from one storage system to another, for example, from on-premises to the cloud of choice.
When that data moves, it is immediately useable. It does not need to be rehydrated. The file becomes part of a bucket, and the company can access the object and use the data. There is no appliance or extra software needed to use the migrated data.
StorCentric's system is a platform that is storage agnostic. It works with any heterogeneous storage and is designed to allow a company to define policies to move, migrate, share, and collaborate with data across both private and public cloud. DMS is not a storage device; it is a facilitation solution designed to share data and content on existing systems and move them around as needed.
StorCentric's DMS is built on the Retrospect platform, primarily targeted at endpoint data protection. StorCentric looked at that code base and its applicability and found that some pieces had deep hooks in data services across sites. The company took that and worked for at least a year to improve performance, make resiliency front and center, and support various storage combinations to make it work.
Currently, DMS works across a long list of clouds that use the S3 protocol, and that list will keep increasing.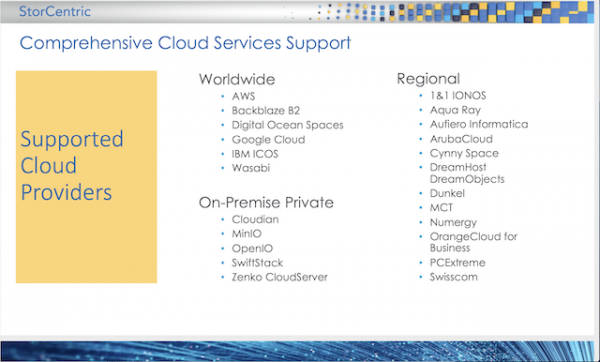 What makes this different?
The key take-away from StorCentric's DMS is that it can take media from NTFS and move it to LTFS and S3 and vice-versa, creating consistency across diverse data storage platforms. StorCentric looks like a player that can cross data silos to unify storage solutions in a vendor-agnostic way. A potential game-changer for media corporations.
To learn more about StorCentric's DMS, head on over to their website https://storcentric.com/