It's 2021, and data sets are surging in size. Memory and storage are becoming huge bottlenecks across the IT industry. If companies don't have fast enough and big enough memory or storage, processing that data to create essential insights slows down to a crawl, and companies miss out on crucial business decisions.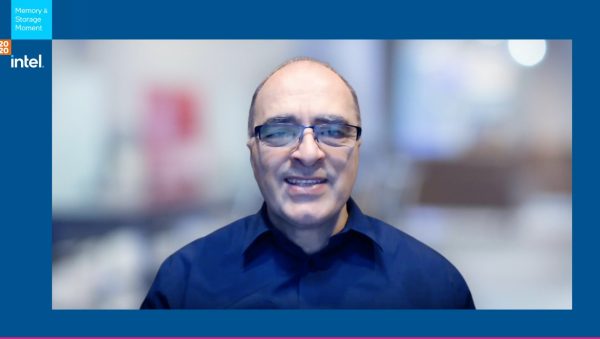 Intel's Memory and Storage Moment
Intel's Optane Technology gives system builders the potential to unleash the value in data, overcome bottlenecks, and start gaining real value from the gigantic data sets becoming a business norm.
Intel's new Optane-powered products are designed to help customers deal with the rapidly evolving and developing verticals of 5G, AI, digital transformation, the transformation of the network, and the intelligent edge. The memory and storage industries are undergoing a revolution, and Intel is bringing its A-game.
COVID-19, remote work, and a rapidly changing way of working have meant that the memory and storage space is one of the most rapidly evolving parts of the new data economy.
A New Focus
Intel is divesting its NAND business to SK hynix and has set a new focus. Intel Optane technology will be a center point in the company moving into 2021 and beyond. Intel has unified its Optane talent and Optane technology into a single organization called the Intel Optane Group, which now falls inside the Data Platforms group.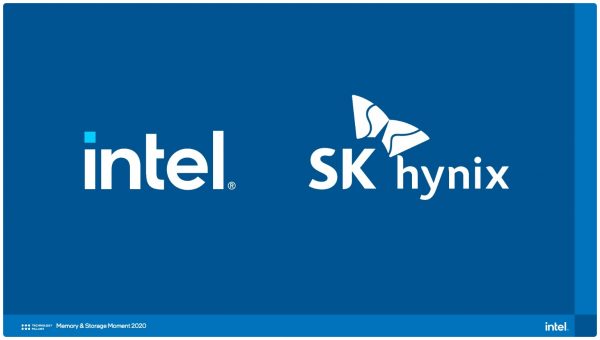 This new Group will comprise all of the company's resources for engineering, technology, development, manufacturing, sales, and marketing for memory and storage technologies using Optane.
This Group is tasked with ensuring that Optane directly impacts the data economy and will solve its customers' significant memory and storage problems. Optane is the core component of Intel's strategy.
Disruptive Technology
As our tech world sees increased utilization of microprocessors and memory, businesses are trying to get faster time to insight to deliver more customer value – and Optane's flexible, disruptive technology is there to drive this value.
According to Intel, there are four unique features of the Optane technology family:
Optane is a persistent technology, which means that information is retained even after a power interruption, unlike DRAM
Users can write in place so that set or reset data can is used as needed
The technology is byte-addressable
It is low latency
When Optane is used in storage applications, it is all about performance and endurance relative to other technologies, where it is used as memory, it has a high capacity. Also, Optane technology remembers what files, applications, or games you use frequently and gives users fast access to those. As those computing habits change, it adapts to users' new rhythms.
Intel Optane technology is a disruptive revolution for the industry. It has been hailed as a once in a decade kind of invention that delivers essential value in the modern data-driven world.
Trends to Drive Optane Forward
The move to 5G and its transformation of networks, the massive growth in the AI domain, the build-out of the intelligent edge where computing is moving closer to where data is created and consumed, as well as cloudification on-premise and in the network will define the future of the technology industry. These things produce a massive amount of data, need fast compute and are prime for Intel Optane.
Optane help businesses unleash the potential of data and move data faster, store more data, and process all that data. It allows users to do that not just component by component but at the software and system level.
New Products Announced
Intel announced six new memory and storage products at its Memory and Storage 2020 event in December 2020.
The new products are the Intel Optane SSD P5800X, the Intel Optane Memory H20 for client, three new NAND SSDs featuring 144-layer cell memory: the Intel SSD 670p, the Intel SSD D7-P5510, and the Intel SSD D5-P5316, as well as announcing its intent to release a third-gen Intel Optane persistent memory for cloud and enterprise customers, currently code-named Crow-Pass.
Intel Optane SSD P5800X
Intel hails the SSD P5800X as 'the world's fastest datacenter SSD', when compared to PCIe Gen4 x4 enterprise and datacenter industry SSDs. The stats are impressive when compared with the Intel Optane SSD DC P4800X. It has 3x greater random 4k mixed read/write IOPS, 40% better QoS, 3x higher sequential 4K-128K bandwidth read/write, and a whopping 67% higher endurance.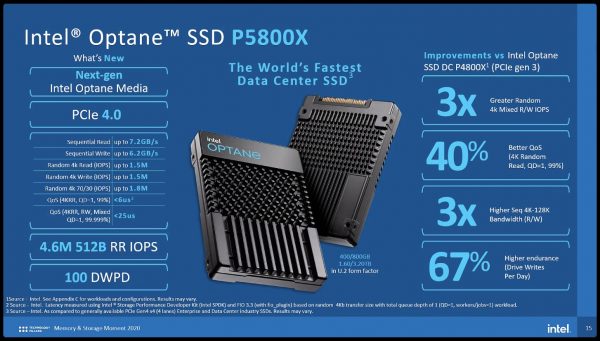 The SSD P5800X is Intel's first PCIe 4.0 Solid State Drive (SSD) and features sequential read up to 7.2GB/s, sequential writes up to 6.2GB/s, and much more. The low latency under heavy workloads and high endurance is both a bonus and a money-saver in the long-run for enterprises.
Memory H20 with SSD
The H20 is Intel's next-gen performance and capacity storage, designed for slim notebooks and space-constrained PC platforms. It is an upgrade from the H10, which initially debuted in 2019. The new H20, like the H10, combines Intels' speedy Octane memory with flash on a PCIe M.2 module. The H20 is aimed at gamers and content creators. Graphic designers can raise a cheer about now!
By combining Intel Optane Memory with Intel quad-level-cell (QLC) 3D NAND, users can experience breakneck speeds and much higher responsiveness across finding files, launching applications, and transferring data.
"Crow Pass" Optane Persistent Memory
Intel teased listeners at its Memory and Storage Moment 2020 with the announcement of its 3rd generation Intel Optane Persistent Memory, nicknamed "Crow Pass" internally. This is designed to address that exponentially growing problem, the need for more and more memory and storage. Intel hopes to deliver Crow Pass alongside future Intel Xeon Scalable processors, known by another code name: "Sapphire Rapids". Although the timeline is unknown, Crow Pass is likely to be a hit with cloud and enterprise customers.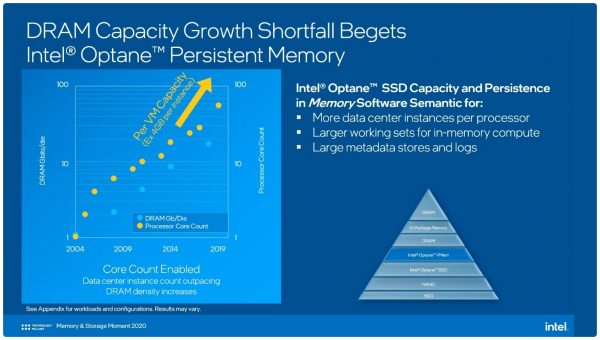 Intel SSD 670p
The presentation on this was short and sweet, so here it is: The Intel SSD 670p is the next generation 144-layer QLC 3D NAND SSD, designed for mainstream computing. Intel says it will deliver high productivity for real-world workload uses and applications in the PC client.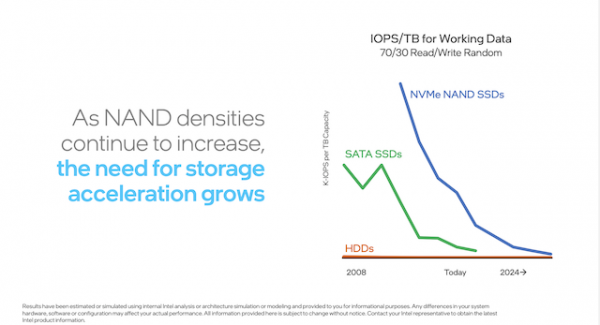 Intel SSD D7-P5510
The first-to-market 144-layer triple-layer-cell NAND design can accelerate a wide range of cloud datacenter workloads. The Intel SSD D7-P5510 features denser, higher performance and endurance than previous generations and is designed as a high-capacity replacement for cloud storage.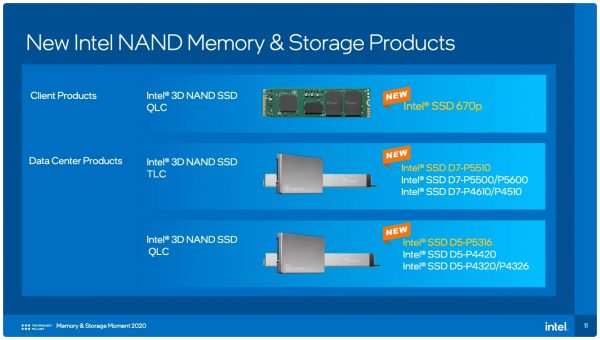 Compared to the previous generation, a few of the Intel SSD D7-P5510 highlights include 118% higher read/write bandwidth, 50% higher mixed performance IOPS, 17% higher endurance, and 100x accelerated TRIM time.
The Intel SSD D7-P5510 is a U.2 form factor with 3.84 terabytes (TB) or 7.68 TB of space. According to Intel, it features better device health monitoring, new and better algorithms and features for cloud workloads, and increased flexibility for multi-tenant and virtualized environments. It is also more power-efficient and has higher data security.
Intel SSD D5-P5316
An industry first, the Intel SSD D5-P5316's 144-layer QLC design can optimize and accelerate legacy capacity storage. It provides a 38% increase in 4K random read, 2x higher 128K sequential read, and 4x higher endurance than the previous generation.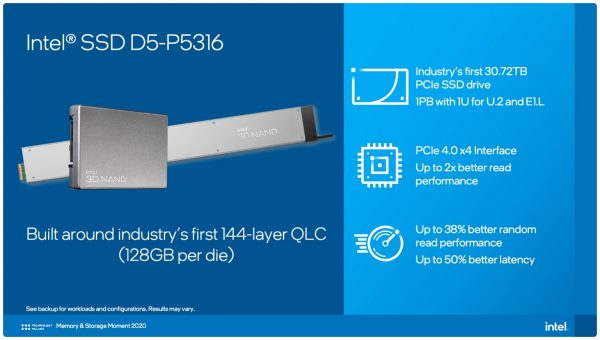 The Intel SSD D5-P5316 provides 48% better latency over hard drives, and with128 gigabytes per die, it gives up to 200% better read performance than hard drives.
This drive, available in the first half of 2021, will come in 15.36 TB and 30.72 TB capacities and is available in a U.2 and E1.L form factors. According to Intel, it's the first 30.72 TB PCIe SSD that enables a full petabyte (PB) in one rack unit.
What Comes Next From Intel?
Intel's Memory and Storage Moment 2020 whipped out some nifty tech that should keep the storage gurus busy for a year or two. We are excited for what comes from the next iteration of their Optane technology and see precisely what it can do. Watch this space!
Bonus Content: Tech Field Day Exclusive with Intel Memory and Storage
Intel arranged a special Tech Field Day session with many of the Memory and Storage Moment presenters as well. Check out the following YouTube playlist for two hours of deep dives into the technology, including a Tech Field Day Roundtable discussion at the end!