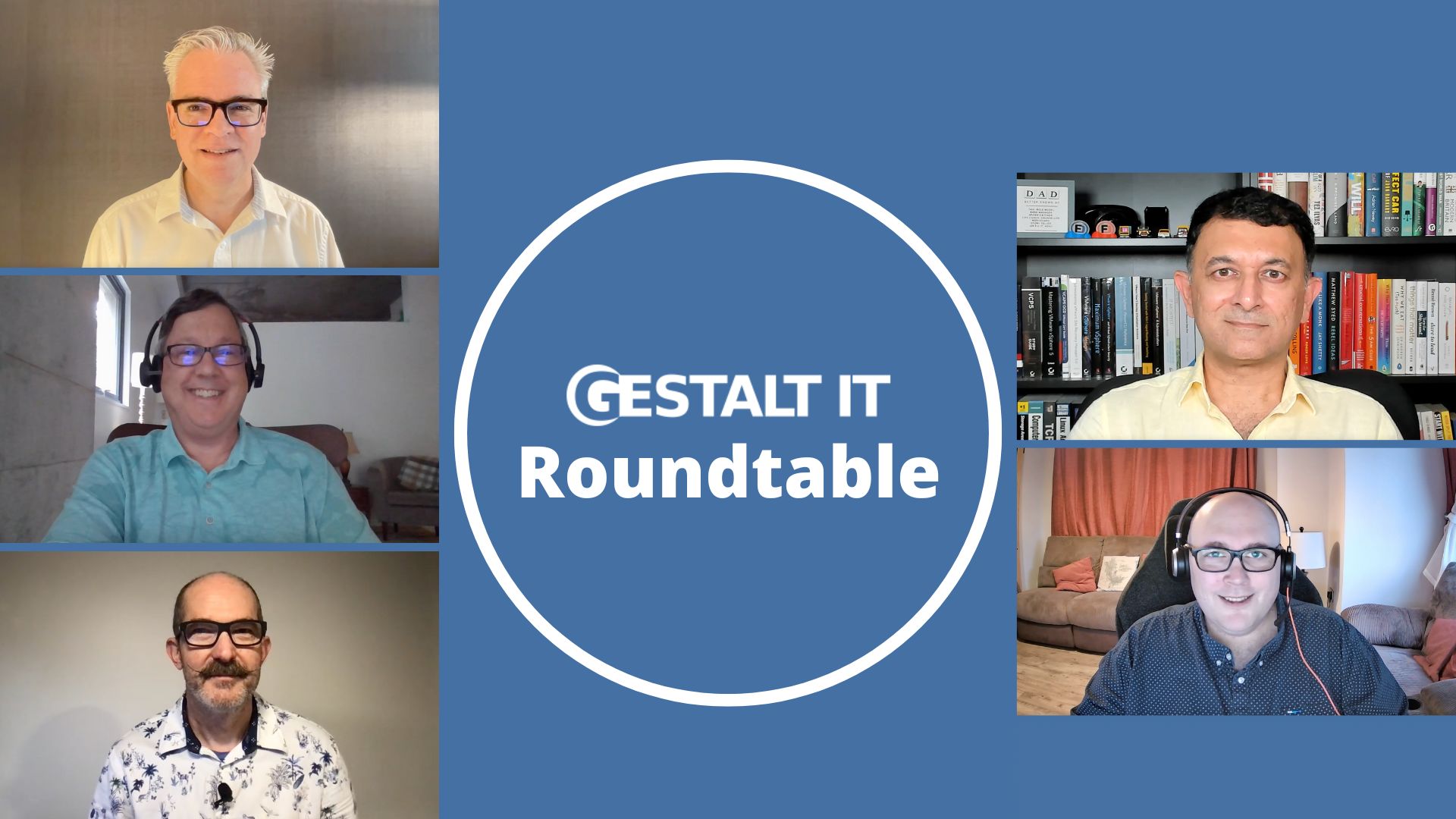 The hardware ecosystem of today offers a wealth of fantastic choices. With hundreds of options to choose from, everyone thought that building out infrastructures would be fun and games. But, for many companies, picking out the right hardware to match the software is still a rigmarole. With so many options available, companies find themselves looking at a sea of choices, but not enough information on what would make a good fit for their specialized use cases. The reason for that is, companies are still wrapping their heads around the profusion of choices that have come into the market and oftentimes, the confusion starts from not knowing what questions to ask when building out a solid hardware infrastructure.  
In this Roundtable discussion sponsored by Intel, Stephen Foskett along with Field Day delegates – Ather Beg, Enterprise Solutions Architect, Craig Rodgers, IT professional with over two decades of experience, and Alastair Cooke, consultant and writer, who together co-author the Gestalt IT whitepaper "Digital Infrastructure at Datacenter Scale; It's All About The Ecosystem", get together with Intel's Director of Competitive and Better Together Marketing, David Scheer, to chew over the premise of building out a digital infrastructure at scale.
The Clamor for Best in Class
A narrative that has often been passed around is that you need to invest in the best-in-class hardware. The best CPU, the best processor, more cores equal performance. But performance is not magic. As Ather Beg rightly points out, "This view is short sighted and there's a lot more to building a system than that." Instead, the quest should be for finding the products that deliver the best price-to-performance ratio for your deployments.
Over the past two decades, a lot has been going on in the enterprise IT space, and it goes beyond just the hardware or software. Organizations looking to buy hardware for their datacenter infrastructures need to apply factors like the hybrid cloud model, virtualization and disaggregation to their purchase decisions.
The Perfect Formula
There is no one perfect recipe for building a digital infrastructure at scale. Enterprises have disparate workloads running in their environments and at the end of the day, the underlying systems need to have whatever it takes to support those workloads optimally, and the answer isn't always the best processor money can buy. Instead, it's the perfect configuration, and that configuration changes for every enterprise. The best infrastructure is the one that is purpose-built.
"There are many components that make up the perfect configuration," says Beg. Cooke adds that the secret sauce is "the right collection of parts to have together".
Thinking Outside the Box with Intel
Intel has been innovating in this space a long time and is known to be a pioneer of ground-breaking technologies. To help organizations nail that elusive perfect config, Intel has brought the users a rich and diverse portfolio of components that could build not one, but many perfect configurations.
Intel has been adding CPU extensions to accelerate certain use cases since 1999 with SSE in Pentium III processors. Intel recognizes that the CPU, although vital, is only one component in the server. It takes the trifecta of memory, storage and connectivity to complete the picture.
Intel's datacenter portfolio resonates this – the Xeon Scalable processors with AI acceleration, Optane SSDs with dramatic performance and low latency, Optane PMem for affordable memory capacity scaling, and the more recent IPU (Infrastructure Processing Unit) that accelerates infrastructure functions and frees up performance for CPUs. Each of the components come together to complete the server, and Intel has done its part by getting each individual component to sync seamlessly with all others.
It's innovation around CXL is another momentous milestone in the road to fully disaggregated systems. The CXL (Compute Express Link) standard, developed primarily by Intel who is a founding member of the CXL Consortium, carries forward the work began by PCIe. Based on PCIe 5.0, CXL is a cache-coherent interconnect between systems. It maintains memory coherence between memory in the CPU and attached devices like ML accelerators making a truly composable infrastructure possible.
Simply put, CXL lets a system access memory beyond its own. When required, it can tap into the memory residing in the chassis of its own and neighboring racks and use it as a second-tier system memory. Aimed at accelerating high compute workloads like AI, ML and HPC, it has many advantages including resource sharing, high performing expandable memory, reduced complexity at the software level, and overall lower system cost. It is open-standard which makes it openly accessible, no specialized drivers required.
Building out a 'Suitable' Infrastructure
It's obvious from all the emerging trends that CPUs are transforming. From being a foundational component in the server that gives more compute power, CPUs are becoming more case specific. For example, a lot of the providers including Intel now includes accelerators in their CPUs for specific functions.
Certain use cases can benefit from specific instruction sets while for others, they are less vital.
Cooke illustrates this. "There are some very specific use cases where the perfect configuration is really important, an, so there are very specific instruction sets that you need for maybe, running a massively scaled compute environment, for running essentially high-performance compute." He continues, "But if you're running more of a general-purpose platform that's going to have a mix of workloads on it, then you need to have the collection of different elements that are required by the different workloads that are running."
But even if some instruction sets are vital for HPC workloads and less so for general workloads that require a lot less performance, there will still be common features and functions that both types of workloads can benefit from. An example Rodgers posited is a backup system that using a new instruction set was accelerated three times. That's a significant improvement that is beneficial to all workloads.
Why Intel's Is the Preferred Platform
When it comes to configurations, Intel offers some very interesting choices that can help transcend the physical limitations of a host. The Optane technology for example presents the possibility to scale and configure the system architecture in a way that was not possible before. This is innovative, in the sense that it lets you pack as much resource as required in one host, in a highly cost-saving fashion. So if gotten right, a purpose-built config with Intel hardware can gain organizations a lot of capacity and perf at very little expense.
To top that, Intel has the added advantage of being the giant in the industry that most providers by default optimize their products for. Having the broadest portfolio in the market, everything revolves around Intel making it a platform of choice for datacenters. Intel itself offers wide support to popular software so to not give companies a run around for finding a match.
Intel's dominance in datacenters is undisputed for good reason. Intel not only invests in the R&D, partners up with other small and big players in the industry in building mold-breaking technologies and offers the widest spectrum of products to customers – but it ends the chase after the perfect configuration by bringing us an ecosystem of solutions that together make sustainable and scalable infrastructures at datacenters.
Final Thoughts
The recent Optane news may have been disheartening to many, but when parsed shows it's really the path forward for Intel. Optane was a great memory technology that served well with it's fairly high performance and high capacity, and will hopefully continue to do so in some form or fashion. And now it's time to move on to the next big thing, and CXL is that thing. It's even better and more supportable and can very well be the missing piece in your architecture. When building out a datacenter at scale, sustainability and scalability should be paramount, even before performance and IOPS, and CXL together with Intel's host of other technologies checks all the boxes. If you're still wondering about the perfect configuration, you now have all the right pieces to build a powerful and perfect infrastructure for your workloads.
If you're interested in learning how to build the best datacenter infrastructure as well as more about CXL and Intel's roadmap for it, the Gestalt IT whitepaper "Digital Infrastructure at Datacenter Scale; It's All About The Ecosystem" discusses these at length.
Panelists for Today's Roundtable:
Panelists
Craig Rodgers
Ather Beg
Alastair Cooke
Twitter
Intel Panelist
David Scheer, Director, Competitive and Better Together Marketing, Intel. You can connect with David on LinkedIn.
Moderator
Stephen Foskett
Twitter
Follow us on Twitter! AND SUBSCRIBE to our newsletter for more great coverage right in your inbox.