Update: As of October EMC has officially revealed the Atmos Online Compute Service, and it is as we suggested back in August.
EMC is a storage company, right? Not anymore! Under Joe Tucci, the disk giant from Hopkinton has been diversifying rapidly, with acquisitions like VMware, Documentum, RSA, and Smarts. But is the IT world ready for EMC's next move? Is EMC itself ready?
EMC introduced Atmos, their platform for private and public cloud storage, in November. Now they are expanding this solution to include virtual servers as well, with Atmos becoming a complete package service providers can use to compete with Amazon's EC2 and S3. This product introduction is EMC's first foray into the server market, marking a major departure for the company. Will Atmos prove to be a minor addition to EMC's portfolio or a step too far for the company and its partners?
The Atmos Problem
EMC  launched the Atmos and Atmos onLine storage products in November of 2008 with a marketing splash. Many observers were puzzled at the time, trying to figure out how Atmos fit with VMware, Centera, and the storage products in the company's product portfolio. One thing is clear: Atmos is not just another storage product line for EMC.
So what exactly is Atmos?  Technically speaking, Atmos is a software product that  transforms commodity servers and JBOD disk into an API-driven cloud storage platform. The Atmos offering leverages Dell servers, Gigabit Ethernet switches, and SAS disk shelves, but the hardware isn't really an important element.
It is the business of Atmos that challenges our expectations of EMC the most. EMC still relies on storage sales for 80% of its revenue, yet Atmos presents a real challenge to that massive revenue stream.  Although EMC has been careful to differentiate it from Celerra and Centera, Atmos can certainly be used in their place. Word is that Atmos has already replaced Celerra for basic bulk storage at a major EMC customer. And Atmos will soon also be out of beta as a true public pay-as-you-go service, Atmos onLine,  both from partners like AT&T and from EMC itself.
EMC is in the cloud storage business and is actively seeking to expand this presence through private cloud and service provider relationships. This is a bold move for EMC, and it contrasts with their competitors' timid "ammunition provider" cloud strategies. In the long run, the Atmos plan might be the salvation of the company, but it must be galling for the veteran EMC sales force.
The problem for EMC so far has been how to sell Atmos. These opportunities are said to be few and far between and focused only on the petabyte-scale solutions. The product was launched before there was a clear market in private cloud, and there simply are not many end-user customers who want to buy this sort of offering.
Introducing Atmos Compute?
Reviewers and commentators have long remarked that EMC's storage base could be strengthened by adding additional capability, especially in the area of computing. We know EMC will be moving towards tighter compute/storage integration, but the company never before indicated that they will introduce their own compute platform. Now we know of two such compute products, and Atmos Compute Service is by far the most challenging for the company.
Widespread reports recently have talked of a joint VMware/Cisco/EMC datacenter product. This alliance even has a name: VCE. Enterprise Storage Forum quoted Linda Connly, EMC's chief of staff and sales strategy, as saying  "we have been building an integrated 'stack in a rack,' which is essentially a virtual data center in one rack." This seems to be a rack-scale integration of VMware ESX,  Cisco UCS, and EMC storage, and was previewed at EMC World. The vPod (1.0) solution integrates EMC storage, Avamar, and ESX to provide backup service. Version 2 is in the works and is said to be a more-complete offering integrating Cisco UCS compute and 2950 switches and EMC V-Max with FCoE all tied up with Ionix/Smarts systems management. This VCE stack in a rack is a good, general-use roll-up of conventional solutions.
Now we hear that EMC is talking openly about launching its own cloud compute platform, called  Atmos onLine Compute Service. Riki Fine of EMC's Cloud Infrastructure Group presented an overview of EMC's cloud infrastructure offerings last week at the Boston Cloud Services meetup. The presentation,  posted at meetup.com, includes a slide (number 15, not marked as confidential) devoted to this Atmos onLine Compute Service, presented here: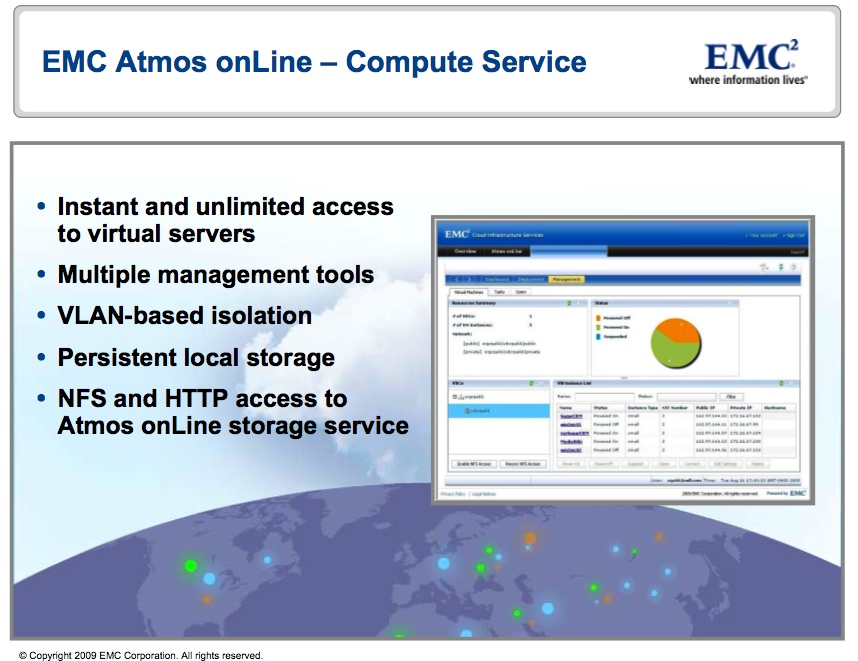 This EMC slide shows the Atmos onLine Compute Service in action
It seems clear that this is a different product entirely from the Cisco-based vPod 2.0. We are presented with an integrated compute service similar to Amazon EC2 with persistent block storage like Amazon EBS. Looking closely, we see indications that VMware is used (as opposed to Amazon's Xen-based EC2), which fits nicely with the vCloud concept presented at VMworld.
Since Atmos already uses commodity server hardware, EMC's VMware ESX could easily be inserted to virtualize the stack, providing both storage and compute power. As a software product,  Atmos (storage) could  run within ESX on the same hardware alongside customer compute processes.
It looks like EMC has put together a compelling alternative to EC2:
They (probably) use VMware ESX, which is more common and familiar than Xen.  Atmos Compute Service might even be able to handle existing ESX instances migrated in from private servers!
Atmos onLine storage supports NFS in addition to the Atmos API, unlike Amazon's own S3 which is API-only.
They offer VLANs for enhanced network security, which Amazon

lacks

lacked until the introduction of VPC.
They seem to offer per-instance internal  persistent IP addresses, another area of frustration for EC2 users.
In short, Atmos onLine Compute Service looks like a real Amazon EC2 challenger.
How Will Atmos Compute Be Sold?
One key question to be answered about Atmos onLine Compute Service is the go-to-market approach. The Boston slide deck places Compute in the "onLine" section, differentiating it from the Atmos products available directly to private/internal corporate users. We expect Atmos Compute to be initially rolled out by EMC itself as part of its Atmos beta program, with a major service provider following shortly.
Will AT&T sign up? They were the pilot customer for Atmos onLine storage, but Compute Service would seem competitive with AT&T's own Synaptic Hosting offering. Perhaps one reason for the long gestation of this Atmos element is the lack of a partner or ISV for the launch? Given the VMware connection, we'll be scanning the booths at VMworld in September.
The biggest weakness for Atmos storage thus far has been integration with third-party applications. EMC's partnerships with application vendors are not strong at the moment, and certainly not in the spaces where API-driven Atmos storage might play. An application ecosystem is more likely to develop if EMC delivers its own Amazon EC2 and S3 competitor platform, especially if it is powered by a  SpringSource-infused VMware.
It is extremely likely that Atmos Compute Service will be offered to enterprise customers building their own internal clouds. The cloud strategy of EMC and VMware presents a federated private/public cloud hybrid approach with applications and data moving between internal infrastructure and service providers with ease. This was one reason the company introduced Atmos as a storage platform: To seed their biggest enterprise customers with a cloud federation platform. Therefore, it seems very likely that EMC will soon be providing cloud compute servers to enterprise customers.
Changing the Rules
The availability of Atmos Compute to corporate IT customers places EMC in direct competition with HP, IBM, Dell, and even Cisco in the battle for server dollars.
Assuming it is not simply a branding of the VCE stack, Atmos Compute could be a game-changer for EMC. They already compete bitterly with HP and IBM for storage dollars, so entering their core server space poses little risk. Since it is based on Dell hardware, the suggested Atmos Compute product should not shake their long-term EMC partnership, and a Dell-branded version might even result.
It is the EMC/Cisco relationship that poses the biggest potential issue. Cisco has a history of game-changing product introductions, including their line of storage switches and the UCS server hardware. Cisco has remained willing to work with other storage vendors, announcing it selected NetApp for internal IT. Finally, rumors are flying that Cisco is preparing a storage array of their own for introduction next year.
Atmos Compute could be a response to this:  A major rift could be forming in the EMC/Cisco alliance. Many have suggested that Cisco could buy EMC, but it seems more likely that EMC will try to become an integrated datacenter infrastructure provider, competing with Cisco, HP, and IBM.
Cisco is positioning UCS as the best platform upon which to run VMware for cloud/service provider environments due to its strong focus on multi-tenancy, RBAC, etc. Atmos Compute, coming from VMware's own parent but on a different hardware platform, could be seen a direct competition. Perhaps Atmos Compute might be even more challenging for Cisco than the likes of HP and IBM, since it is positioned specifically for cloud environments.
This represents a major shift for the IT industry in general and the storage industry in particular. EMC has long been the standard-bearer for enterprise storage, but this move raises many questions:
Does ownership of VMware give EMC a competitive advantage over the others?
Since this move sounds like something Paul Maritz would come up with, does this make him the heir-apparent to Joe Tucci?
Does this make a Dell/EMC or Cisco/EMC merger likely?
Might a new wave of acquisitions result, with NetApp, Brocade, Citrix, and others scooped up and integrated?
What does this assault by fully-integrated datacenter providers mean for the smaller storage, network, server, and virtualization vendors?
Most importantly, how will customers react to EMC making a play for their server dollars?
We will be closely watching these developments!
In case you were wondering, EMC is not ready to comment on this product. The official EMC PR response follows:
"Today, EMC provides customers with the cost and flexibility benefits of  cloud computing offered from the world's leader in information  infrastructure–building upon our expertise in information security  (RSA), virtualization (VMware) and Cloud Infrastructure Services such as  the recently introduced EMC Atmos onLine Storage Service. EMC doesn't  comment on futures or product roadmaps, but you can expect EMC to  continue innovating to help customers maximize their information and  virtual infrastructure IT environments."