Lately, IT has started to look like a massive pot of stew simmering away on a slow burner – a swirling mix of ingredients. There are layers upon layers of technologies, assortments of processes, distributed environments and a stream of data that never stops. While it's on the operational style and structure to make it or break it, achieving operational simplicity in such a richly diverse landscape continues to be a struggle for most organizations.
At the recent Storage Field Day event, Dell Technologies presented some storage solutions off of their portfolio, and a central console built to address this problem. Dell's vision with it is to deliver a consistent and modern storage experience so that organizations can get full value out of their data.
Modern IT Complexity Is Confounding
While on one hand disparate technologies, tools and teams have added more dimension and depth to what organizations' IT departments can do, they have also sowed deep divisions – more popularly called siloes – in the operations. Although inevitable, operational silos are also a costly fallout. It can lead to a lot of negative outcomes including inconsistency, inefficiency, wasted resources and opportunities and a lot of friction, all of which undercut productivity.
But operational siloes are not the only culprit eating through operational efficiency. Cloud computing models inject complexity generously into the picture. Combined, cloud complexity and operational siloes deal a heavy blow to developers' productivity which culminates into slower deployments. On top of all this is the overarching problem of cyber security. With threats and attacks growing at par, it's important to "have resiliency and recoverability" to stand back up when hit.
Dell through the Years
For years, Dell's identity has been cemented on computer manufacturing, which is obviously the bread and butter of their business, but about a third of its revenue comes from their datacenter business which many would be completely unaware of. Under the datacenter banner, Dell has a sprawling portfolio comprising servers, networking, storage, backup and security products. Storage accounts for a half of that.
Scott Delandy, Engineering Technologist and User Advocate at Dell Technologies says that just the turnover of its storage portfolio which is over 16 billion with a 'B' can put Dell's storage business unit on the Fortune 500 list.
Dell's acquisition of EMC Corporation remains one of the hottest tech deals in the history of the industry. Post-acquisition, Dell harnessed EMC's flagship technologies combining them with its own to build a bombastic portfolio that has made Dell's datacenter business a shining successful.
Delandy says that at present, Dell focus is to be a "portfolio company", meaning it no longer sees its products as individual solutions, but rather the entire portfolio as a whole and how the sets of technologies on it fare in meeting the varied and numerous requirements of the customers.
Storage, Dell's Way
Dell offers an out from operational complexities with a three-part solution – automation, security and granular control. Automation of operations, security coverage for the infrastructure assets and better control of the infrastructure, be it public cloud or on-premises – these can help organizations cut through the operational challenges of a large-scale infrastructure.
Dell's solution – a modern storage experience for one and all. But Dell's stance here is unique. Where most providers are quick to dessert legacy technologies and buckle up for the newer applications, Dell seeks to support the full spectrum. So, it fashioned its storage solutions with an adaptable architecture, cyber resiliency, and operational flexibility in hybrid multi-cloud.
Dell's Storage Platform
At the Storage Field Day event, Scott Delandy showcased three of Dell's storage solutions explaining how they help modernize storage and the management console spanning them that delivers a cloud-like experience across the IT infrastructure.
Dell brings to users the option to build out their own storage platform. Within its portfolio, Dell has many storage servers that can be mixed and matched to create the best storage platform based on use cases. With that, customers have the opportunity to not only compose their own storage, but be in control of the cost. This new consumption model enables users to break out of the atrociously expensive CAPEX model into a more flexible and cost-effective, on-demand one where you pay for what you use.
At the presentation Delandy talked about three flavors of Dell storage – PowerMax, PowerStore and PowerFlex, each aimed at a specific set of storage requirements. The PowerMax is at the top end of Dell's portfolio. Dell calls it the "world's most secure mission-critical storage". What are customers paying for with PowerMax? End-to-end NVMe and the gold-standard 99.9999% availability. Inside each PowerMax server are two or more nodes so that when one fails, data is still available in the others. With its kind of high availability and performance, the PowerMax is a fitting storage system for newer, more demanding workloads.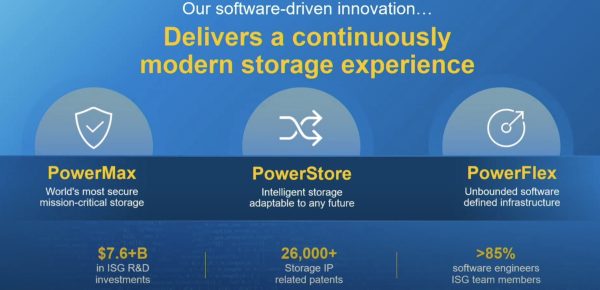 Next is PowerStore which is Dell's most popular server on the list. Built for the mid-market, the PowerStore is a scalable and affordable server that relies on the standard Intel hardware and the PowerStoreOS software. A relatively new addition to the Dell family, PowerStore is a reliable platform for mixed workloads that demand high capacity and consistency. With it, Dell wanted to build an affordable solution that is still modern and reasonably high-performing.
PowerFlex is another mid-range solution from Dell that offers more capacity where PowerStore offers performance. The great thing about PowerFlex is that it is a scale-out storage. You can add and remove nodes as you go based on what your applications need.
Dell ties all of these different storage solutions together with the overlaying management fabric which is the Dell APEX console. Available in Dell APEX Flex On Demand – a more flexible pay-as-you-use consumption model, and the Dell APEX Data Center Utility – a managed service that handles the infrastructural administrative work on behalf of the customers, users can centrally monitor and configure their system from it.
Wrapping Up
Dell's APEX Console delivers a consistent cloud-like management experience across different storage systems, making monitoring, provisioning, and configuring possible from a single location. Dell's two consumption models are both lucrative from the cost perspective, no matter what the requirements are. It's different classes of storage servers cater dedicatedly to the customers they are built for. It can be safely said that Dell's is a modern storage platform for modern organizations.
For more information on Dell's storage servers or the APEX Console, be sure to check out other deep-dive presentations from the recent Storage Field Day event.