The Gestalt IT Showcase is an interactive conversation featuring a company subject matter expert and a panel of independent, technical IT influencers. These sessions add valuable thought leadership and credibility to product presentations. The IT Influencers dig in, ask questions, and discuss the content on camera –  creating a conversation you won't see anywhere else.
Today's Showcase is a 2-part series by Foskett Services @SFoskett.
The Zen of Storage 
Stephen Foskett presents The Zen of Storage.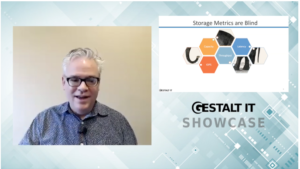 In Part 1, Stephen presents Five Truths of Storage:
– Preventing Data Loss is All that Matters
– Storage Metrics are Blind
– The Need for Storage is Endless
– Protocols are Irrelevant
– Storage Features are System Features
In Part 2, Stephen then applies these truths to the new architectures that are appearing across IT:
– Converged and Hyper-Converged Infrastructure
– Hybrid Cloud
– True Cloud Computing
– Future Computing Systems
Panelists:
Part 1:
Part 2: