We recently received a HPE ProLiant ML110 Gen10 server into the Gestalt IT labs for review. We did a full unboxing, highlighting the standout features of the compact server.
After playing around with the server for a while, I've begun to appreciate just how laser focused this device is for the needs of SMBs. It provides an easy entry point for smaller shops with one or two person IT teams, but provides impressive extensibility and versatility to grow with an organization. Let's dig in:
Hardware
Our test unit came configured for a File Sharing use case. It definitely is not fully loaded, but came with a respectable configuration that was more than enough to get started. At it's core, the ML110 is powered by an Intel Xeon Silver 4110 CPU, good for 8 cores/16 threads at a base 2.1GHz. That's a little more grunt than I was expecting in a SMB-focused server. Let's be clear, no one's going to confuse this for Intel's latest 28-core monstrosity, but for a server that's going to be handling a lot of I/O for an organization, that's more than enough cores to prevent that from being a bottleneck in most situations. And at 85 Watts, you don't need any special cooling. The CPU has a beefy aluminum and copper heat-pipe style heatsink but only one 120mm system fan. In our testing, noise from the system was negligible even when stress testing the CPU. Remember, an SMB isn't going to be throwing this into a data center, so noise is at least a consideration.
As tested we had a single 16GB DIMM of ECC DDR4. Out of the box that was the only thing I could see an organization upgrading right away. But for testing the OS and a light app workload, the memory sent over was adequate.
For I/O, the ML110 comes with 5 PCIe 3.0 slots, including two that get a full 16 lanes. These are thoughtfully arranged to accomadate two double-height PCIe cards. With a respectable amount of PCIe connectivity, I was a little disappointed not to see dedicated M.2 drive slots, especially as we were sent one as a boot drive. But even with two full size PCIe cards, one PCIe slot will always be available for a riser card, so it's not a deal breaker. If anything, the layout makes this a minor consideration.
1 Gigabit Ethernet comes integrated, which is probably enough for most SMBs. Again, with the PCIe connectivity, this can be expanded by add-on cards if the need arises.
Storage Story
Coming out of the box, the ML110 is immediately familiar to anyone that's used a tower PC. It features a typical full-tower design, and an ATX-like layout for the components. At least at first look.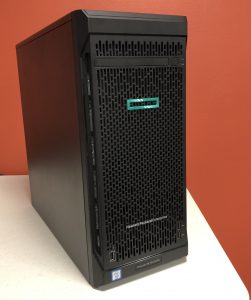 But cracking open the server, and you'll notice something. Where are my hard drives?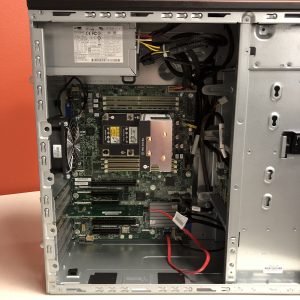 The hard drives actually live behind the front facia of the server (which I found surprisingly hard to remove initially). That's because the server can be mounted in a rack in a 4.5 U configuration. Our until came with one bank of 4 SAS bays, but the system can be configured to handle up to 8, all of which are hot swappable.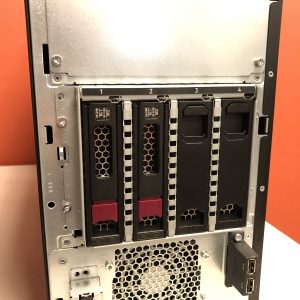 HPE Smart Array S100i SR Gen10 SW RAID is on board to offer some data protection as well. This software RAID can handle up to 14 physical drives, offering RAID 0, 1, 5, and 10. This is probably adequate for most organizations, although I do wish RAID 6 was included as well to allow for a few more drive failures. Perhaps most importantly, because this is software RAID built directly into the platform, it's a one-click procedure to get your RAID group set up at the outset. This might seem minor, but having this kind of seamless setup means there's one less reason not to set up RAID right away.
iLO 5 & Other Hardware
For anyone on the IT team that has to manage an ML110, perhaps the most important hardware feature is the inclusion of the latest HPE iLO 5 ASIC on the motherboard. This provides a hardware foundation to provide a secure chain of authentication for everything from the UEFI BIOS to making sure you're loading a secure OS. Aside from authenticating software sources, HPE's iLO 5 (Integrated Lights Out) is the basis for HPE's remote server management. This allows you to access the iLO HTML5 remote console, and see a literal thumbnail image of what's going on with your server where ever you are.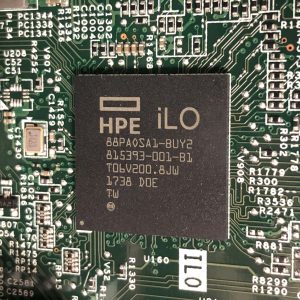 iLO really deserves a post of itself, because remote management is kind of just the tip of the iceberg. It provides a way to schedule future firmware updates, performance Intelligent System Tuning, backup and restore configurations, and more. Best of all, while these features can be managed through their web interface, woke SMBs can also access  these features with a full set of open APIs for better automation.
The server also has a slot for a optical drive at the top of the server. Ours didn't come with one integrated, and I'm assuming that even among SMBs, this will not be missed by most. Initially it struck me as odd that they would choose to use a slimline optical drive vs a standard 5.25″ one. But after thinking about it for a while, I realized why this makes sense. If the unit is rack mounted, the slimline's ability to securely attach an optical disk is probably safer than a desktop drive mounted vertically. These trays generally have a little lip to rest the disk on, but it's hardly secure. HPE is clearly smarter than me.
The last hardware feature I wanted to highlight was a MicroSD card on the motherboard.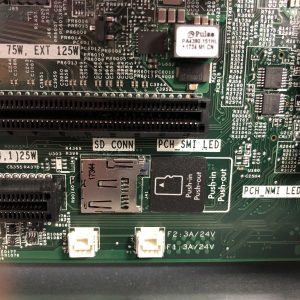 I've been digging through HPE's documentation for the ProLiant ML110 Gen 10, and the most I know about this slot is that it's not hot swappable. I'm assuming you can boot from it, and probably can be used for some recovery operations. But honestly it's just kind of a weird inclusion.
Built for SMBs
I really appreciate HPE's approach to this server. It's easy to get sucked into a pure discussion of speeds and feeds when looking at hardware. And certainly those elements are important up to a point. If HPE had put an ancient or underpowered processor in the ML110, no amount of focus would make up for that as a deficiency. But performance should just be the beginning of the conversation, not the end. To that effect, HPE has augmented a sound foundation with thoughtful design. This allows for an SMB to get in at a approachable price point for a very capable server, and build on it over time as their organization grows and needs change.
The constraints of an SMB require products like the ProLiant ML110. In an enterprise, cost is just a factor in decision making, and often not a very primary one. For an SMB, cost might not be the only consideration, but it's often the difference. Our ML110 as configured came in at around $1400. For this, you get a device that can easily serve an organizations file serving needs, with enough extensibility to readily grow with an organization.