While the size of the IT environment may determine the storage hardware best used, storage software that does data recovery (DR), backup and archiving apply to all environments regardless of the size. In both large-scale and small environments, it has been seen that using old storage software technologies has led to inefficient storage and consistently rising storage costs. We recently has a briefing with StorONE, a frequent Tech Field Day presenter, where George Crump, Chief Marketing Officer and Gal Naor, CEO and Founder talked about the risks of using inefficient storage software and how the StorONE software platform acts as a cost minimizer and optimizes hardware for more efficient storage.
Paying for Unused Capacity Routinely Drains Business Capital
The storage vendors of the world charge by capacity and that has made things a tad problematic cost-wise for the client companies. Enterprises are found to be wasting an absurd amount of money paying for unused storage capacity. Seeing the hardware prices trending downward, most companies thought that this will save them substantial money in storage costs, but that hasn't quite translated in the desired way. There are two main reasons for that – for one, almost always companies have more server capacities on premises than they really need and secondly, the cost of storage software licenses per TB has remained stubbornly stagnant.
So either way, they end up paying higher-than-necessary costs for storage which shouldn't be the case at all because drive densities are on the rise and that itself should engender a considerable decline in the costs. If these market trends haven't reflected in the price you are paying for your data storage yet, it's because you're on the wrong pricing model.
StorONE Announced a New Pricing Model That Delivers Breakthrough Economics
StorONE seeks to bust this cost conundrum with budget-friendly solutions. Earlier it offered storage at "half the cost of competing Solutions". Adding to this effort, StorONE just released a breakthrough pricing model which it calls "Scale-for-Free". Made possible by the StorONE Engine, Scale-for-Free is a drive-based pricing model in which users are charged for the number of drives they are using as opposed to the standard pay-for-capacity policy. George Crump says, "This new pricing model is going to fundamentally change the way you calculate the price of your storage."
For the first 8 years of its life, StorONE has dedicatedly developed codes and algorithms that have vastly improved the storage IO stack, giving StorONE advantage over other storage companies. Thanks to all that early R&D, today it is able to provide its customers a storage software platform that delivers more performance with fewer drives. Using high-density drives that carry more capacity, StorONE encourages users to buy drives that can do more instead of paying for more capacity.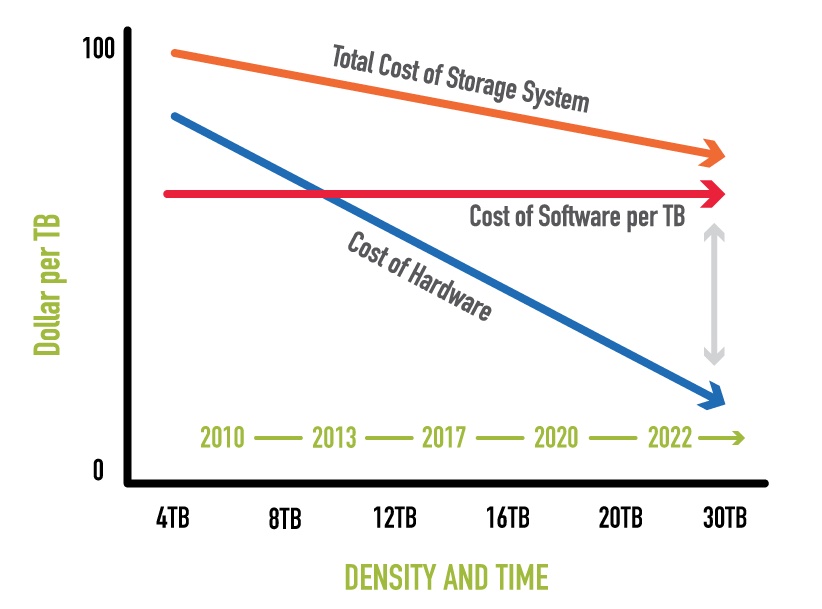 Image provided by StorONE
The Scale-for-Free pricing model has quite a few advantages over the traditional capacity-based model. Crump points out, "Upfront, the cost savings is dramatic. We're typically seeing somewhere between 40 to 60% less than our competitors." The StorONE engine uniquely supports high-density drives as well as any media from flash to HDD, hybrid to cloud. By moving to this pricing model, customers can stop paying for full capacity for partial utilization.
For customers that are not currently using modern high-density drives or the latest ones, they can upgrade as they comes available without having to migrate data or pay additional licensing fees.
Crump says, "A few years into the life of the drives, if it makes senses to replace them, instead of buying a whole new license for the software, customers can upgrade on the older license. As long as they maintain their subscription, they don't have to pay any cost associated with moving to the next density."
The first in the industry, pricing starts at a minimum monthly plan. The model includes a monthly plan per HDD or SSD. For cloud use cases, it has a monthly model based on every VM instance used.
Innovations at Work in the StorONE Software Platform
Under the hood, StorONE has some compelling innovations that have all made their way into the StorONE software platform. StorONE delivers over 500k IOPS from just 6 flash drives. Predictive auto-tiering enables maximum and intelligent capacities utilization and even performance in Flash and HDDs. With vRAID, it's new erasure coding, StorONE delivers blazing-fast rebuild with less than 5 minutes for SSDs and 3 hours for HDDs.
The StorONE software platform has built-in data protection capabilities with ransomware resilience. With new advanced telemetry, it sends out instant rapid alerts when a threat is detected. By producing instant immutable copies of every backup and saving them indefinitely in a space-efficient manner, it can suggest the safest and best copy to use for ransomware recovery.
In Conclusion
StorONE's new pricing model comes as a reprieve for organizations that are scrambling to keep up with the escalating storage bills. It has all the makings of a pricing model that can turn the standard storage pricing policy over its head and create a new one where those buying too can see the benefits of the hardware price decline. By making storage compellingly cheaper, it will unburden enterprises from paying for storage the conventional way and likely nudge them to adopt a smarter, more affordable and fairer pay-as-you-go model. Special thanks to George Crump and Gal Naor for speaking with us and Mark Smith for arranging the meeting.
For more on StorONE's Scale-for-Free pricing model, check out StorONE's website. For more exclusives like this, keep reading here at gestaltit.com.