Looking back at the past decade, everything today is much more globalized than it was then. Because of the pandemic, we are now more distributed, but mercifully that hasn't made us disconnected. In fact, our connectedness over the past two years of the pandemic has grown stronger, thanks to technology. The cloud, Internet, and smartphones and laptops have kept us connected and collaborating across time zones and continents, and that has brought us into a new era of virtual interaction.
Today we have come to recognize the value in remote working as much as in being together, and thanks to the technological means available to us, we are able to make both happen and harness that to enhance productivity. The Python Web conference is one such instance of virtual interaction where great quality of communication translates to great learning outcomes. It goes to show that immersive learning sessions transcend the boundaries of physical distance and culture.
The Python Web Conference: An Exclusive Event for Web Developers
If you, as a Pythonista, are looking for a place where you can connect with like minds and geek out unembarrassed, then the Python Web Conference is your place. Attended by hundreds of Python developers from around the globe, it is the largest, most in-depth Web Conference on Python.
The Python Web Conference is brought to you by Six Feet Up, Inc. Cofounded by Calvin Hendryx-Parker, a Field Day delegate, Six Feet Up is a Python development and cloud expert consulting company.
Started in 2019, the conference aims to bring together Pythonistas from around the world making it a culturally diverse event where people can experience the best and learn from the finest in Python. A 5-day event, it features, first and foremost, talks and tutorials across select tracks. During the event, expert speakers give talks on Python best practices. Visitors get to learn about complex web production problems and ways to solve them, among other things.
With experts and beginners coming together on a common platform, the Python Web Conference is a richly diverse and deeply educational experience.
Python Web Conference 2022
The Python Web Conference 2022 is even bigger than last year. With over 400 Pythonistas counting 90 expert speakers from companies like Bloomberg, IBM, Microsoft, Red Hat and AWS coming from over 40 countries, this one is going to be one of the most interesting Python events of this year.
Currently in its 4th year, the 5-day long conference will be an all-virtual event, held on Six Feet Up's LoudSwarm from March 21st to 25th, 2022. It will feature 80 talks on 6 tracks that will cover topics ranging from business, leadership, culture, AI, ML, container, microservices, web security, REST APIs and more.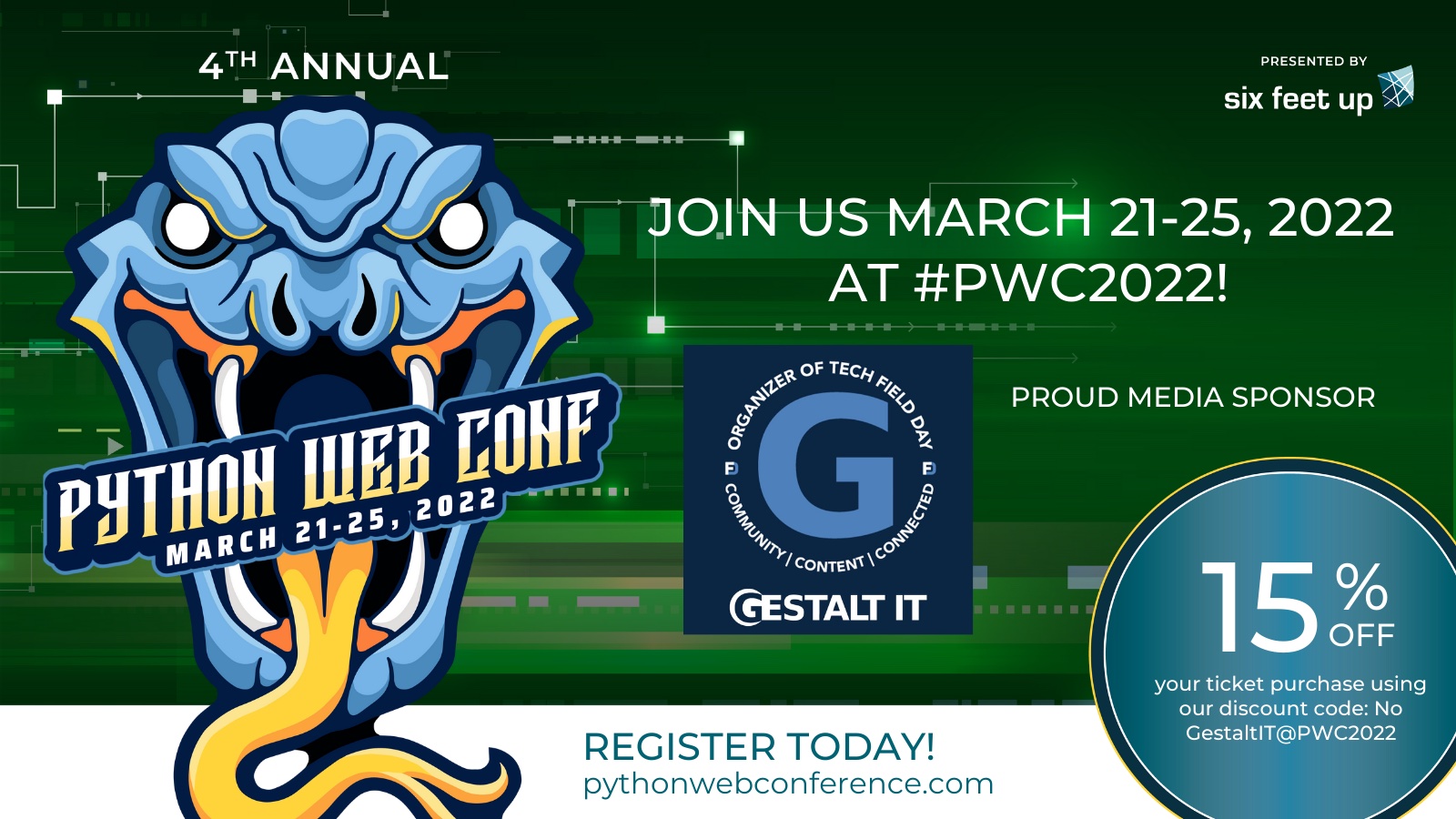 With a long list of sponsors like Bloomberg, Astronomer and Gestalt IT as a media sponsor, the Python conference has a wide appeal in the global IT community. This year, the PWC will have focused talks on technical subjects like cloud, application development and big data, but culture will remain a big part of its focus too. There is going to be a whole culture track where topics like leadership, burnout tactics and much more will be explored.
Every day, the events will conclude with fun social activities that include online gaming, origami, mindful exercises, even virtual cocktails/mocktails.
Join the Conference
Be inspired by industry leaders from across the globe, immerse in a one-of-a-kind learning experience and embrace the inner geek in you at the Python Web Conference. It is a celebration of all things tech!
Tickets are available to buy on the Python Web Conference 2022 website. Feel free to avail a 15% discount on us using the code displayed in the image.