The ginormous amounts of data modern organizations generate and archive through their lifecycles pose a problem that is presently rife in IT today- the problem of storage. While various forms of storage solutions are available at the disposal of businesses, the catalogue is lacking the one-size solution that serves equally to diverse requirements and work conditions. Is such a solution just a wishful thinking? I recently had the opportunity of being part of a discussion where Weka's Vice President Product Marketing Colin Gallagher talked about how Weka is supporting the rapidly growing organizational needs for storage with a high-performing software-only storage solution that comes very close to our version of the complete storage solution.
Data Profusion and the Supporting Storage Solutions
The data explosion in IT is a very real thing and industry insiders know it. Predictions say that by 2025, between 150 ZB and 175 ZB of data will have been created and enterprises will have tripled their volumes of unstructured data from what they had in 2019. IoT devices will further contribute to that number ultimately adding to the data explosion. All these point to one thing- a highly flexible, greater capacity storage is in order.
Now storage solutions are not really in short supply but that does not call for a collective sigh of relief because every storage solution has its inadequacies. Issues like compatibility, speed, scaling capacity are only a few of them. Solutions like DAS and SAN while are sufficient on their own do not check the data sharing box. NAS and Object storage on the other hand are low on performance, not to mention object storage has different semantics and therefore a lot harder for customers to run. Besides upscaling with these mean infrastructural investment. All told, innovation is the need of the hour.
Weka in Recent Years
If you keep up-to-speed with the modern storage solutions, you'd know that Weka isn't exactly a new name in the storage aisle. In the fore-front of software-only storage technology, the company has collaborated with a number of industry giants of the likes of NVIDIA and HP in the recent years to roll out enterprise storage solutions that it has kept improving over time. And the company has presented annually at Gestalt IT's Storage Field Day events.
Under the leadership of CEO, Liran Zvibel, the co-founder and CEO, the company is presently collaborating with HP, one of their earliest investors to develop a high-performance storage solution that tackles the most demanding kinds of AI and ML workloads. And new President Jonathan Martin has brought a depth of experience to Weka.
How Weka's Is a Solution of Distinction
What really makes Weka's Data Platform for AI distinctive is not that it's robust and secure, many storage solutions are these days, but with it, Weka creates a new storage category, one of difference. The solution is faster than direct attached, encompasses the resilience and high-end protection of SAN, the semantics of NAS and the scaling and economics of object storage. It runs on a standard hardware and works for both on-premise and cloud. With it, Weka offers up and down scaling options which makes it a flexible solution.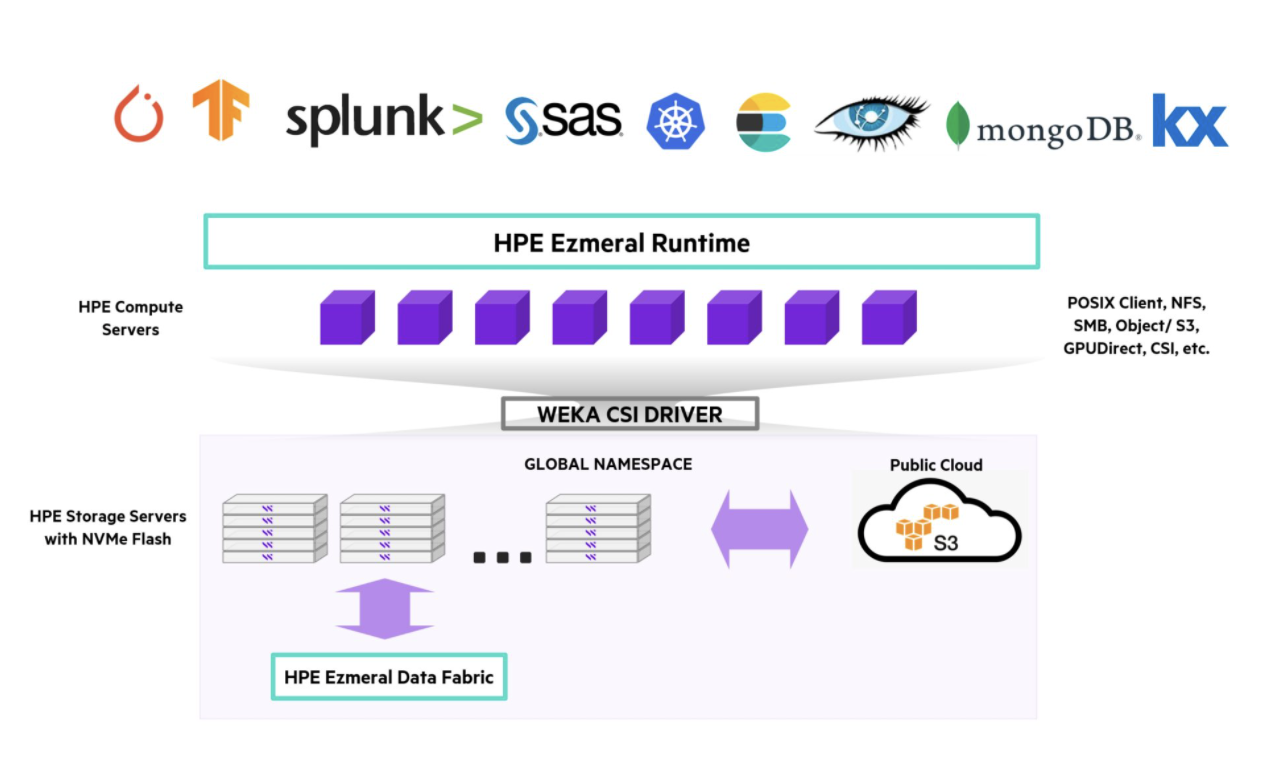 With the Data Platform for AI, Weka adjusts its focus on offering storage support for more demanding workloads such as life sciences, financial services, machine learning and AI. Built on WekaFS, Weka sought to design a POSIX file system with this product that delivers a throughput low on latency and high on IOPS which businesses require to process their higher computing needs.
The Weka Data Platform for AI does not borrow from legacy that are designed to tackle sequential or transactional workloads. It's built from the ground up to deliver a high-performing storage platform that can do very specific things, namely cater to the liabilities required for performance-intensive works like AI, ML, HPC, deep learning, data analytics, etc., perform at exabyte scale and scale at will.
In Conclusion
As diverse as the storage situation of today looks, it could still use more of capacity and flexibility to address the complaints of expensive or less efficient storage solutions. Weka's data platform seems to strike a balance by introducing new and useful features to storage whilst keeping flexibility a constant. It is without a doubt capacious and seeks to deliver more than a storage solution that's about seamless access and organization of data but also scaling on demand. It is now available on HPE Ezmeral Marketplace.
Thanks again to Colin Gallagher for the briefing and Judy Smith for facilitating the meeting. Keep reading here at Gestalt IT for all the latest updates on enterprise IT.