The semiconductor industry has experienced a transformation in the past few years. Traditional compute needs are fading into the background as data processing units become more dominant in the market. The rise of 5G and Internet of Things (IoT) also caused the industry to adapt and change.
Marvell has been a significant player in the semiconductor market for 25 years. The name may not be familiar to the day-to-day engineer, but their technology and intellectual property power the modern data center. I recently spoke with Nigel Alvares, Vice President of Solutions Marketing at Marvell, to discuss Marvell's focus on 5G, automotive, cloud, and data infrastructure.
Early Growth
Marvell was founded in 1995 with a focus on storage controllers. Within five years, they began growing into other markets through acquisition. They expanded into networking technologies with the acquisition of Galileo Technology in 2000. Within the next decade, they acquired many other companies, expanding their portfolio deeper into embedded networking, wireless communication, printer ASICs, and, through the acquisition of a division of QLogic, hard disk controllers. Every acquisition added to their expertise in the semiconductor market, though it proved challenging to scale into a leader of every market.
Refocusing Toward the Future
In 2016, Marvell decided to look at its portfolio and focus on its core competency, developing semiconductors to move, store, and secure data quickly and reliably. They refined their portfolio and shifted semiconductor development to enable data infrastructure in four areas:
5G Carriers
Automotive
Enterprise
Cloud
These four markets seem diverse; however, they all have a common component: the need for fast, reliable, and customizable ASIC and data processing technology. The landscape changes quickly for these industries so they require bleeding-edge data processing and networking.
Industry-Leading Data Processing Units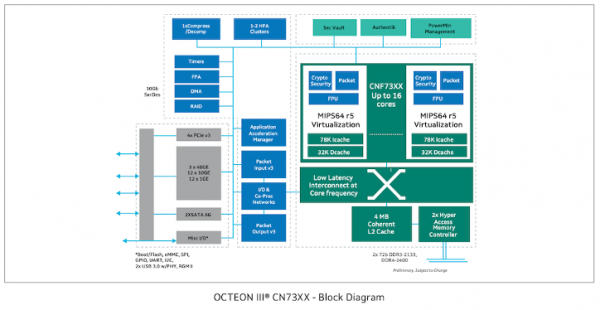 Marvell is an industry leader in designing and developing Data Processing Units (DPUs) like the OCTEON III CN73XX shown above. Their OCTEON DPUs are crucial for many of their focus areas. OCTEON DPUs process data in vehicles, transmit data in the 5G carrier space, and power networking and data processing in the cloud. Marvell is unique in that they don't just develop semiconductors and SoCs for themselves. They also work with their customers to design customized ASICs specific to their needs. A chip manufacturer may have a specific set of intellectual property that they need. However, they also want to leverage Marvell's technology to enable other features on the same SoC. Marvell works with their customers to develop a product that integrates the customer's property and Marvell's to produce a best-of-breed solution.
Providing Complete End-to-End 5G Solutions
The telecommunications industry is experiencing a rapid transformation thanks to 5G. Proprietary Radio Area Network (RAN) solutions dominate the industry. However, there is a growing trend toward disaggregating the RAN components onto open hardware. This is referred to as Open RAN, or O-RAN. Marvell develops a portfolio of O-RAN solutions, providing 5G Carriers with multiple options for RAN components. Their solution is powered by OCTEON DPUs, leveraging their advantages in data processing. They provide end-to-end options with Prestera switches and Alaska physical layer (PHY) devices. This solution is O-RAN Alliance compliant, providing Marvell's industry-leading technology for O-RAN customers.
Conclusion
Marvell is a company that you may not know a lot about, though their intellectual property and data processing units power much of the modern technology landscape. Marvell provides DPUs and semiconductor solutions to power vehicles, to move data over 5G, and to provide processing to the cloud and enterprise data center. Their work with the O-RAN Alliance helps drive innovation and reduce CapEx costs for 5G carriers, resulting in a performant and reliable 5G infrastructure for their customers.
To learn more about Marvell, check out their website or see their past Tech Field Day presentations at TechFieldDay.com