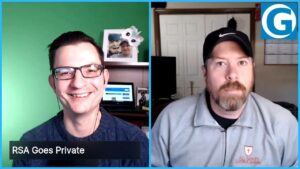 Dell Technologies sells RSA Security, Arista buys Big Switch, Google restructures its cloud business, and Microsoft updates Dynamics 365. Rich Stroffolino and Tom Hollingsworth discuss this and more today for the Gestalt IT Rundown, your weekly IT news briefings.
This week on the Rundown:
---
IBM confirmed it will not participate in RSA Conference next week over concerns about the coronavirus. A total of 8 presenters have cancelled on the event, 6 from China. The news comes after MWC was cancelled last week over similar concerns.
---
A judge has ordered a temporary block on the $10B Joint Enterprise Defense Infrastructure, or JEDI, Pentagon cloud contract which was awarded to Microsoft last October. Last month Amazon filed a motion asking the court to pause Microsoft's work, claiming the evaluation process contained "unmistakable bias" and has since asked the court for permission to depose President Donald Trump, Defense Secretary Mark Esper and former Defense Secretary James Mattis.
---
Reuters saw a document indicating EU antitrust regulators plan to investigate emerging markets in tech and consider preventative measures to help smaller rivals to big companies. European Competition Commissioner Margrethe Vestager will present the paper in March.
---
America's Communications Association, CTIA, NCTA, and USTelecom, filed in Federal court to block a Maine law that would require ISPs to get customers' opt-in consent before using or sharing sensitive data. They argue it would violate their first amendment free speech rights. The law was scheduled to go into effect July 1, 2020.
---
Google Cloud confirmed it closed its acquisition of Looker, after receiving approval from the UK's Competition and Markets Authority. Looker offers a data visualization tools, based on a modeling language that introspects the underlying relationships between data sources to build a common model of the truth. GCP CEO Thomas Kurian confirmed GCP will not limit Looker data crawling to its service.
---
Dell Technologies announced that it plans to sell RSA Security to a consortium led by the private equity firm Symphony Technology Group for $2.075 billion. The acquisition would include RSA Archer, RSA NetWitness Platform, RSA SecurID, RSA Fraud and Risk Intelligence and RSA Conference. Dell COO Jeff Clarke said the move was part of Dell's overall strategy to simplify its business model and portfolio, and oh yeah, they still have a ton of debt to pay off. RSA offers security and risk management software to over 12000 clients. If nothing else RSA Conference next week is going to be REALLY interesting.
---
A Google spokesperson confirmed to CNBC that Google Cloud is undergoing restructuring, including the elimination of some roles within the unit. The move is reportedly to reposition GCP for international markets and effects less than 50 people. Google Cloud adding headcount under CEO Thomas Kurian had been a regular talking point on earnings calls, and he recently identified retail, health care, financial services, media and entertainment, and manufacturing as industries to spur further GCP growth.
---
Arista Networks announced it acquired Big Switch Networks, after previously being reported by anonymous sources last month. It's expected Arista will integrate Big Switch's monitoring and SDN IP into Arista's DANZ and Cloudvision platform, hopefully building out multi-cloud support. An existing partnership between Dell Networking and Big Switch will continue on with Arista.
---
Microsoft announced a major update to Dynamics 365. The company is adding new first- and third-party data connections to its Customer Insights platform, supporting collecting information like audience memberships, brand affinities, demographic, psychographic and other characteristics of customers, which Microsoft claims was build with GDPR/CCPA compliance in mind (search then delete). The update also adds new customer forecasting tools, and a new tools: Dynamic 365 Finance Insights and Dynamics 365 Project Operations. Finance Insights is designed to predict and accelerate customer cash flows, suggesting the best opportunities to close accounts payable and receivable. Project Operations is designed to help tracking for project based companies like construction.
---
Cloudian and Veeam introduced Amazon's S3 cloud Object Lock on-premises to combat ransomware attacks, allowing orgs to replace ransomware encrypted devices with Veeam backup data stored on a Cloudian HyperStore appliance that sits behind a firewall. Cloudian uses S3 Object Lock to provide a virtual air-gap that logically disconnects stored objects from connected commuter systems. The two companies are pitching this as ransomware protection as a service solution, with having Cloudian on-premises offering considerable recovery speed compared to public cloud backups.
---
The Gestalt IT Rundown is a live weekly look at the IT news of the week. It broadcasts live on YouTube every Wednesday at 12:30pm ET. Be sure to subscribe to Gestalt IT on YouTube for the show each week.