Enterprise IT buyers have been considering switching to Arm chips ever since Linux added support for the architecture in 2012, but Arm servers remain rare. Companies like Bamboo Systems are seeking to change that by developing novel Arm-based systems, not just higher-performance processors. Their PANDA architecture is about balanced and efficient performance for modern software, and enterprise buyers are starting to take notice!
What's Stopping Datacenter Arm?
Arm chips are ubiquitous in smartphones and tablets and are increasingly used in embedded and IoT devices. The advent of Apple Silicon in next-generation macOS computers and the embrace of Arm by Microsoft suggests that the architecture will soon be common in client computing devices as well. But Arm is just beginning to be adopted in the cloud, and the datacenter lags behind even this.
It's not that Arm isn't competitive with x86 on a raw performance basis. Indeed, modern Arm cores handily outperform x86 at many tasks, and at lower power consumption to boot. But server CPUs from Intel and AMD remain dominant in the datacenter thanks to the depth and breadth of offerings from major providers. Regardless of the application, there's an x86 server that fits the bill, and these have well-developed integration, support, and expansion capabilities. Plus, most modern business software is designed for x86 only.
Would-be Arm server vendors could learn a lot from Intel's dominant Xeon. Although AMD offers competitive x86 processor cores packed more densely into their desktop and server chips, Intel remains competitive at the heart of the market. Most customer applications simply don't need all the cores offered by AMD's EPYC server CPUs, and the cost/performance ratio is off. The same is true of the I/O interfaces – although Intel lagged badly in PCIe lanes (not to mention being stuck with version 3), their latest Ice Lake CPUs offer sufficient PCIe 4 lanes to satisfy most enterprise use cases.
A Really Useful Engine
This brings us to the Arm ecosystem, where the discussion too often focuses on theoretical performance per watt rather than the form factor and use case of the complete server. Customers don't buy server CPUs, they buy servers, and would-be datacenter Arm servers too often looked like science projects instead of useful tools.
Bamboo Systems impressed me not with their Arm cores but with their form factor and supportability. Indeed, the A72 Arm cores they use are actually somewhat outdated now that Arm has released the Neoverse N1 and N2 and Ampere is here with the Altra Max line! One expects Bamboo to update the cores soon, but their success with these mobile-derived servers just goes to show that it was never about raw performance. Instead, Bamboo is considering the use case for their servers and designing towards practical applications.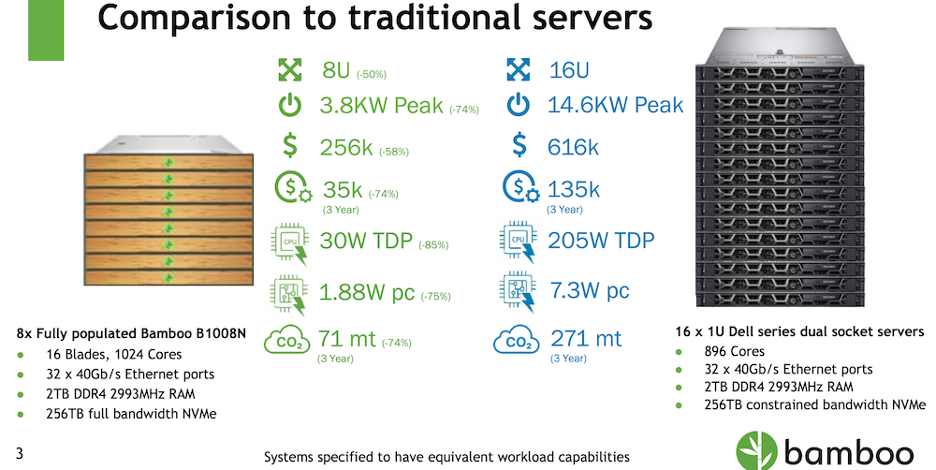 Bamboo packs a 16-core Arm Cortex A72 CPU into a Compute Node alongside up to 64 GB of memory (on SO-DIMMs), up to 8 TB of NVMe storage, and two 10 Gb Ethernet ports. This modular platform can be used in various configurations, but this Showcase focused on their B1000N server offering. This 1U server chassis supports two Blades, each supporting four Compute Nodes with two full-bandwidth 40 Gb Ethernet ports. Thus, a single 1U system includes up to 128 cores, balanced with up to 512 GB of local memory, 64 TB of NVMe storage, and plenty of bandwidth.
Balancing on Bamboo
The key to understanding the Bamboo Systems approach is balance. The cores are supported by sufficient memory, storage, and bandwidth to deliver their full potential in modern scale-out applications. Rather than optimizing for benchmarks (though Bamboo does tout their numbers), the system is designed to realize the full potential of these simple and efficient processing cores. The same is true of the Bamboo B1000N server, which is designed to make full use of the Compute Nodes while consuming the minimum amount of of space and power.
Then there's the ace in the hole for Bamboo: Amazon AWS is rapidly attracting customers with their Arm-based Graviton cloud compute offerings. Any scale-out cloud application deployed on Graviton can easily run on on-premises in a Bamboo server, and escalating AWS bills are driving many enterprises to repatriate. This will look even better if Bamboo deploys a Neoverse N1 core in a future Compute Node, since that's the architecture used by Graviton2, but even those instances will run just fine on Bamboo's current chip.
It is intriguing to think of where else Bamboo's Compute Nodes could be deployed. During the Showcase presentation, we heard mention of edge, IoT, and mobile deployment, and this could be a killer market for such a device. Rather than stack Arm servers in a conventional rack unit, these could be deployed anywhere a few Watts and an Ethernet jack can be found. As 5G moves processing out of the conventional datacenter and into the field, perhaps Arm servers could be deployed there as well.
Stephen's Stance
Although nerds like me love to "geek out" about raw performance, real-world applications require a balance between processor, memory, storage, and I/O. That's what Bamboo Systems is focused on delivering, and their sales and support concept makes Arm servers acceptable to enterprise customers. The market for enterprise servers to support repatriated cloud applications is only going to grow, and Bamboo Systems looks ready to meet this demand.