Distributed Antenna Solutions (DAS) aren't new. I've been hearing about DAS solutions in my profession dating back fifteen years. DAS solutions commonly solve the problem of "We can't get cell phone coverage (at all or for Operator XYZ) in the basement of the building". Often, this situation arises in medical facilities where visiting physicians need to be reachable by their personal cell phones wherever they are in the building. It is not feasible to have visiting physicians have a mobile device managed by the hospital IT team, nor is Wi-Fi calling always a possibility.
The team from Celona gave a recent Tech Field Day Showcase presentation on their indoor cellular DAS competitor (my words, not theirs) which uses Citizens Broadband Radio Service (CBRS), a frequency band which is "lightly licensed" and can be used at zero cost. If CBRS spectrum is available for use in a geographic area, it can be used without purchasing a portion of the spectrum. If a portion of the CBRS spectrum has been purchased by Priority Access License (PAL) users, unlicensed users of the CBRS spectrum may find that they have limited bandwidth available to them through the "leftover" CBRS spectrum bands that are costless.
Each Celona AP creates additional cellular capacity due to cell splitting, which contrasts with a DAS solution that uses multiple antennas throughout a building to act as one single antenna coverage area. The Celona solution can prioritize Celona provisioned SIM cards over Guest SIM cards, thereby creating a network which can leverage the schedulable nature of cellular with the flexibility of an Internal SSID and a Guest SSID of a Wi-Fi network. The network capacity can be segmented for each Operator and can guarantee a certain portion of the bandwidth for guest devices for Operator1, Operator2 and so on. If there are no devices on the network for Operator2, that capacity can be used for other guest devices that are connected to the indoor 5G LAN network.
Note: Neutral Host capability for Celona 5G LANs is currently deployed for select trials and will be commercially available in 2023.
The Celona Neutral Host Network (NHN) solution adds the ability to utilize both Public and Private cellular network IDs belonging to different Operators and establish a secure tunnel to each of the Operators' networks. Users of the Operators' networks can get connected to the Operators' 5G LAN network wherever a Celona network is deployed, if configured by the third party managed services provider, or the enterprise organization managing the Celona network.
One benefit of a Celona 5G indoor LAN is that it can utilize Power over Ethernet (PoE) and Ethernet cabling to connect the Celona Access Points (APs). Each Celona AP creates a secure tunnel to the Operators' network, eliminating the need for the expensive, Operator specific Head-End equipment required by DAS solutions.
Devices which connect to a Celona 5G LAN can authenticate through a variety of SIM options. Devices with a single, private SIM would connect only to a Celona managed network and would not roam outside of it. If a device had dual SIM capabilities, it could connect to both a Celona network and roam to a public network. If the device had a single mobile virtual network operator (MVNO) SIM, it could connect to multiple private networks as well as roam to public networks. For devices with a single public SIM, they could connect to a public network and be allowed to roam onto a Celona network.
The Celona AP creates IPSEC tunnels terminating at the Celona Multi-Operator Core Networks (MOCN) Gateway. Separate IPSEC tunnels are created for each Operator, creating end-to-end encryption between the Celona APs, to the Celona MOCN Gateway Service and additional end-to-end encrypted tunnels terminated at each MNO EPC Network Core.
The Celona Orchestrator Interface is used to configure the Celona APs and SIMs. This web frontend to the Celona hardware uses the physical site address to do a live query to the Spectrum Access Servers (SAS) to determine what spectrum is available for use at that location. As soon as the location is created, and the Celona APs are selected, the equipment is configured with the CBRS frequencies available to use. Celona hardware can be deployed in a dormant, non-configured state, to be turned up according to Change Control windows or project go-live dates. Configuring the network for prioritization of applications is as simple as creating a profile for the application, configuring the network ports that the application uses or the traffic source port (UDP or DSCP) of the device utilizing the Celona network. The application profile parameters are then used to configure Celona MicroSlicing policies. The patented Celona MicroSlicing technology allows for granular allocation of private cellular resources to groups of apps and devices.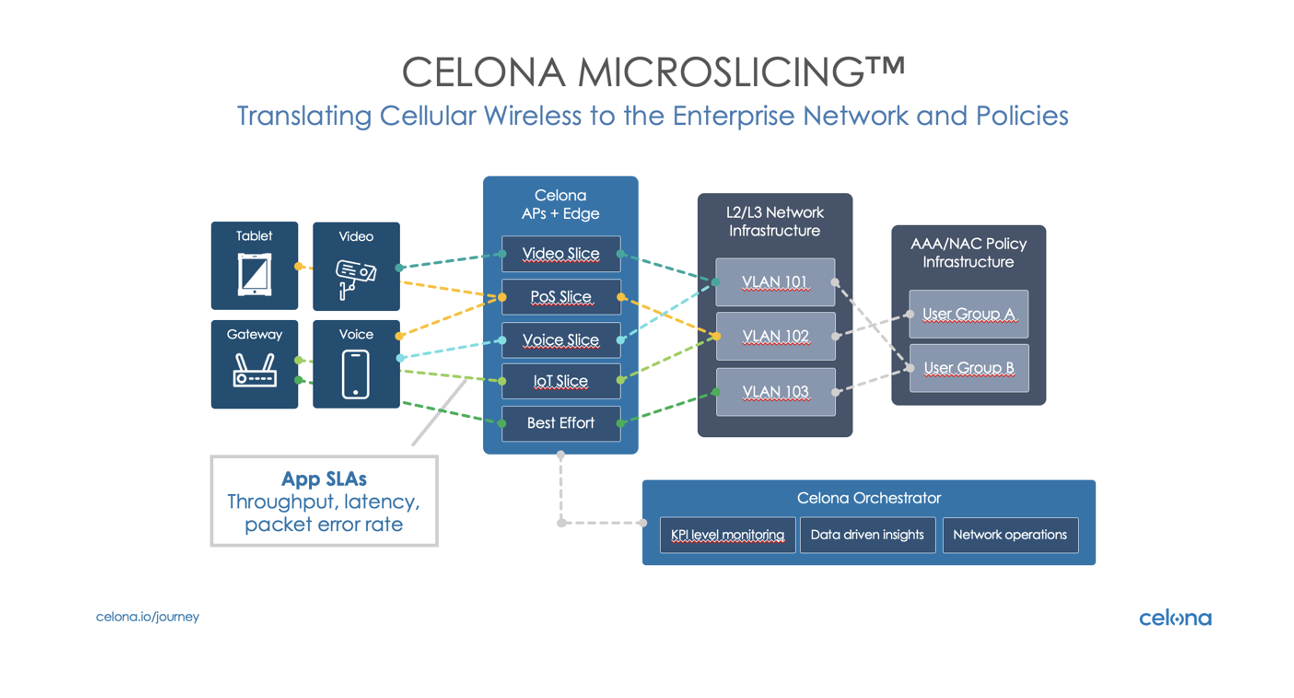 Celona MicroSlicing can allow a guaranteed bit rate (GBR) within a Quality of Service (QoS) category and apply the MicroSlicing profile to Device Groups or Applications. Device Groups and Applications are configurable based on the specific needs of the customers' network devices and applications. The live demo of the Celona Orchestrator at celona.io/journey is worth your time to see the Celona Web UI in action.
Back in the day, medical staff were provided with a mobile voice-only phone that worked in-house, and typically operated in the 900MHz spectrum. Change occurred rapidly as people began to carry their own personal cell phones and nowadays, it's extremely unlikely that someone doesn't have a personal cellular device that they want to just work everywhere for everything. Deploying an indoor Celona NHN supports an enterprise organizations' goal of reaching staff members wherever they are in the enterprise facility without the cost associated with a traditional Distributed Antenna Solution. I think that the ability to leverage the no-cost spectrum of the CBRS bands with Celona AP hardware will be a great benefit to enterprises.
You can learn more about Celona by watching their Tech Field Day Showcase by Gestalt IT.