Gearing up for Commvault GO 2019
Let me make a confession: I have never been a "backup guy". I've always found backup just a necessity that has to be taken care of to guarantee something more interesting works. This was before, though, when I was more technical, more of a hands-on guy. And when you are doing deep technical stuff, there are more fun things in the data center than backing up the primary storage data. Primary storage, for one. Super fun. SUPER fun!
Since then, things have changed. For the past few years, I have been mostly working with Hewlett Packard Enterprise (HPE) helping them and their channel partners with sales enablement. Looking at the industry nowadays mostly from a helicopter view, one of the biggest personal enlightenments has been perceiving "backup" in a totally different light.
I still am not a "backup fanboy", in fact far from it. Like a colleague and a good friend of mine, Antti Hemminki from Evolearn Ltd has said: "Backup has zero business value. Recovery has all the business value". Couldn't say it better myself!
This very realization has opened a whole new world of interest to me. The discussions around business continuity and the role backup solutions are playing there have been among some of the fiercest ones with my colleagues and customers.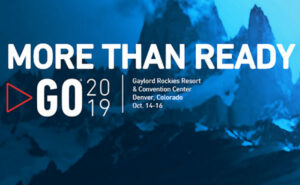 For a couple of years now, during these discussions, one company name keeps popping up more and more; Commvault. To be frank with you, until lately, I haven't known much about the company, other than they are in the backup/recovery business and they are HPE partners. But there must be something special about this company since everything I hear about them is positive – success stories and happy customers. I need to find out more!
What would be a more perfect opportunity to learn about the latest innovations and future plans of this interesting company than participating in their annual main conference, Commvault GO 2019? I can tell you, participating in their annual main conference, Commvault GO 2019, as a member of Tech Field Day Exclusive! That's what. =D
A few months back, I got an e-mail from Stephen Foskett from Gestalt IT. He asked if I wanted to join Tech Field Day Exclusive at Commvault GO. I didn't have to think about it…COUNT. ME. IN!
So, how are my expectations about Commvault GO 2019? Sky-high! Just a couple of weeks back, Commvault dropped the bomb and revealed the contents of their shopping basket; they've just sealed the deal to acquire Hedvig, a young but prominent software-defined storage company. Wait…what? Commvault is a backup company, right? What are they doing with a technology that's primarily designed for higher-tier storage purposes? That's a very good and valid question that I don't have a solid answer to. Yet.
Without a doubt, Hedvig will be one of the main attractions in this enterprise IT amusement park called Commvault GO 2019. In a few weeks for sure, I will be a lot wiser about Commvault's plans to leverage Hedvig technology in their upcoming products and services.
I'm wondering if I get a chance to make another HPE competitive analysis soon, this time against Commvault…?
Be sure to follow Tech Field Day, Commvault, Hedvig and my social media channels during Commvault GO on October 14 – 16, 2019 for real-time updates on what's the latest and hottest in business continuity. I literally can't wait to start packing my camera gear and heading towards Denver. I will be back with another blog post AND Youtube videos about aftermath feelings from Commvault GO 2019.
Stay tuned, and if you are coming to Commvault GO 2019, practice your high fives for me!