Wrap up from Commvault GO 2019
I arrived in Denver knowing very little about Commvault, let alone their future direction. I am leaving with two big takeaways: Commvault entering the primary storage market with Hedvig and Commvault's new SaaS venture – Metallic.
Let's dive into these!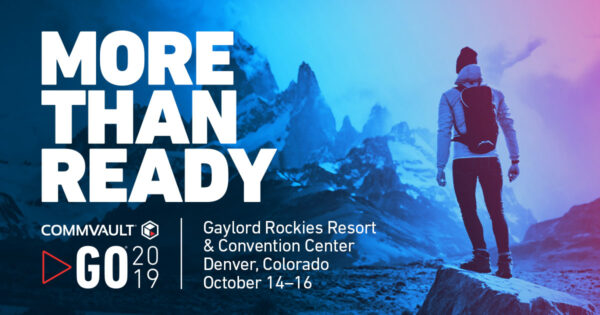 HEDVIG
Thinking back before Commvault GO, by far the most interesting topic for me was Hedvig. I wanted to inhale everything about the tech itself and Commvault's plans to integrate Hedvig IP in their portfolio. And learn I did!
In his keynote speech, CEO Sanjay Mirchandani touted unified data and storage management which he refers to as "The Data Brain", two halves of the same entity. Don Foster, VP for Storage Solutions, echoed Mirchandani's message in his presentation to Tech Field Day delegates arguing if "we should stop talking about primary and secondary storage and start thinking just servicing customer needs."
So, now it's official: Commvault has entered the primary storage market and differentiated itself by unifying all storage and data management under one umbrella making everything easier to understand and use for the customer. Valuing simplicity above almost everything, it's easy for me to bow deep to that goal. Something that all other vendors on the market have yet to master.
METALLIC[1]
A Commvault SaaS offering for mid-market with three appealing flavors at launch. Available for US customers only and sales are 100% through Commvault partner network. How about that?
The name is catchy, SaaS sounds hip'n'pop and pricing is appealing, but I'm confused. Metallic is officially a Commvault "venture", a new brand entity within Commvault. Did I miss something? SaaS is supposed to be just another sales and service model for any software solution, right? Why do you need a new business entity for this? Also, selling SaaS only through partner network sounds off to me. There's a 45-day free trial period after which it would be natural and most convenient to just click the buy button and off you go. I don't get it. Thirdly, coming from Finland, "US-only" is a bummer. What could be the reason for this and when are they planning to make it available outside of the US?
I had a pleasure to have dinner with David Ngo, Head of Product and Engineering at Metallic, and I shamelessly used this opportunity to ruin Mr. Ngo's dinner with my questions. Turns out Mr. Ngo is one of the most professional and enthusiastic persons I've met. Hence, loads of answers I got.
Here "Ngoes":
Firstly, think of Metallic to Commvault what Azure is to Microsoft. Secondly, a study showed that the majority of target (mid-sized) companies want to buy through their trusted partners. And finally, they will kick-off from the US and move to other countries when the partner network is ready. It makes more sense to me now. You can have your dinner now, Mr. Ngo.
And, oh DANG! In addition to everything else…those Metallic people can dance!
MY FINAL THOUGHTS
Commvault has always had some of the best goalies in the game. As they acquired a new and energetic coach and have four strong lines (Hedvig, Complete, Activate and Metallic) they will advance to play puck next season in the NHL challenging legendary teams like HPE, DellEMC and NetApp. A team with a capital T requires more than talented individuals, though. So many have tried and failed before them. While it remains to be seen how Commvault manages to weld these pieces together, I wish them the best of luck and will be following their season from the courtside seats.
Thank you Commvault, thank you Tech Field Day team and all fellow delegates for an amazing week in Denver. It was an unforgettable experience. Hopefully, we meet again next year!
[1] Yep, A in the end is so silent it's not even written