When people hear about the PowerStore line from Dell, they look at it as storage array. And they're right, objectively speaking. PowerStore is in fact Dell's lead unified block and file storage array. But PowerStore is deeply integrated with products from Dell and beyond, from PowerProtect and VxRail to third-party and cloud solutions, and is ready for the enterprise of the future. Read on to learn more about these integration points for Dell PowerStore.
PowerStore Makes Enterprise Storage Simple
Since its launch in 2020, PowerStore has been knocking down barriers to innovation. Time is one of those barriers. IDC found that users can deploy new storage resources 61% faster with PowerStore. With all that extra time (about 26% more), storage admins have time to move to more innovative tasks instead of being burdened with working on low-value operational activities.
Foundation of Your Datacenter
Beyond storage, PowerStore boasts an extensible architecture. It's not just a storage array, but a foundational infrastructure element to build a modern datacenter around, and PowerStore enhances the management experience of the entire infrastructure.
PowerStore is well-known for its 3rd-party integrations. For instance, PowerStore integrates with VMware vCenter, and vVol, VMFS, and NFS datastores. There are integrations for Ansible and Terraform so users can automate storage tasks. There are cloud integrations with AWS, GCP, and Azure, and management integrations with Microsoft SCCM.
But PowerStore is also deeply integrated with other Dell products. It enables native backup with PowerProtect DD, enables greater flexibility in VxRail HCI deployments with Dynamic AppsON, and is ready for the future with NVMe over TCP connectivity and SmartFabric storage software.
Native Backup Integration with PowerProtect DD
PowerProtect DD(data domain) users will be happy to know that this summer, Dell announced a new integration that allows users to back up directly from PowerStore to PowerProtect DD with no dedicated backup server, and zero impact to application hosts.
This integration works with physical PowerProtect DD appliances, the software-defined virtual edition (DDVE), as well as Dell's APEX Protection Storage for Public Cloud. The backups can be initiated from the PowerStore Manager, which is primarily used by storage administrators, or from PowerProtect Data Manager, primarily used by data protection administrators.
Setting up the workflow to a PowerProtect appliance only takes 90 seconds, and works even with data in the cloud.
This video goes into more detail and shows a nice demo of the application.
Dynamic AppsON
The next integration is with Dell's VxRail HCI platform. In the past, there was no easy way for HCI customers to scale external storage independently from compute based on an application's demand, particularly when enterprise-class storage services like replication and data reduction were required. Dynamic AppsON solves this issue by combining the unique advantages of VxRail and PowerStore in a flexible solution that brings scalable, high-performance storage to HCI environments.
Dynamic AppsON is ideal for applications such as AI/ML, data analytics, or edge computing that require more compute power than storage. On the other hand, applications such as data warehousing, OLTP, or business analytics need to grow storage quickly but don't need as much compute power. Dynamic AppsON is a great solution for them as well.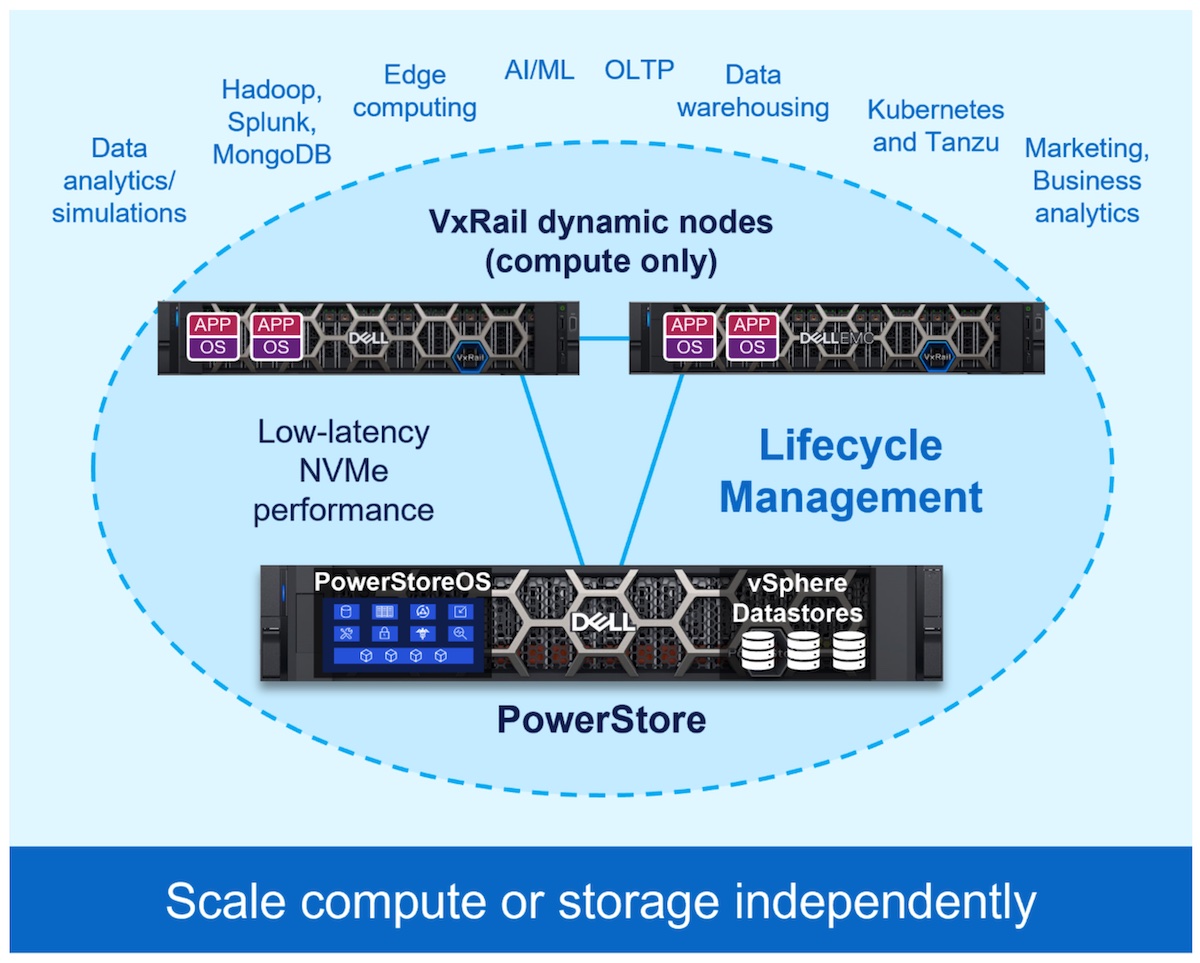 Management for both platforms is converged as well. You can provision both platforms directly from vSphere. With the latest release, Dynamic AppsON as well as PowerStore are parts of the VxRails LCM (Lifecycle Management) solution, meaning, the integration's software components get updated with the latest validated versions. This reduces operational complexity, and ensures that the entire solution is always up-to-date and optimized.
SmartFabric Storage Software
The last integration we'll discuss combines PowerStore with Dell's networking products to enhance one of today's hottest new technologies, NVMe-over-TCP (NVMe/TCP). PowerStore added NVMe/TCP support in February of 2022, with IO options for 10, 25, and even 100 Gb/s speeds. Before going into the additional SmartFabric Storage Software integration, let's review the underlying protocols.
NVMe media brings block storage natively to the PCIe bus with extremely low latency to improve overall performance. NVMe-over-fabric (in this case, NVMe/TCP) extends that benefit across networks, including the advanced Ethernet found in many modern datacenters. Until now, the storage protocol of choice for IP networks has been iSCSI. PowerStore's native support alone allows customers to transform existing iSCSI networks to a more efficient protocol for an immediate performance boost, while maintaining a similar management experience.
However, with the addition of Dell's optional SmartFabric Storage Software (SFSS), the advantage goes much deeper. SFSS fully automates large-scale NVMe/TCP deployments, giving IP administrators access to advanced services and granular management capabilities previously available only on Fibre Channel. These include end-to-end discovery and auto-config, asynchronous event requests and notifications, and even zoning services.
NVMe/TCP offers a new connectivity option that will enable companies to move from Fibre Channel with 32- and 64Gb/s fabrics to even higher-speed Ethernet networks. You can even extend the NVMe/TCP protocols to the cloud or the edgeIn fact, many analysts predict that by 2025, NVMe/TCP will overtake fibre channel implementation methodologies.
Fibre Channel fabrics. Users will have the low latency and ease of an IP network with fibre channel-like support.
SFSS is very easy to use, no matter the size of the environment. It provides end-to-end NVMe/TCP discovery and auto-config, making it a great tool to simplify and standardize an NVMe/TCP deployment.
Here's a great overview of NVMe over TCP and SFFS.
More than a Storage Array
To think of PowerStore as just a storage array would be selling it short. It was designed to be a central building block for creating an integrated datacenter environment, with support for advanced capabilities from Dell and leading infrastructure and cloud solutions.
From integrations with PowerProtect DD, Dynamic AppsON, and SmartFabric, PowerStore can be the foundation for building a complete integrated environment that uses all of Dell's expertise. That expertise continues to be sewn together with tools like Dell Container Storage Modules for Kubernetes, and many more to come in the near future. Imagine the possibilities of extending block storage to the cloud, for example.
For an in-depth discussion of PowerStore, please check out the presentations from this recent Storage Field Day event.