A widespread opinion across Data Center practitioners is that x86 servers are all the same and that the only thing differentiating them is the vendor bezel on their front grills. If there was any truth in this, then any new generation CPU announcement would be a quite ordinary experience ending with the accompanying marketing material swiftly stashed under a pile of performance comparison slides and product briefs PDFs. Surprisingly, Intel did something different this time: while the main focus of their April 6 "How Wonderful Gets Done 2021" virtual event was on the launch of their 3rd Gen Xeon Scalable Processors family, that was only the main course of a gourmet meal. The whole menu was all about completing their Data-Centric Platform based on the three "Move Faster", "Store More", and "Process Everything" pillars and the CPU launch was just the culmination of a staggered series of announcements made in the past few months that seemed disjointed at first until today.

What Intel announced was not just "a chip" but a broader, advanced platform capable of powering the most diverse kinds of workloads: Cloud, Enterprise, HPC, 5G, IoT / Edge Computing, and AI, to name only the most obvious ones. The major outcome here is that Intel has finally succeeded in integrating into one coherent and extremely versatile offering products like Intel Optane persistent memory (PMem), and Optane SSDs and Ethernet 800 Series NICs that were desperately waiting for the right CPU family to unleash their full potential.
Top Bin Performance Gains are Not Intel's Only Priority Anymore
Interestingly, the presentation was very little about performance gains, as it was mostly about "capability advances" to meet customer needs. These are achieved thanks to the introduction of new features, the improvement of existing ones, and by means of far better integration of the many products already in Intel's portfolio.
Performance gains are obviously important, and they are here for sure, but what was interesting is that Intel ran the comparison benchmarks mostly "internally", showing improvements across different Xeon generations rather than explicitly against their competition. It is a bold show of confidence as if they were stating that no rival vendor can offer what they can today.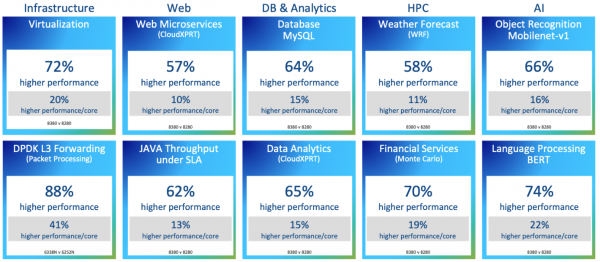 This stance might indeed be valid and even more justified if we change our focus from raw numbers to platform capabilities.
Ice Lake CPU Family Unleashes the Potential of Intel's Compute Platform
Intel is placing their bets mostly in the two main areas where we can expect market growth in the coming years: security and AI. To deliver these highly specialized capabilities, 3rd Gen Ice Lake Xeons come with built-in Crypto Acceleration, SGX enclaves, and DL Boost AI acceleration functionalities. Without going too much in detail here – make sure to check the Tech Field Day Intel Data Center Update event videos for all your technical deep-dive needs – here is a brief description of each:
Crypto Acceleration increases cryptographic performance for the most widely used TLS cyphers, benefiting applications like web servers with high numbers of incoming SSL connections, VPN and Firewalls, and 5G infrastructures. This is achieved thanks to new or improved instructions (notably the AVX-512 one) available in the CPU's ISA – Instruction Set Architecture.
SGX – Software Guard Extensions enables up to 1TB secure enclaves (in 2x socket configurations) to protect sensitive data even in the event of a complete server compromise working alongside Intel Total Memory Encryption and Platform Firmware Resilience features.
DL Boost turns Ice Lake CPUs into the first and only x86 Data Center processors on the market with built-in Deep Learning acceleration and changes the rules of the game, shifting from FP32 to INT8 precision without losses in inference accuracy while gaining in performance, making 3rd Gen Xeon systems a valid alternative to specialized GPU-based systems for AI workloads.
Finally, some more raw numbers that help understand why Ice Lake is indeed Intel's platform enabler:
10 nm manufacturing technology ultimately perfectioned for mass production.
Up to 40 cores per processor.
Max System Memory is now 6TB per socket (with up to 4TB as Optane PMEM, running at DRAM speeds).
Up to 8 DDR4-3200 memory channels per socket.
64 PCI Express 4 lanes per socket.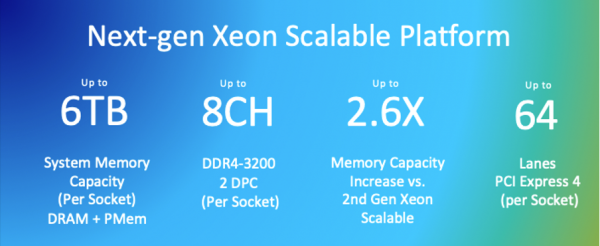 These are indeed the CPU capabilities that the Optane PMem/SSDs and Ethernet 800 Series network adapters needed to fully unleash their potential and that earlier Xeon models could not provide. Optane PMem modules can now store and serve huge amounts of data at real CPU speeds while Optane SSDs can be used in conjunction with more traditional 3D NAND SSDs to Accelerate, Cache, and Tier data; the 200 Gbps-capable Intel Ethernet 800 Series Network adapter can finally leverage PCIe Gen4 speeds to serve critical use cases where extremely low latency and high throughputs are non-negotiable, like NVMe over TCP, vRAN, NFV and HPC applications.
To complete the launch, we also briefly heard about Agilex FPGAs and the oneAPI software stack. To be honest, I expected to hear more about the latter as I believe that this is another strong differentiator versus Intel's competitors, being the toolkit that allows writing highly optimized applications for the platform.
Steering the Intel Ship in the Right Direction
A few words about my overall perception of the launch. Intel did indeed a good job at shaking off the somewhat tired image of the big old company that has been here forever, they succeeded in conveying an engaging story this time and I, as a customer, heard something that I wanted to hear and made sense to me. They really made an effort to get closer to their customers' hearts and minds, and with long-time veteran, Pat Gelsinger, now back at the helm, the ship is surely sailing again on the right course.
Conclusion: When the Overall Value is More Than Just the Sum of the Parts
To wrap up, while Intel might not lead in some specific features (AMD still has an edge when it comes to CPU cores and PCIe lanes), their strength is "in the platform" as they are the only vendor on the market with a complete offering of products and solutions whose collective value is more than just the sum of its parts. Simply put, Intel's main asset is their coherent, well-integrated portfolio; this is an invaluable differentiator for enterprises looking for a dependable partner they can trust to build their business upon.
Intel, the Intel logo, and other Intel marks are trademarks of Intel Corporation or its subsidiaries.