We're now over three decades into the cloud era, and looking back, it becomes more and more apparent that Intel has been driving cloud innovation since day one. Find that hard to believe? Well, at Intel's recent exclusive Tech Field Day event, they detailed just how integral a part they have played in the growth, advancement, and now dominance of the cloud in today's enterprise IT space.
The History of Intel in the Cloud
When the cloud first came to prominence in the early '90s, Intel was the company to create silicon that was completely dedicated to cloud implementations. Their first entrant to the cloud processor space, Drake, marked the beginning of their Xeon line of processors, replacing the Pentium Pro as the go-to server building block.
Since then, Intel has continued to innovate their cloud offering, with over twenty-five iterations across their server stack portfolio supporting the improvement and expansion of cloud computing and storage capabilities for both public and private clouds. With each new iteration, more and more compute capabilities were packed into smaller, more scalable packages, allowing for the building of larger and more capable servers for less.

As that portfolio has expanded, so have the capabilities of Intel's cloud-focused silicon line, including the introduction of virtualization and end-to-end encryption, as well as crypto-acceleration. Ultimately, as we have seen nowadays, Intel also paved the way for hyperscale cloud operations, including the ability to add machine learning-driven artificial intelligence to modern compute and cloud workloads.
Intel's Cloud Product Line
It's all thanks to the breadth of Intel's cloud-forward portfolio. At the helm of it all is their Xeon series of scalable processors, the most recent iteration of which Intel announced at a recent exclusive Tech Field Day event, the 3rd generation is dubbed "Ice Lake". With it pairs Intel's Optane persistent memory chips, as well as their line of FPGA SmartNICs, known as ARRiA, to ensure high performance as data scales. Intel Ethernet and Silicon Photonics provide secure connections between server stacks, maintaining high data transfer velocity — even over long distances.
Intel's software entrants are also key to running an effective cloud. For example, Intel SGX provides cloud security, specifically for data in use, tucking it away in enclaves that protect it from attack while being used in applications or other data operations. Intel DL Boost facilitates deep learning at hyperscale, allowing for robust artificial intelligence analytics and other operations.
Used in concert, the Intel product line serves as the basis for nearly any cloud operation, public or private, hyperscale or not. In light of Intel's history in the cloud and their current product line, let's take a look specifically at a few numbers surrounding their presence in the public cloud market as it sits today.
Intel's Cloud Presence Today
AWS, the leader in cloud infrastructure services, uses Intel products in all their 25 service regions, 80 availability zones, and across every country that they service as well. Likewise, for Azure, the runner-up in the cloud infrastructure market, you'll find Intel-based instances are available across all their serviced regions, availability zones, and countries. Last (and somewhat least in the cloud market compared to the other two), Google Cloud leverages Intel across all their regions, availability zones, and countries, cementing Intel's position as a veritable backbone of the public cloud market.
Added up, all that cloud availability amounts to more than fifteen million double socket servers built off Intel silicon, for a grand total of over thirty million sockets. Beyond that, Intel's own virtual machine infrastructure spans every region, availability zone, and country, making them even more ubiquitous than Intel's presence in the public cloud market.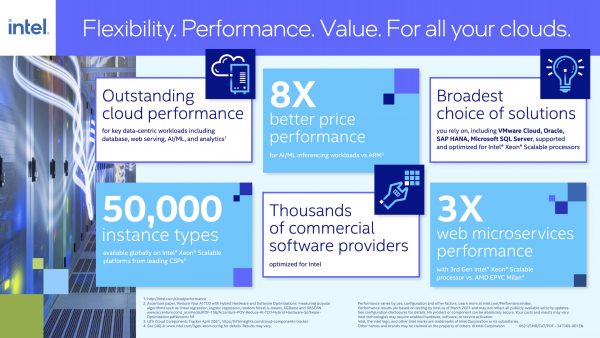 All that said, it's clear that Intel is well ingrained in the cloud market, or rather, the cloud market is deeply steeped in Intel products. But, in light of this information shared, why does all this matter?
Digging Deeper: Intel + Microsoft
Well, during their exclusive Tech Field Day event, Intel's Joe Opdahl, cloud solutions architect and cloud services expert, presented on the Intel cloud silicon stack and how it's affecting the cloud market — both public and private. Amidst his discussion, Opdahl noted, in particular, the partnership between Intel and Microsoft, and how Intel's cloud silicon has helped advance the Microsoft Azure cloud to the level it is today.
After giving a brief overview of Intel's history similar to the one above, he started by detailing just some of the Intel products at play in the Azure ecosystem. This graphic shows several of the key Intel technologies touched upon: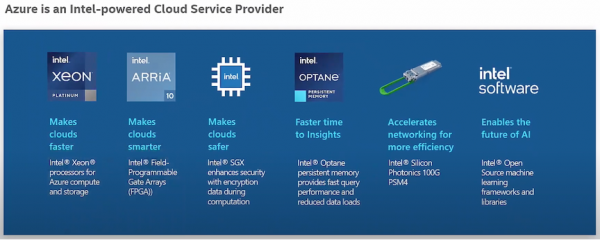 Leveraging nearly all of Intel's cloud solution portfolio, Microsoft Azure has a strong basis around which they build their cloud service. Of course, like in the product stack breakdown shared earlier, Azure is built around Xeon scalable processors, ensuring their cloud computing is as quick as possible to handle practically any workload their customers need. ARRiA and Optane ensure that Azure server stacks are optimized to tackle workloads at hyperscale, leveraging SmartNIC architecture to offload processes to their agile FPGAs while also reducing data loads and query times through persistent memory.
Intel's SGX software acts amidst these workloads, creating data enclaves so that Azure data in use is protected from being preyed upon during the most critical parts of the process. Thanks to silicon photonics transceivers, the Azure cloud can efficiently transfer data at scale across entire data centers in mere seconds, even going so far as being able to transfer data over multiple kilometers at a time. And, building off all of this silicon with Intel's open-source ML frameworks, Azure and its customers can leverage AI at blistering paces, making it easy to analyze and operate upon data through iterative ML models.
Intel + Azure = High Performance Cloud Capabilities
What does the Intel cloud portfolio provide Azure? For starters, Microsoft, as well as other Intel cloud silicon customers, have seen a 68% faster performance on financial service industry (FSI) computing workloads. They've also been able to achieve up to three times increase in throughput for digital rendering, two and a half times increase in cloud-native container SSL performance, thirty times faster AI inferencing, five times increase in automatic speech recognition speeds, and finally, an almost eight times improvement in storage compression.
Adding all of those numbers up, it's apparent that Intel is pushing the capabilities of cloud platforms like Microsoft Azure to astonishing new heights. These massive performance improvements mean that, ultimately, customers of these platforms, as well as proprietors of private clouds, achieve the agility and dependability that so many organizations turn to the cloud for. At the end of the day, it's all thanks to Intel and their suite of cloud-driving hardware and software.
Zach's Reaction
If at this point, the cloud isn't synonymous with Intel in your mind, then I'm not sure what to tell you. The impact that Intel's Cloud silicon stack, as well as their software features like SGX, DL Boost, and others, have had on the cloud services market is more than apparent. Not only were they first in the space, but Intel has also continued to innovate and expand their solutions portfolio so that any cloud implementation — regardless of source — operates at the highest possible performance.
Want to learn more about Intel's entire cloud portfolio? Be sure to watch all of Joe Opdahl's presentation, as well as the rest of Intel's appearance at their exclusive Tech Field Day event. You can also read this whitepaper detailing the various benefits customers experience using Intel technology in the cloud. And, as always, for more technical documentation and other valuable resources, check out Intel's website.