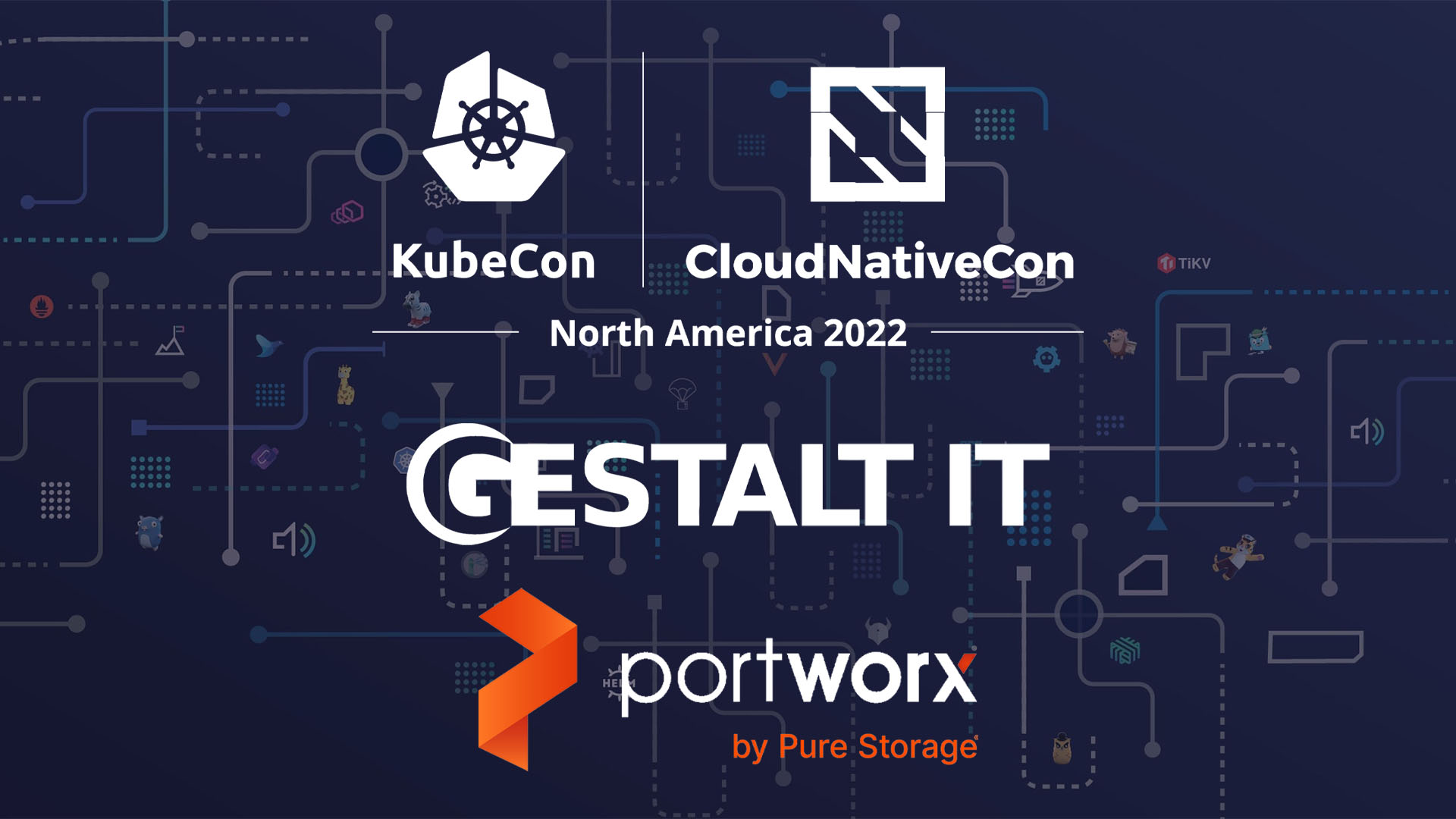 Portworx made a flurry of announcements at KubeCon 2022 in Detroit, MI last week. As Gestalt IT was attending the event, we took the opportunity to have a vis-à-vis interview with Portworx and learn more about their upcoming technologies. Venkat Ramakrishnan, VP of Engineering and Products at Portworx by Pure Storage who was the spokesperson for the announcements gave us a quick rundown.
The interview kicked off with the list of announcements which included the Portworx Enterprise – Portworx's flagship Kubernetes storage and data management platform and the most recent Portworx Managed Enterprise, which, put simply, is Portworx Enterprise as-a-service.
PX-Enterprise's Fully Managed Service
PX-Enterprise is already a widely deployed product from the Portworx family. A cloud-native storage platform for Kubernetes, Portworx Enterprise is multi-cloud compatible and comes with a breadth of data management and security capabilities. Container-granularity is where it truly shines giving users the option to tune and mange capacity automatically on Kubernetes. Zero RPO disaster recovery and ultra-fast failover ensure high service availability and reliability.
Now all of this is coming as a fully managed service with Portworx Enterprise's fully managed service. Ramakrishnan informed, "As we work more with our customers, we see there're much larger deployments of Kubernetes – Portworx being deployed on hundreds of K8s clusters. So we wanted to deliver a much more simplified user experience for our customers so that they don't have to be concerned with managing Portworx at large scale. So we abstracted the some of the Portworx control plane and management plane aspects. We run it in the cloud and help manage these clusters for our customers."
The full managed service for Portworx Enterprise includes single-click deployment with auto-discovery, proactive monitoring and observability through a single pane of glass, and automation of Day 2 operations.
The new managed service is built around simplifying operations on Kubernetes with the aim to empower DevOps while at the same time, let operators have a hands-off management experience.
Portworx Enterprise Platform 3.0
Next in line is another big news which the rest of the announcements are surrounding. The third generation of the Portworx Enterprise Platform is here. Launched officially in October, Portworx announced it to the Kubernetes community at KubeCon. Taking stock of what the earlier iteration of the platform had, Portworx took its capabilities a step further with this new one. The Portworx 3.0 reaches new thresholds of performance and low latency, all thanks to PX-Fast. PX-Fast is a new capability that delivers "high throughput and lower latency for persistent Kubernetes apps", enabling faster data ingestion with sky-high performance.
"The Portworx core platform is a complete data management and storage suite that has worked well for our customers managing large scale applications. So with version 3.0, we have taken a closer look at our data management stack and added more performance than enhancements on top of that," Ramakrishnan says.
"With that, we're enabling more performance-intensive apps to run in K8s clusters." He continues. "Customers running high frequency trading platforms or high-speed real time analytics that take split-second decision making can now bring those applications into Kubernetes and run them on scale, and combined with our managed service, they can manage the clusters literally in a zero-touch manner."
Another new thing on the Portworx Enterprise Platform 3.0 is the Near-Sync DR capability. Near Sync-DR takes the DR capabilities of Portworx to new heights. With this DR feature, users can get "sub-second RPO in failover" between datacenters or cloud in two different regions, for ensured business continuity.
The third interesting thing about the v3.0 is the Object Storage Service. Portworx Enterprise Platform 3.0 has a scale-out object storage, which integrates with its block and file storage control plane. This gives users an additional storage interface for containerized workloads. But the best part is that it automates steps like "bucket creation, policy management and all of the object related enforcements" for the developers, delivering simplicity and speed.
Wrapping Up
The complexity of Kubernetes is notorious, and even through that has helped set our expectations, it has caused a lot of hiccups in the day to day operation. Thankfully, a vast number of companies have stepped forward to do their part to dial down the complexities and make Kubernetes more user-friendly, and Portworx is definitely one of the forerunners in that league. With its gamut of new releases, running containers on Kubernetes is likely to be simplistic, and a lot faster.
Watch the full video interview above and check out more interesting interviews from KubeCon 2022 and others on Gestalt IT.
Guest
Venkat Ramakrishnan, VP, Engineering and Products at Portworx by Pure Storage
Moderator
Stephen Foskett